ESPYs 2016 welcomed the biggest names in sports to the Microsoft Theater in downtown Los Angeles on Wednesday night.
There was much to see on TV, including a masterful hosting performance by WWE Superstar star John Cena, a tear-inducing speech by beloved sportscaster Craig Sager and Knoxville teen Zaevion Dobson being remembered with the Arthur Ashe Courage award for shielding others from gunfire.
Plus former host and "Can't Stop the Feeling!" singer Justin Timberlake was on hand to help honor Kobe Bryant, Peyton Manning and Abby Wambach for their phenomenal careers. This year marked the first time that three retiring athletes — from the NBA, NFL and soccer, respectively — have been honored with the prestigious award on the same night.
Also Read: ESPYs 2016: Complete Winners List
Of course, no celebration of sports would be complete without honoring boxing legend Muhammad Ali, who died on June 3 after battling Parkinson's syndrome for many years.
Among the nominees were LeBron James and Stephen Curry facing off once again, Carolina Panthers' Cam Newton bidding to take home a trophy after losing the Super Bowl to the Broncos. While women's basketball player Breanna Stewart, the Chicago Sky's Elena Delle Donne and gymnast Simone Biles were among the fearless female athletes nominated.
The list of presenters were just as famous as the athletes they were honoring, with Chris Berman, Curry, Skylar Diggins, David Oyelowo, Usher, Dwyane Wade and JJ Watt all handing out awards.
Also Read: Justin Timberlake to Present Icon Awards to Kobe Bryant, Peyton Manning, Abby Wambach at ESPYs
For all the dazzle and memorable moments that were broadcast live on ABC, there was even more action going on that you could only see with red carpet access and a seat inside the theater. Fortunately, TheWrap had both.
Check out the top 13 things you didn't see on TV at the 2016 ESPYs below.
1. The ESPYs really are Sager Strong
It's impossible not to be touched by the shining light of Craig Sager, and before Vice President Joe Biden awarded him with the Jimmy V Perseverance Award, the audience chanted "Sager Strong." Biden then paid homage to his own son Beau, who also fought cancer, as the most colorful man in the NBA was celebrated.
Sager's acceptance speech is destined to become as historic as that of Stuart Scott two years ago, as he laid out his battle with honesty and humility (still wearing a rainbow bright jacket and yellow shirt, of course). "There is no fear in love, and your love is my strength," he tearfully told his wife, Stacy, and his children. "I'd like to thank my Turner Sports family … and the bigger family of sports. I am confident that I will continue to keep watching these amazing feats."
Recalling the many daring achievements over his life, including wrestling alligators, climbing the Great Wall of China, racing with Mario Andretti and jumping out of a plane over Kansas, the "NBA on TNT" reporter also boasted: "I have interviewed Gregg Popovich, mid-game, down by seven," a challenge that struck fear into the hearts of many members of the media present.
"I will continue to keep fighting — sucking the marrow out of life, as the marrow sucks the life out of me," Sager concluded.
Also Read: Late ESPN Anchor Stuart Scott's Daughters Receive Sports Emmy From Ernie Johnson
2. Non-dancing Super Bowl MVP
Denver Broncos' Von Miller failed to live up to his "Dancing With the Stars" legacy when the Dance Cam landed on him as he sat still in his seat, but fortunately WNBA player Lisa Leslie was there to save the day with an impressive version of the robot.
3. Peyton's pen pals
Peyton Manning clearly has a lot of time on his hands as he's been stalking his family, Derek Jeter and Lorne Michaels. He even invited Aaron Rodgers to join in a pyramid scheme. But it was the letter he sent to Tom Brady that made the New England Patriots QB drop an F-bomb that really got the audience in hysterics.
4. First of many standing ovations is for the military
Sgt. Elizabeth Marks got the first standing ovation of the night as she was awarded the Pat Tillman Award for bravery. "For what it takes to turn an absolute tragedy into a triumph," said Marks, who recently gave away her Invictus medal to Prince Harry. "I want to say thank you to the wounded, the sick and injured servicemen around the world. … If ever you think you are alone, you are not."
Kansas Chiefs safety Eric Berry got the second standing ovation for his brave battle with cancer, followed by a moving speech that silenced the crowd and referenced both Stuart Scott and Robin Roberts. "Always remember honor and legacy, and you can push through it," he said.
Also Read: Watch ESPYs' Black Lives Matter-Inspired Opening: 'Enough Is Enough' (Video)
5. "Suicide Squad" trailer gets Gronked
Commercial breaks during the ESPYs usually send everyone running for the bar or the bathroom, but an airing of the "Suicide Squad" trailer captivated the crowd. However, the real kicker was a subsequent video skit with Margot Robbie and Rob Gronkowski. Looking very studious in a sweater and glasses, the New England Patriots tight end promised to teach the Australian actress how to party "Gronk Style."
6. Cena could have a future in comedy
We all knew Cena was a powerhouse in the ring, but it wasn't until "Trainwreck" that we really got a taste of his acting chops, and the ESPYs proved that he has natural comic timing. From his opening monologue of inappropriate jokes to video skits such as auditioning for a press conference child like Riley Curry (he opted for a whole gang of kids and a puppy), Cena could one day have an Oscar or an Emmy to match his many belts thanks to his perfect comic timing. His Deflategate joke was a little too smart for some of the audience, however, as "stay strong [Tom] Brady, hang in there Ben Affleck" fell flat — or maybe the ESPN-heavy crowd just hasn't been watching Bill Simmons' new HBO show.
7. Politically incorrect humor
Comedian Hannibal Buress sparked one of the biggest groans of the night from the crowd when he "traveled back in time" from the future wearing a silver team jersey for the "Washington Jews," claiming the Redskins had finally changed their name. "They just can't get that right," Cena joked.
8. WWE Takeover
Not only was Cena hosting but the rest of the WWE universe appeared to dominate the night. Big Show, the Bella Twins, New Day, The Miz and many more walked the red carpet. "It's a real milestone to have John hosting tonight — this like Wrestlemania or Super Bowl for ESPN and it shows that WWE is really being recognized as a sport," WWE Diva Summer Rae told TheWrap.
During one of the show's commercial breaks, a minute-long highlight reel boasted some of WWE's biggest moments and famous guest stars such as Dwayne Johnson, Jon Stewart and Ronda Rousey. Later, a montage of "greatest" sports moments" had Kobe, Peyton and Cam Newton being interrupted by day-glo graphics and the screams of "John Cena!"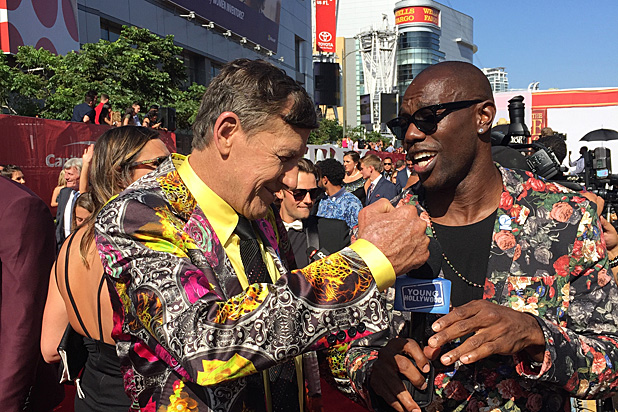 9. Craig Sager and Terrell Owens compare colorful suits on the red carpet
Sager is as famous for his bright jackets as he is for his NBA sideline presence. But while he had no rival for the Jimmy V Perseverance Award this year, Sager had to compete with Terrell Owens' floral jacket on the red carpet. Sager made a special trip to talk to the former Dallas Cowboys player about their bright style choices, even when everyone was being hurried into the theater for the show. Well, we weren't going to start without him.
10. Out of sync 
Not even Cena's hammy acting could fix a quirk in his "Press conferences child" audition skit, as the audio and video were out of sync, sparking "WTF?!?" confusion among the audience until it was righted.
Later in the night, even King James wasn't immune to sound problems when an ear-piercing screeching noise interrupted his acceptance speech for Best Male Athlete.
Also Read: Kobe Bryant's Hollywood Ending: See Which Stars Went to Lakers Legend's Last Game
11. Lakers fans in the house
The previously pretty well-behaved crowd proved to be packed with Lakers fans as they erupted into chants of "Kobe, Kobe, Kob-eeeeeee!" when Bryant, Manning and Wambach were introduced by Timberlake, who took a supporting role for once.
"Sports would be nothing without the fans. Now that my time is up being a player, I'm looking forward to having a great time being a fan again," said an emotional Manning, who won a second Super Bowl ring in the final game of his career.
Fellow retiree Bryant admitted that he sealed his legacy on a low note in comparison. "I decided to do it a little different," he joked. "I felt a 17-65 season would be a bold statement to close out my career." Don't worry, Kobe, L.A. clearly still loves you.
12. Cleveland Cavaliers sneaking on-stage selfies 
Even the Cleveland Cavaliers aren't above some blatant selfies on the coolest stage in sports. After accepting the award for Best Team — during which LeBron shared the mic with his teammates — they all came back to the stage during the break to snap a sneaky group photo.
13. Muhammad Ali dominates "In Memoriam"
From Gordie Howe and NFL player Will Smith to Buddy Ryan and Pat Summitt, the sports world lost countless greats this year — all of whom were remembered along with a chilling performance by Andra Day. But it was Muhammad Ali who prompted cheers from the audience as his image was frozen on the screen for what felt like an eternity.
Even after a three-hour show, no one left before the closing tribute to Ali from Kareem Abdul-Jabbar and Chance the Rapper. Instead of ending the night with the custom showering of confetti, we were left with the memory of Ali.