Thursday update:
Michael Jackson's concert film 'This Is It' took in a $20.1 million worldwide Wednesday, its first full day of release.
The movie, which features footage from the late singer's concert rehearsals from March until his death in June, scored $7.4 million playing in about 3,500 North American locations and another $12.7 million in foreign territories.
Hot international regions included the U.K. ($1.9 million), Japan ($1.2 million) and Germany ($1.1 million).
The movie officially rolled out globally on Tuesday night, taking in $2.2 milllion domestically.
Prior to release, Sony had projected that the film would take in $35 million-$40 million domestically in its first five days.
Wednesday update:
Sony's Michael Jackson concert film "This Is It" got off to a $2.2 million start in North America Tuesday, premiering in late-night runs at about 3,500 venues across the U.S. and Canada.
According to the studio, matinee runs Wednesday are already on pace to exceed that total.
Sony's tracking suggests that the movie, simultaneously released in 97 countries Tuesday, will do between $35 million and $40 million globally through Sunday.
Fandango reports that the concert film has enjoyed the third best pre-sales of any movie this year, trailing Warner's sixth "Harry Potter" installment and Summit Entertainment's upcoming "Twilight" sequel "New Moon."
Tuesday preview:
The flight deck is clear for the biggest concert-movie event of the decade, with "Michael Jackson: This Is It" premiering globally at 9 p.m. PT tonight — and no other new movie opening wide this weekend.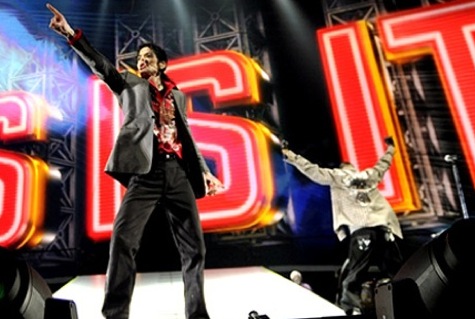 How far the Sony-distributed film will soar in its first five days of release is proving hard to predict, however.
Tracking estimates have varied widely, with predictions spanning a moonwalk-wide chasm that ranges from $36 million to $62 million.
Meanwhile, officials for concert promotor AEG Live, which sold worldwide distribution rights of Jackson's final rehearsal footage to Sony for $60 million, were reportedly predicting a massive if not somewhat bewildering $250 million five-day opening.
"This is a tricky one," one distribution executive at a rival studio told TheWrap.
Certainly, Sony owns the weekend box office. Apparition's long-awaited "Boondock Saints" sequel is the only new film opening in more than three theaters (it will start out in 65), and Paramount's horror phenomenon "Paranormal Activity" is the only other film expected to surpass the $10 million mark.
However, with Halloween weekend being a traditionally fallow period for the domestic box office, available market share probably won't be huge. Overall predictions for the three-day weekend period lag way behind the $114 million taken by all comers last weekend. In fact, most estimates predict the overall market won't even break the $100 million mark.
Add to those factors the tricky nature of tracking concert films, which cater to fans of live music as much as they do traditional moviegoers.
Pre-sales for the film have been active, with Sony selling out 1,600 North American engagements as of last weekend.
However, recent history suggests concert films tend to open big but taper off quickly. Disney's "Hannah Montana/Miley Cyrus: The Best of Both Worlds," for example, opened to $31.1 million in February 2008 but promptly cratered 67 percent the following weekend.
"It will be interesting to see if it's still holding up on Saturday," noted another rival distribution official.
Regardless of how it opens, Sony, which has two weeks worth of global box-office receipts coming, will likely more than recoup its acquisition costs, as well as the money it spent on prints and advertising, and to post-produce the footage.
Sony officials wouldn't divulge marketing costs, but an executive close to the project said that since the project was well-publicized and Jackson's "brand" is already well-established, the promotional spend was less than half of what it might be on a typical worldwide release.
AEG, meanwhile, also stands to recoup a sizeable investment, having spent more than $30 million in preparation for a huge Jackson summer tour before the singer's sudden June 25 demise.