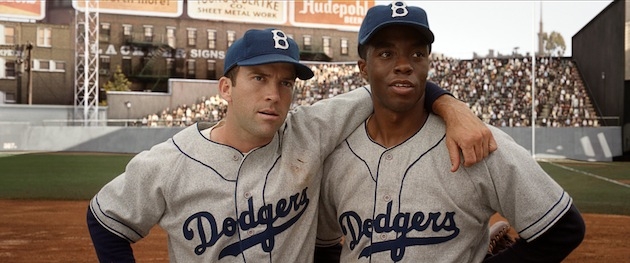 "42," the new story of how Jackie Robinson broke baseball's color line, is connecting with critics.
The film, which stars Harrison Ford as executive Branch Rickey and newcomer Chadwick Boseman as the man himself, debuts Friday, and has earned strong notices. "42" received a solid 73 percent fresh rating from critics aggregator Rotten Tomatoes, with many reviewers singling out Boseman for particular praise.
In TheWrap, Alonso Duralde faulted the film for "soft-peddling" the uglier side of America's post-World War II racism, but said overall the film is an inspiring portrait of one of the sport's seminal moments.
Also read: 15 Highest-Grossing Baseball Films of All Time
"'42' is a fairly slick confection, but it wisely avoids hagiography, mostly sticking to the facts in telling a compelling story about a truly extraordinary man," Duralde writes. "It's by no means the final word on the subject of Jackie Robinson (or baseball, or race relations), but it's a dazzling celebration of genuine daring."
For Owen Gleiberman of Entertainment Weekly, "42" is an old-fashioned story, but one that doesn't suffer from sticking with a traditional approach to storytelling. He was quite taken with Ford's work, noting that it was a departure for the action-movie icon.
"As Rickey, a stogie-chomping grump with a heart of gold, Harrison Ford seems to have reinvented himself as an actor," he writes. "He gives an ingeniously stylized cartoon performance, his eyes atwinkle, his mouth a rubbery grin, his voice all wily Southern music, though with that growl of Fordian anger just beneath it."
A.O. Scott, writing in the New York Times, faulted the film for ironing out some of the pricklier historical details in the service of making Robinson's story more accessible. Yet he did note that the film remains an entertaining and vital lesson for fans of the sport who may be unfamiliar with Robinson's heroism.
Also read: '42' Review: Despite a Few Errors, Baseball Biopic Presents a Jackie Robinson Who's Both Heroic and Human
"In other hands – Spike Lee's, let's say, or even Clint Eastwood's – '42' might have taken a tougher, more contentious look at the breaking of Major League Baseball's color barrier," Scott writes. "But [Brian] Helgeland, whose previous directing credits include 'Payback' and 'A Knight's Tale' (and who wrote 'Blood Work' and 'Mystic River,' speaking of Clint Eastwood), has honorably sacrificed the chance to make a great movie in the interest of making one that is accessible and inspiring."
Rex Reed of the New York Observer groused that the film was overly slick, but still found much to admire beneath the polished veneer.
"It's a good enough biopic to make you wish it were a better motion picture," Reed writes.
Dana Stevens was not a fan of the sanitized heroics on display in the film. In her review in Slate, she griped that films like "The Help" and "42" continue a troubling trend of having white filmmakers depict painful moments in black history.
"I don't mean to impugn the motives behind those who make films like '42': There's no problem, in principle, with a white filmmaker making a movie about a black cultural hero, or vice versa," Stevens writes. "But if we're going to have a conversation about race in America, I'd rather it revolve around the awkward, even offensive Brad Paisley/LL Cool J collaboration 'Accidental Racist' than around the sanitized pieties of a movie like 42, which tiptoes so reverently around its subject it leaves no room for accidents at all."
Like Stevens, Variety's Scott Foundas lamented that "42" comes gift-wrapped in hagiography, with nary a trace of Robinson's private demons or tortured relationship with his barrier-breaking legacy.
"A movie about Robinson isn't obliged to be dark or edgy, but for all of '42''s' self-conscious monument building, the cumulative effect is to render its subject markedly smaller and more ordinary than he actually was.