It's been quite a first year for Fox's shouldn't-have-happened musical hit.
Bringing down the curtain Tuesday night on its first season, "Glee" — which launched on May 19, 2009 — has had great ratings, a slew of Top 10 hits, Golden Globe nominations, SAG and Peabody wins, guest stars lining up like sophomores for try-outs, a Hot Topic tour, sold-out shows at Radio City Music Hall and appearances at the Super Bowl, the White House Easter Egg hunt and "Oprah."
Not bad for a show about a bunch of singing high-school misfits that stars some Broadway staples, the guy who played Attila the Hun in the "Night at the Museum" feature films and a journeywoman actress best known for playing the strict Granny in "Talladega Nights."
So why does "Glee" work? Perhaps it's because of a secure Midwestern sense of self and a catalog that ranges from Bacharach to Beyoncé and beyond. Perhaps because it never tries to be better than the sum of its parts – instead, it embraces them.
Perhaps because of this:
1. THE TIMING
Sure, the "Once More, With Feeling" musical episode of "Buffy the Vampire Slayer" was a commercial and critical success back in November 2001. But that was just one episode. The landscape is littered with musical series that barely made it through one season, from Steven Bochco's terribly titled "Cop Rock" to the more recent resuscitation of "Fame."
But most important, the nation has dramatically shifted in its diversity in the last few years — and "Glee" successfully reflects the country back to itself. To quote Barack Obama's career-making speech before the 2004 Democratic National Convention, "We coach little league in the blue states and, yes, we've got some gay friends in the red states," and "Glee" mixes stereotypes galore.
It might be a bit too saccharine for some, but when 12.4 million viewers watch every week, they see and hear themselves.
2. THE HOMAGES
From Madonna — who had
a whole show
dedicated to her on May 25 — to Lady Gaga to Kiss, "Glee" seems to have never met a makeup-slathered icon it didn't want to emulate. In fact, it has rarely encountered a winning formula from which it didn't beg, borrow or steal.
Jane Lynch's shot-by-shot replication of the Material Girl's "Vogue" video was a hilarious and loving homage. The in-the-round rendition of Kiss' "Beth" reeked of a ripoff of Extreme's early '90s video of "More Than Words," and Matthew Morrison's Will Schuester is nothing if not a veiled version of Justin Timberlake's older and slightly geekier brother.
Call it plagiarism if you want, but reaching back time and time again to what's worked so well before, the producers prove week after week that "good artists borrow, great artists steal." Even nostalgia icon
John Stamos has been cast in a recurring role
next season as Emma's love interest.
3. THE CHARACTERS
To succeed in America, you need to reach the Great Undecideds.
Corporations spend millions trying to capture the attention and loyalty of the mallrats, the jocks, the Goths, the cheerleaders, the gender benders and everybody who doesn't feel like they fit in. Meld together that demographic with the mainstream and you are almost assured a winner.
From paraplegic Artie, flamboyant Kurt, wide-eyed Rachel, nice jock Finn, nasty jock Puck, pregnant celibacy club President and star Cheerio Quinn and soulful Mercedes, not to mention all the grown-ups on the show and an arch villain in cheerleading coach Sue Sylvester, "Glee" checks off all those boxes with wit.
4. THE MUSIC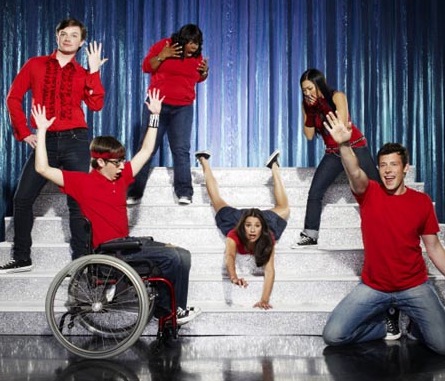 As any viewer of "American Idol" this season and any record company licensing manager knows, success in 2010 is not just in the singer but the songs. Which, from the all-Madonna episode, showtunes, Journey's "Don't Stop Believin" — brought back for the Regionals Finale on June 8 — and Olivia Newton-John's "Physical" is "Glee's" genius. It cuts the musical Gordian knot by injecting audiences with something that sounds both familiar and fresh at the same time.
"Glee" deftly resurrects many of the guilty pleasures of the 1970s and 1980s, and mixed them with songs by the likes of Lady Gaga and Christina Aguilera that sound like they could have come out back then.
It's not the most original of ideas — the Journey tune famously closed out "The Sopranos" finale — but with millions of downloads and albums sold, and the just-released "Journey to Regionals" E.P. likely to add to that goldmine, it is a bestselling one.
5. SUE SYLVESTER
What happens when you mix a tyrannically ambitious interpretation of John Wooden's Pyramid of Success, a half-read copy of the management tome "Good to Great," Lance Armstrong and Karl Rove with too many protein shakes and a unhealthy obsession with Madonna?
You get Sue Sylvester, the champion cheerleading coach who ruthlessly runs McKinley High and is uninhibited in her desire to quash the choir kids.
Played by Jane Lynch, who stole the screen when she was in "The 40-Year Old Virgin," "Best in Show" and Will Farrell's NASCAR comedy "Talladega Nights," Sylvester has become one of the most compelling and unpredictable TV characters in decades.
America loves a villain — just ask Alan Rickman, Jack Nicholson and Joan Collins — but never has an Adidas tracksuit been worn so fiercely.
Also read: