Lupita Nyong'o couldn't help it: She was the most captivating person at Sunday's Oscars show.
It isn't hard to imagine how the 31-year-old Kenyan native beat out a thousand or so actresses for the role of Patsey in Steve McQueen's "12 Years a Slave." Her presence is undeniable.
All through Sunday's awards show, it didn't matter what was going on on-stage, because the Best Supporting Actress winner just commanded our attention.
See photos: 26 Best & Worst Moments of Oscars 2014 (Photos)
Here are five ways Nyong'o stole the Oscars on Sunday.
1. Just arrive.
Even though the show hadn't even started yet, social media went nuts over Nyong'o way earlier in the night. For what? She simply stepped out of her car.
The whole room just collectively sighed when Lupita Nyong'o emerged from her car! #Oscar2014

— Justin Vivian Bond (@mxjustinVbond) March 2, 2014
Went down into Oscar area to take pics of crowd climbing trying to see actors arrive, and got a few of Lupita from 12 yrs getting out if car

— JenniferG (@gillovny) March 2, 2014
2. Rule the red carpet.
Nyong'o has been topping the best-dressed list this entire awards season and of course she didn't disappoint on Oscar night. Wearing a light blue Prada, Nyong'o topped it with a diamond-studded headband. Not only did she have her fans going nuts, she won her peers' approval too.
See photos: Oscars Red Carpet Arrivals (Photos)
3. Do a little shimmy.
Although Pharrell Williams danced with Meryl Streep and Amy Adams while performing "Happy," neither of them gave it the energy and enthusiasm Nyong'o gave it.
4. Be willing to share the spotlight.
The question everyone was asking after host Ellen DeGeneres posted her record-breaking star-studded selfie was, "Who's that guy next to Bradley Cooper?" That is Luongo's date, her brother Peter. So, stealing the show is genetic?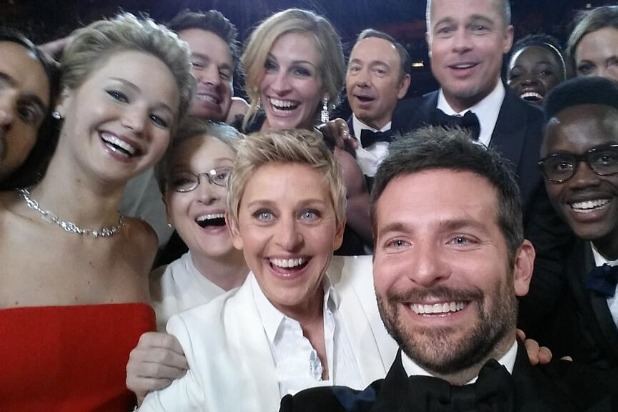 Also read: Oscars 2014 Winners List
5. Make the night's best acceptance speech.
Winning was a given for many, but her speech took the cake. Nyong'o thanked everyone she needed to praise in her acceptance speech for Best Supporting Actress. But, she also delivered one of the most touching messages of the evening: "No matter where you're from, your dreams are valid."