NBCUniversal CEO Steve Burke took bold measures Friday to revive his news division after years of dwindling ratings and a squall of chaos swirling around the network.
Lack, who was NBC News President from 1993-2001, returns as Chairman of NBC News and MSNBC with a field of challenges. The biggest is its flagship "Nightly News" broadcast, fighting to retain the top spot after its lead anchor, Brian Williams, was suspended for six months without pay for his Iraq War exaggerations.
Then there's the formerly No. 1 morning show "Today," maneuvering to retake the morning mountaintop after falling behind "Good Morning America" in 2012.
Also Read: 'Today' Show Chaos: Insiders Debate Future of NBC News Execs Pat Fili-Krushel, Deborah Turness
"Today" still trails "GMA" and is coming off of a chaotic stretch during which hotly sought-after executive Jamie Horowitz — whom now-former Chairman Pat Fili-Krushel and NBC News President Deborah Turness moved mountains to snag from ESPN/ABC — flamed out after 78 days. Horowitz fostered an environment among "Today" show staffers akin to the reality contest "Survivor," pitting talent against producer.
And maybe the biggest challenge — fixing a culture of chaos, gossip and leaks that has sunk deep into the walls at 30 Rock.
Lack has some building blocks to work with. Six months into his tenure as host, Chuck Todd has made "Meet the Press" competitive again, even winning again in total viewers on occasion (March 1st saw its best rating in over a year). "Today" has seen some recent gains, occasionally winning in the 25-54 demo over "Good Morning America" and preserving its No. 1 position among viewers 18-49.
The project is big, the challenge formidable. Here's how Andrew Lack can revive NBC's news division.
1. Bring Brian Williams Saga to an End
As long as he's suspended, the cloud of Brian Williams will hang low over 30 Rock. Lack has to expedite the investigation into the "Nightly News" anchor's reporting and make a final determination on his status.
"His first priority will be 'Nightly News,' finishing the Brian Williams investigation and, assuming no other problems are uncovered, reinstating Williams to his anchor role," Joe Peyronnin, former VP of CBS News told TheWrap. "The second priority will be getting the 'Today' show back into first place and increased profitability.
"[Lack] will be aggressive about addressing the daily production quality [of 'Today.'] I doubt he will change the anchors, rather he may add some strong contributors, and he will improve the 'Today' show marketing and promotion."
Peyronnin, who worked with Lack at CBS News and has known him for 30 years, says he is the right guy to fix NBC News.
"Andy Lack is perfect for NBC because he is a terrific programmer, a strong and charismatic leader and a fierce competitor who knows how to win."
2. Reputation Resuscitation
NBC News has taken hits over the years for letting billows of gossip about imminent departures engulf its star talent — primarily former "Today" anchor Ann Curry and erstwhile "Meet the Press" moderator David Gregory — instead of taking swift action. Leaks have flooded out of 30 Rock, with chaos at the "Today" show and a round robin of Curry and Gregory rumors feeding newspapers, social and digital media.
One of Lack's top priorities will be restoring the NBC brand — and plugging persistent leaks.
"What they have to do is restore the credibility of the brand by taking demonstrative steps in that restoration, i.e. internally communicating strong support of the staff, and externally by restating their commitment to their talent, viewers and offering stories with less fluff and more impact," marketing and branding expert John Tantillo told TheWrap.
Also Read: Ann Curry Comforts David Gregory After 'Meet the Press' Boot
Lack also needs to drill a term into his executives and producers — youth.
"This is a great opportunity for him to take brands that have been damaged, like the 'Today' Show and 'Nightly News,' and realize there are changing needs of what people want to see and view, and as a result change programming to represent that by making stories more youth-oriented."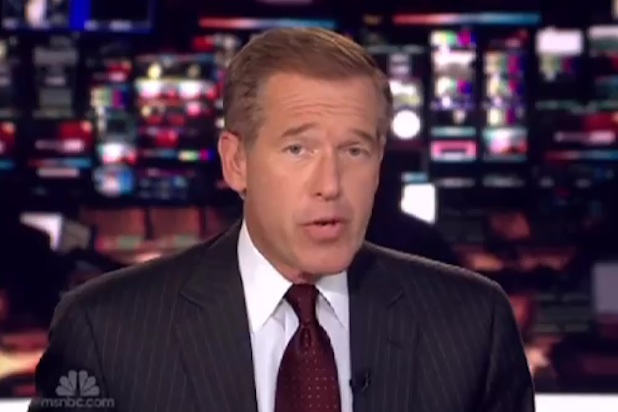 3. Silence the Voice-of-God Anchor 
Growing choruses heralding the demise of evening news have been premature, with the three network news shows drawing between seven and 10 million viewers in a given week. But its viewership is much older than the demo advertisers want to reach, and more importantly, not the age group that will secure the format's long-term future.
"There is a lot of noise on social media. The media has a great opportunity to … filter through the noise and put a spotlight on the best content," Jenni Hogan, Chief Media Officer at Tagboard, told TheWrap, urging the evening news to go all-in on social media.
Also Read: Brian Williams False Iraq Story Sparks Mocking Twitter Trend
"This can't be done through teleprompter, it has to be done with trust on the talent and producers to make real-time decisions. For 'Nightly News' to be on the forefront of this they'll need to get away from the anchors reading a teleprompter — no more papers on the desk. Let them be the hub of the digital content, empower them with tools so they can make timely decisions live," she continued.
Hogan also says the strategy can't be a half-assed, "let's read some tweets on-air" proposition.
"The Nightly News can go into this new phase to play or they can go in to win. There needs to be a big shift. We'll know if they're going in to win by the actions not by their talk."
4. Solve MSNBC's Predictability Puzzle
Also falling under Lack's purview is MSNBC, a network that's seen double-digit losses in all ratings measurements compared to the same time last year. Fresh off of President Phil Griffin's cancellation of Ronan Farrow and Joy Reid's programs, and suggestions by insiders that 8 p.m. ET host Chris Hayes, who's plagued by low ratings, is destined to be moved, Lack has to get involved.
"It seems obvious that the viewers have decided that the personalities they have on the air are not selling," NPR TV critic Eric Deggans told TheWrap. "Their anchors have lost the attention of people who watch cable news in primetime, and they need to figure out a way to find personalities that the audiences find compelling."
Deggans urged MSNBC to look across 6th Ave. to solve its predictability problem.
Also Read: Inside MSNBC's Impending Shakeup: Cancellations, Reboots and Chief Phil Griffin
"Their biggest problem is their signature personalities have stopped surprising their audiences. And if you look at Fox News, the one thing you can say about Megyn Kelly or Bill O'Reilly — you're never totally sure where they are going to come down on an issue. You know most of the time they are going to be conservative, but you never quite know how they are going to voice that."
Al Sharpton is a perfect example of predictability, Deggans said, questioning why people should watch his program, "PoliticsNation," when his countless speeches and marches articulate where he stands.
MSNBC needs to "challenge the orthodoxy of liberal thought," he said, enough so that they shift their predictability problem.
Also Read: Inside MSNBC's Evolution: How Phil Griffin Is Tinkering With Network
"MSNBC needs to try a bunch of stuff; it's going to be messy, and it's going to be horrifying and they're going to do some stupid stuff, but they have to figure out a way to change their brand and make people talk about MSNBC outside of all the ratings woes."
5. Throw Out the Rundown
What Deggans and others have identified boils down to an inescapable imperative. For NBC News — and all networks — to survive well into the future, it needs to market to a whole new generation of viewers who aren't watching now: millennials, cord cutters and viewers who gravitate to integrated TV, where the walls between talent and viewers are thin.
Lack can't be afraid to throw viewers on the "Today" couch to take part in segments. Or to play with the traditional evening news formula, which might be holding millions of viewers now, but isn't creating programming that will attract millions of millennials later.
Also Read: Donald Trump Calls for 'Moron' Chuck Todd's Ouster Again: I Should Host 'Meet the Press'
On Sundays, Lack needs to help "Meet the Press" continue building, but not hold on so tightly to the old-guard pundits on which everybody else in the broadcast and cable game lazily relies. If you want to attract the youth and minority viewer, put them on your show and watch the social and audience fireworks spark.
NBC News and MSNBC declined to comment to TheWrap for this story.