The Tony Awards always offers its requisite share of surprises (James Corden of "One Man, Two Guvnors" beating Philip Seymour Hoffman of "Death of a Salesman") and predictable wins (Audra McDonald in "Porgy and Bess").
But the most moving moments are the stories behind the stories.
Who didn't get a bit teary when "Nice Work If You Can Get It" star Judy Kaye dedicated her award for best featured actress to her father, who passed away last week? Or during Steve Kazee's shoutout to his "Once" cast members for helping him though his mother's death. Or director Mike Nichols, recalling how he won a pie-eating contest in the very theater where he was accepting his eighth Tony Award for directing?
With that in mind, here are six behind-the-scenes things you may not have known about Tonys night.

1. Jesse Tyler Ferguson's appearance in Neil Patrick Harris' opening number as the understudy host of the Tonys was not just creative casting. As early as 2010, the "Modern Family" star has offered his services as Tonys host, via Twitter and later in interviews. Alas, it was not meant to be. Maybe next year?
2. Alan Menken has won eight Academy Awards, four Golden Globes and five Grammy Awards, but somehow the Tony Award always eluded the composer of "Beauty and the Beast," "The Little Mermaid" and "Sister Act." On Sunday night things changed, with Menken finally claiming the statuette for "Newsies," the musical based on the 1992 film about the newsboy strike of 1899.
Menken will be able to pair his Tony with the 1993 Razzie Award he won for worst original song, "High Times, Hard Times," from the movie — you guessed it — "Newsies." (And, no, you won't hear that song in the stage production of "Newsies.")
3. When Tyler Perry was introduced to present the Tony for Best Revival of a Play, he was described as an actor, director and playwright. In fact, he's one of the most successful playwrights in the country, with his urban theater productions bringing in millions of dollars a year in box-office receipts. But despite his success, he's never appeared on Broadway.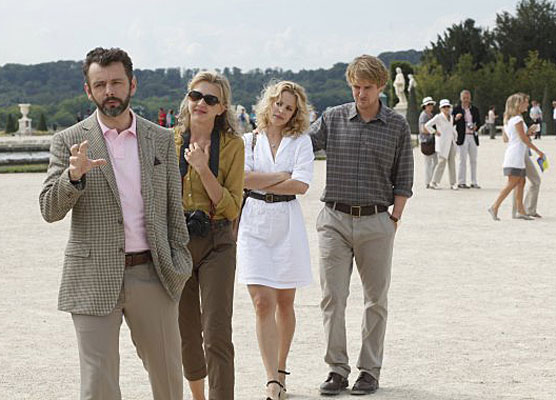 4. If "Venus in Fur" star Nina Arianda, the newly crowned best actress in a play, looked familiar, but you haven't been near Broadway lately, it could be because you saw her in last year's Woody Allen hit "Midnight in Paris." Arianda (second from left, with Michael Sheen, Rachel McAdams and Owen Wilson) played Carol, wife of know-it-all professor Paul Bates.

5. The king of Broadway producers, Scott Rudin, was all smiles as he picked up the Tony for the revival of Arthur Miller's "Death of a Salesman." It was his ninth win (and 25th nomination), but he could have picked up a 10th on Sunday. Rudin was the original producer behind "Clybourne Park," which won the award for Best Play.
Rudin had an 11th-hour falling-out with playwright Bruce Norris and withdrew his backing just before "Clybourne Park" was set to go into previews in April. But the show must go on, and Jordan Roth, president of Jujamcyn Theatres, stepped in with the funding — and took to the stage Sunday with Norris (above left, with Roth) to collect the prize.
6. Broadway veteran Linda Lavin delighted audiences and critics off-Broadway at Lincoln Center's Mitzi Newhouse Theatre with her portrayal of the boosy Silda Grauman in Jon Robin Baitz's play "Other Desert Cities." But when the play moved to Broadway, Lavin bowed out in favor of another family drama, "The Lyons," for which she received a Tony nomination for leading actress in a play. She was replaced by Judith Light (above), who a year earlier had received a Tony nod for her portrayal of Marie Lombardi in "Lombardi," her return to the Great White Way after a 35-year absence.
On Sunday, Light picked up the first Tony Award of the night, for best featured actress in a play. It was her first Tony win. Lavin, unfortunately, was an also ran, losing to Nina Arianda.