With the summer movie season winding down and Toronto Film Festival around the corner, Hollywood is looking ahead to fall.
After an exceptionally packed summer of tentpole movies, the studios are once again turning their attention to more thoughtful fare.
Sure, there's still Thor and the next "Hunger Games" and "Hobbit" movies, but the season is also packed with movies such as Martin Scorsese's "The Wolf of Wall Street," Spike Jonze's "Her" and Alexander Payne's "Nebraska." Alfonso Cuaron's "Gravity" and George Clooney's "The Monuments Men" are also on the way, along with a surprisingly large number of movies by black filmmakers.
Here are the most pressing box office questions for the final four months of the year:
1. Will audiences return Hollywood's belated embrace of black filmmakers?
Old white men have ruled Hollywood for more than a century, but this year the bastion of liberalism is diversifying. At least 10 films starring black actors and actresses are opening in the second half of the year, several of them written or directed by black filmmakers as well.
Ryan Coogler and Lee Daniels kicked things off this summer with "Fruitvale Station" and "The Butler," both flagged as early awards contenders, while popular comedian Kevin Hart weighed in with his stand-up special "Let Me Explain."
Also read: How Oprah's 'The Butler' Hooked Women, Blacks and Older Moviegoers With One Decision (Video)
Coming this fall: two films about South African hero Nelson Mandela ("Winnie Mandela" and "Mandela: Long Walk to Freedom"), one about slavery ("12 Years a Slave"), another about the Beltway Snipers ("Blue Caprice"), the requisite Tyler Perry film ("A Madea Christmas") and several others, including David E. Talbert's "Baggage Claim" and Kasi Lemmons' "Black Nativity."
Whether this is one-year blip or sustainable depends on how many people go to see these movies.
See video: James Cameron, Dan Loeb: The 5 Worst Decisions of Summer
2. Can Summit launch a major franchise even with Orson Scott Card hellbent on destroying it?
Come November, Summit will release one of the year's most anticipated movies, "Ender's Game," an adaptation of one of the most popular science-fiction books of the last half-century.
Yet the distributor has encountered an unexpected hurdle: the book's author. Orson Scott Card seems determined to alienate most of the movie's potential audience. He's taken on gays, Muslims, Democrats, Turks, Russians and pretty much anyone who isn't a conservative white American.
Also read: 'Enders Game' Author Orson Scott Card Compares Obama to Hitler: What Can Summit Do?
If audiences boycott the movie because of Card's beliefs, it will ruin Summit's plans to adapt subsequent books in the franchise. So Summit has a simple message: focus on the movie and forget about Card.
That's not easy to do when he's comparing Barack Obama to Hitler. For more on that, read this.
3. Will anything beat "The Hunger Games"?
No movie set to open in the final few months of this year is more of a sure thing than "The Hunger Games: Catching Fire," the sequel to the 2012 hit and the second adaptation of the popular book series.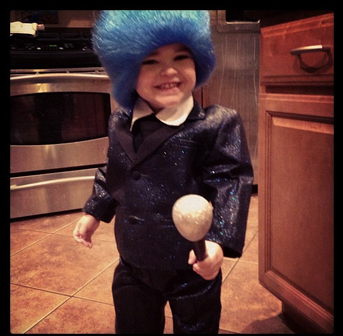 The first film grossed almost $700 million at the box office, transformed Jennifer Lawrence into an international movie star and spawned a slew of regrettable Halloween costumes like the one on the right.
See video: New 'Hunger Games: Catching Fire' Trailer
Since it opened, the film's fortunes have only improved. Lawrence won an Oscar for Best Actress, Philip Seymour Hoffman joined the cast and every studio in town tried to find its own slightly worse young adult novel to adapt. Lionsgate's own in-house partner Summit even has an eerily similar adaptation debuting in March called "Divergent," starring Shailene Woodly and Theo James.
So will any movie stand up to "The Hunger Games" at the box office? Keep in mind that, for all the fanfare surrounding the first one, it actually made less then the first installment of "The Hobbit"; the second installment of that Peter Jackson franchise arrives a few weeks after "Catching Fire."
4. What movie will pull out of the Christmas sweepstakes?
There's always a surfeit of movies scheduled in the two weeks leading up to Christmas – and this year is no different. Nineteen movies are slated between Dec. 13 and Dec. 25
Due to overcrowding, studios have been known to punt releases into the new year: Last year, Paramount moved "World War Z" out of the year-end traffic jam and Warner Bros. moved "The Great Gatsby." Both movies fared well this past summer.
Also read: Brad Pitt, Horror, Ryan Reynolds and China: The Summer's Biggest Winners and Losers
This year? There's little chance "American Hustle," "The Secret Life of Walter Mitty," "Saving Mr. Banks," "Foxcatcher," "Anchorman 2" or the next "Hobbit" are going anywhere. The first four are all seen as major awards contenders while the latter two are certain hits.
Could "Grduge Match" or "47 Ronin" be the ones to go this year?
5. Speaking of which: Will "47 Ronin" be the disaster everyone expects?
Universal has twice before pushed the release of this movie, one of the most troubled productions in recent memory. The film stars Keanu Reeves and an otherwise all-Japanese cast in a reimagining of a legendary Japanese samurai tale.
As TheWrap reported last year, Universal took control of the editing of the film from first-time director Carl Rinsch. The studio did not see eye-to-eye with Rinsch, a successful commercials directors, and closely monitored reshoots as well.
Meanwhile, the budget swelled to at least $175 million – and likely much more.
Several movies this year have she their "troubled project" labels to succeed, including "World War Z" and "G.I. Joe: Retaliation." Will "47 Ronin" be one, or will we be watching it next year after another delay?
6. Can Tom Hanks get his groove back?
Tom Hanks had a great run from "A League of Their Own" in 1992 through "Catch Me if You Can" 20 years later.
He made 12 films over that stretch, and also voiced Woody in a pair of "Toy Story" movies. With the exception of "That Thing You Do!" and "Road to Perdition" – a sadly forgotten film – every single one of his movies was a big hit at the box office, with "Forrest Gump," the most successful of them all.
Since "Catch Me if You Can," his output has been more mixed: His biggest hits have either been animated – "Toy Story 3" – or based on a book series that everyone and their mother read – "The Da Vinci Code," "Angels & Demons." Hanks' big movie last fall, "Cloud Atlas," opened with a thud.
This fall, Hanks returns to theaters as the star of "Captain Phillips," a film based on the story of a ship captain held hostage by Somali pirates. The movie has all the pedigree of an Oscar contender and crowd favorite, from an acclaimed director (Paul Greengrass) to an exceptional producing team (including Scott Rudin and Michael De Luca) to Hanks himself.
Also read: Tom Hanks Squares Off Against Somali Pirates in 'Captain Phillips' Trailer (Video)
He also stars in "Saving Mr. Banks," the story of the struggle to get "Mary Poppins" made – the kind of inside Hollywood story the Academy loves.
7. Will horror rule for another quarter?
Two of the summer's most profitable films, "The Purge" and "The Conjuring," cost a collective $22 million to produce and grossed more than $200 million combined at the box office.
While Paramount delayed the release of "Paranormal Activity: The Marked Ones" to next year, there is no shortage of horror movies this fall and winter to try and replicate that success.
Also read: The Summer's 6 Biggest Payoffs – and 5 Biggest Bombs
Two candidates: James Wan, who directed "The Conjuring," will unleash his sequel to "Insidious" in September while MGM and Screen Gems will offer a remake of the horror classic "Carrie" in October.
The door is open in September and October for a horror surprise.