It's been a tough year for the "awards movie" business.
There's been no $100 million "Slumdog Millionaire" — not even a lesser "Juno" or an "Atonement."
In a year where "Avatar," "The Blind Side" and "The Hangover" are lighting up the box office, lost in the dust have been the type of films studios historically have relied upon in the all-important end-of-year Oscar rush.
Failing to find an audience: highly anticipated contenders like "The Road," "Nine" and "Invictus."
Indeed, no smaller films released toward the end of 2009 — whose business models hooked around awards marketing — have broken out. Certainly none were comparable to last year's "Slumdog Millionaire" ($377.4 million worldwide) and "Gran Torino" ($269.7 million), or "Juno" ($231.4 million) the year before that.
"For the most part, the nominated dramas have been successful, but not at the level of those," one studio distribution head told TheWrap.
Yes, this season has included some modest success stories. Paramount's "Up in the Air," nominated for a best film drama Golden Globe, has grossed $69.5 million so far on a reported production budget of $25 million. Meanwhile, Lionsgate's "Precious," also Golden Globe-nominated for best drama, has grossed $45.2 million on a budget of about $10 million.
And among struggling independents and fast-disappearing studio boutique divisions, there were several dramas released well in advance of awards season that have made both Oscar and box-office noise, specifically Weinstein's "Inglourious Basterds," which has grossed $321.9 million globally, according to Box Office Mojo.
But by and large, most of the sophisticated dramas released toward the end of last year have failed.
(And that list doesn't even include Summit's best-picture Oscar contender "The Hurt Locker," another summer release which has grossed only $16.1 million.)
Meanwhile, a sizable number of heavy dramas released by indies and specialty divisions late in 2009 have bombed.
This includes virtually the entire late-year slate from the Weinstein Company, with "Nine" ($22.4 million in global box-office revenue through Monday), "The Road" ($11.7 million), "A Single Man" ($4.3 million) all failing to catch heat.
For its part, Focus Features, which has wrought such awards-season hits as 2004's "Lost in Tranlation" ($119.7 million), 2005's "Brokeback Mountain" ($178 million in global box-office) and 2007's "Atonement" ($129.7 million), had one of the bigger flops of the fourth quarter, with "Pirate Radio" taking in just over $8 million on a budget of $50 million.
Focus' Coen Brothers comedy "A Serious Man" hasn't found traction, either, grossing $18.7 million since its Oct. 2 release.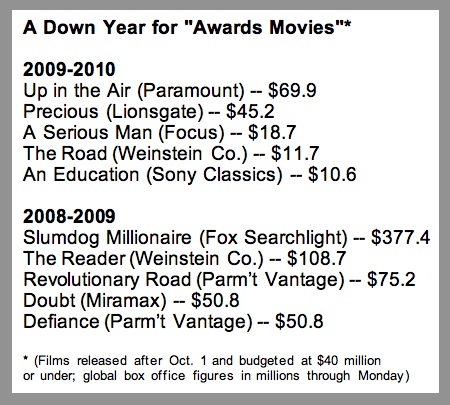 And Fox Searchlight's "Amelia" only grossed $19.2 million on a $40 million budget.
All of this comes just two years after Warner Bros. scuttled Warner Independent and Picturehouse, kicking off a wave of specialty-division retrenchment. At the time, studio CEO Alan Horn said Warner's main marketing and distribution personnel were more than equipped to handle the unique needs of sophisticated comedies and adult dramas.
"We decided that, for us, what distinguishes a specialty movie from a big Warners movie isn't the marketing and distribution — but the movie itself," Horn said.
Efforts including Clint Eastwood's "Million Dollar Baby " — a $30 million film distributed by Warner's main operation — supported that notion, grossing $216.8 million worldwide and winning Best Picture.
But Warner's recent efforts to mix awards glory with low- and moderately budgeted box-office success have been mixed.
Last year, for example, Eastwood's "Gran Torino" proved to be one of the studio's bigger hits but was ignored by awards voters. This year, the filmmaker's "Invictus" ($55.3 million at the global box office so far) has had only middling success with moviegoer and awards attention.
Of course, with the Oscar nominations not slated to be announced until Feb. 2, things could turn around: Going back to the comparable weekend of Jan. 16-18 of last year — which was also in between the Globes Awards and the Oscar nomination announcements — eventual Best Picture-winner "Slumdog" had taken in only $42.7 million to date.
Likewise at that point, Weinstein Company release "The Reader," for which Kate Winslet won the Academy Award for best actress, had only grossed $5.7 million of a global box-office gross that would eventually swell to $108.7 million.
Also, Paramount Vantage's "Revolutionary Road" — an anvil-heavy Sam Mendes drama starring Leonardo DiCaprio and Kate Winslet — grossed $75.2 million on a $35 million budget.
However, outside of any major Oscar coups, none of this season's so-called "awards films," save for perhaps "Up in the Air," looks poised to break the $100 million mark.
In 2008, no less than three Oscar-contending titles from studio specialty divisions — Searchlight's "Juno," Focus' "Atonement" ($129.3 million worldwide) and Miramax's "No Country for Old Men" ($162.1 million) — met that milestone.
But those major Oscar coups are always possible.
"It's still kind of early," noted another studio distribution president. "The Oscar nominations haven't even been announced yet."