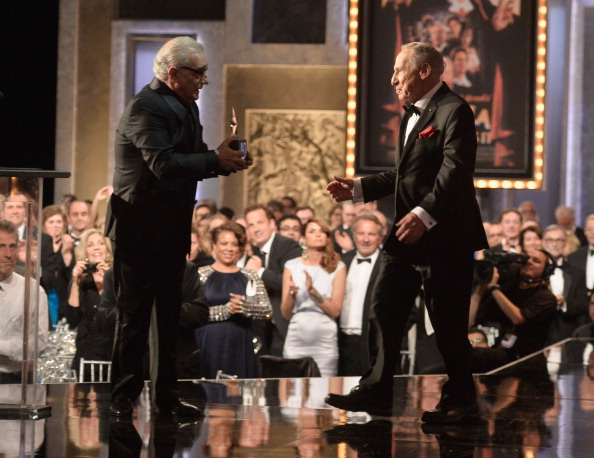 AFI and A-listers from the TV and film comedy community bestowed the godfather of modern comedy, Mel Brooks, with AFI's Lifetime Achievement Award at the Dolby Theatre on Thursday night.
Whether you'll be watching it when it airs on TNT on June 15 or were in the room yourself, here's what you missed or won't see on TV.
Above: Sarah Silverman, Zach Galifianakis, and Sacha Baron Cohen.
AFI regular Judd Apatow is "just like us." He arrived early to mingle and brought his daughter Maude over to meet Sarah Silverman at a centerfield table, admitting that she was nervous to meet the comedienne.
Equally social at AFI's cross industry-mixers is Matthew Weiner, who spent time with fellow AMC showrunner Vince Gilligan and director Jay Roach during the cocktails.
In another corner of the Dolby lobby, Billy Crystal was fiddling with his iPhone and patiently posing for photos, a surprising request from a seen-it-all industry crowd.
Though it may have been a familiar setup for default Oscar host Crystal, the floorplan skewed from usual. Producers knocked out the orchestra pit and stage, transforming it into a talent pit for dinner seating. Where Jack Nicholson's displaced front row would normally be, Brooks presided over a raised head table (above).
Additional guests filled the balconies, escalating the grandeur beyond last year's location on a soundstage on the Sony lot.
Above: Robert Deniro (who echoed Morgan Freeman by both highlighting their lack of Brooks-induced employment) and Martin Scorsese, in a mortician's tuxedo.
Beyond the event's larger footprint, there seemed to be an implied message in the Mel Brooks tribute: comedies usually don't win awards.
By emulating the Oscars template i.e. shutting down two lanes of Hollywood Boulevard, ushering arrivals through the grand staircase, and showcasing Brooks and all those he influenced directly on the big stage – there was a feeling of reparation.
"(AFI) are the cinema police," Brooks said. "They protect the past and future of movies." Expect to see the previous soundbite in one of AFI's century-spanning video packages for years to come.
The show kicked off with an emphasis on Brooks' multi-genre career, including "The Producers" on Broadway. Martin Short nearly stole the show with a musical cold open. Jay Roach turned around in his seat to clock Brooks' reaction.
Jay Roach, Susanna Hoffs, and former AFI CEO Jean Firstenberg.
The humor skewed inside at times, jokes ranged from pre-fame meetings at the Big Boy in Burbank to Sarah Silverman's poke at a the less popular 'Mel' (Gibson). Following her comedic victory, Silverman slipped out of her Alexander McQueen heels off as soon as the lights went dark to exit stage right more comfortably.
When Crystal took the stage, he snuck in a plug for his one-man show that returns to Broadway in the fall. "What am I stupid?" he said. "Look who's here."
And who was there: Les Moonves posted at the 12 o'clock stage-facing position at his table, with producer Chuck Lorre on his right. In the front row, AFI Board of Trustees Chair Howard Stringer's table included Sony CEO Kaz Hirai. Meanwhile, Audi of America president Scott Keough made the trip west, since the AFI board member had a chunk of the talent pulling up on Hollywood Boulevard in fresh-off-the-truck 2014 Audis.
Above: Molly McNearney, Jimmy Kimmel, and Carl Reiner, who sat at the head table with Brooks playing the role of Best Man of the night.
Fox Studios CEO Jim Gianopolus backed up to Jimmy Kimmel, who spoke from his seat. The presentations were heavy on two themes: jewish power in Hollywood and Brooks' senior status.
"We are going to miss you so much," Jimmy Kimmel said. "Rest in peace, rest in peace my friend." Kimmel followed Conan O'Brien in a one-two punch of late night hosts who both credited Brooks' late night appearances as some of their earliest must-see, stay-up-late TV.
After the show ended and the crowd migrated up to the ballroom on the fifth floor (another Oscar parallel) the affection continued. The 86-year old Brooks filed into an elevator with the masses, grabbing Dreamworks executive Harbor Peoples by the cheek and pinching the new friend like an old one.
"That'll be $5.50 sir," Peoples said.
Apatow, Turner entertainment president Steve Koonin, and President of Programming for TNT, TBS, and TCM Michael Wright. TCM airs the show after TNT, in July.
The ceremony's broadcast moves from Viacom's TV Land to TNT this year.
On Wednesday night, the late Roger Ebert and "Fruitvale Station" took center stage at the Sundance Institute's now annual L.A. benefit, where they venture southwest from Park City.
Robert Redford escorts Chaz Ebert to the stage at The Lot in West Hollywood on Wednesday night.
Ebert accepted the invitation to be the night's honoree for his support of independent film last fall. When he died in April, it became his first posthumous honor. His wife, Chaz Ebert, attended and accepted in his memory.
While film grants are common, the Institute announced a new "Roger Ebert Scholarship for Film Criticism" at the event, a non-traditional philanthropic target for a crowd of filmmakers.
In recalling her late husband's relationship with Sundance founder Robert Redford, Chaz Ebert continually referenced Roger's relationship with "Bob."
"(Roger) remembered going to the Sundance Film Festival when it was a little event in a Holiday Inn in Utah," Ebert said. "He thought that this work was very special."
"We can't forget that he also wrote the book, 'I Hated Hated Hated This Movie,' but that came from a level of integrity as well."
We may be seeing a lot more of this foursome that make up Team "Fruitvale Station". Director and Vanguard Award recipient Ryan Coogler, with stars Octavia Spencer, Michael B. Jordan, and Melonie Diaz.
Jason Reitman and Oliver Stone during the cocktails.
Cassidy, Alan, and Cindy Horn. The Disney Studios chairman and wife Cindy are both Sundance Institute Trustees.
The scene inside the Tiffany hosted event in West Hollywood.
The Sundance Institute's Keri Putnam greets the festival's big winner: Coogler.