If it jiggles — a stomach, that is — we giggle. Or so Hollywood seems to think, given the long line of chubby men who have reigned as box-office stars in comedies almost since movies began.
The latest double-wide guy: Jonah Hill. A Judd Apatow regular, in recent years he has turned up in supporting roles in "Knocked Up," "Superbad," "Forgetting Sarah Marshall" and "Funny People." In the raucously funny "Get Him to the Greek," a contender as this summer's "The Hangover," his rotund self steps front and center.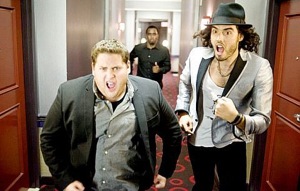 Hill is still developing his comic persona. He's not the wild and crazy guy or the obnoxious but lovable lout — the usual fat man default modes — but something we haven't seen much of before: an average, even sweet fellow, often a little insecure, trying to get by. He's an Everyman.
Other than baring his bottom (mercifully, must once), Hill doesn't even do much physical shtick.
Which puts him at odds with his long line of pudgy predecessors, who go back as far as silent star Roscoe "Fatty" Arbuckle and Oliver Hardy. In more recent decades, stars who traded on their size for laughs include John Belushi, John Candy and Chris Farley — all of whom, sadly, died well before their time.
More recently, Jack Black and Seth Rogen have shot to the top of marquees, despite or more likely because of their less than svelte figures, though Rogen has recently slimmed down.
This is an exclusively all-male club. Ladies with extra avoirdupois have never been welcomed on screen. The exceptions: Marie Dressler back in the 1920s and early '30s and, currently, Queen Latifah.
Surprisingly, the 26-year old Hill plays the straight man in "Greek." The movie's best lines and bits go to his co-star, ribald British comic Russell Brand, who has a field day playing a drug-and-booze addled rocker. Brand is revisiting the memorable character of Aldous Snow, the wasted British rock star he first portrayed two years ago in "Sarah Marshall."
Hill also appeared in "Marshall," but in "Greek" he plays an entirely new character: Aaron, a young record-company executive charged with shepherding Snow from London to Los Angeles for a concert at the Greek Theater.
"Greek" is both a road and a buddy movie. The major acting demand made on Hill is to look shocked, worried and stupefied at the outrageous antics of Aldous as he indulges in non-stop partying as the two make their way from London to New York to Las Vegas to, finally, Los Angeles.
Over time, a real friendship develops between the two.
Essentially, "Greek" is a bawdier, low comedy version of director-writer Cameron Crowe's "Almost Famous," the 2000 drama in which a young rock journalist got a close-up look at a self-destructive rock star while on the road reporting on his concert tour.
That, of course, was a much deeper, more thoughtful film. But "Greek," written and directed by Nicholas Stoller ("Sarah Marshall"), has its moments (though a few too many of them; it could easily be pruned by 15 minutes).
I may never be able to watch Meredith Viera interview a rocker on "The Today Show" again without hoping for a replay of her hilarious exchange with Aldous during a cameo here when, while interviewing him live on the show, she realizes that he is high as a kite — and asks him to own up to it.