Hollywood studios are evolving the worship of movie star bodies by telling audiences how to achieve them, recent marketing campaigns reveal.
Want Alexander Skarsgard's "Tarzan" six pack? Warner Bros. has a six-week YouTube tutorial to get you in vine-swinging shape. How about Olivia Munn's "X-Men: Apocalypse" triceps? You can swing a faux sword like she did at your local Crunch Fitness thanks to a partnership with 20th Century Fox.
The ogling of ripped big-screen stars is a national pastime, thanks to the proliferation of celebrity blogs and paparazzi camped out wherever the famous work up a sweat. It's arguably a pillar of the superhero genre — it's fun to watch Iron Man fly, but don't we really want to see Thor flexing with his hammer?
Lately, however, movie companies have gone beyond circulating images of stars on health magazine covers and billboards — they've begun directly tapping into the ambitions of an audience that wants to look like Chris Hemsworth, not look at him.
Also Read: 'The Purge' Sequel Out Swings 'Legend of Tarzan' at Thursday Box Office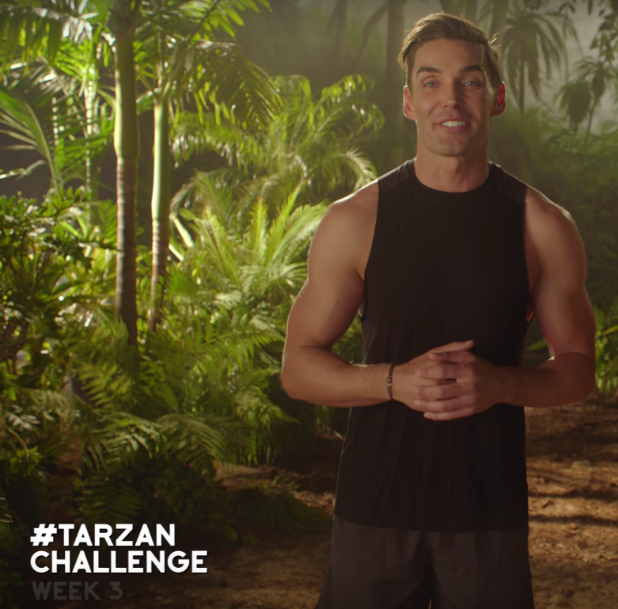 For this weekend's "The Legend of Tarzan," Warner Bros. commissioned a companion workout series called "The Tarzan Challenge," hosted by Nick Hounslow, a former trainer to the likes of Nicole Kidman and star of ABC's "The Catch."
"The Tarzan Challenge was something Warner Bros. hasn't done before in the fitness realm, so they asked me what I'd recommend for a six-week workout course with an entire social media campaign built around it," Hounslow told TheWrap. He's joined in the series with trainer Teri Ann Krefting since, as he said, "we needed a Jane, obviously."
Hounslow designed the program with the specific directive from WB to appeal to less-than-fit consumers since the average moviegoer certainly doesn't have the resources to look as fit as Skarsgard.
Also Read: PornHub Inserts Itself Into Fitness Craze With 'BangFit' (Video)
"It's somewhat unrealistic to parlay to the general public these intense bodies. Actors who do this have nutritionists and trainers and work out 2-3 times a day," Hounslow said. "So the directive was, 'How can we include everybody — all ages, generation with no to little equipment?'"
The result is a routine of dynamic basics like pushups, lunges and rows using nothing but body weight or, as Hounslow derived from movie messaging, "your animal nature." The series has YouTube views in the high six figures thanks to a key motivator — fans who post photos doing the Tarzan Challenge get shared on the film's official social accounts.
Fox's Crunch partnership resulted in weeks of "X-Men: Apocalypse Survival of the Fittest" programming at gyms across the country, centered on an interval training class built around characters played by Jennifer Lawrence, Michael Fassbender and Munn.
Also Read: Chris Hemsworth Nerds Out in New 'Ghostbusters' Photos
"We position ourselves as a gym of no judgements, where everyone is welcome, but we do look to see what pros like athletes or film actors are doing to enrich our member experience," Allison Gorbaty, Senior Director of Marketing at Crunch, told TheWrap.
The "X-Men" partnership was one of several recent efforts at Crunch, preceded by a karaoke spin class to promote "Pitch Perfect 2" and a dance class last July in L.A. for "Magic Mike XXL" taught by cast member Stephen "tWitch" Boss (whose day job is Ellen DeGeneres' DJ on her eponymous talk show).
'There's never been so much access as to how you can achieve these goals," Hounslow said, "and it's smart of  the studios to move in that direction."
As a trainer, Hounslow said the most common way clients would communicate their objectives were with pictures of stars.
"People always bring in pictures," he said. "It's the easiest way to become a body sculptor with that frame of reference. What's interesting, too, is that people who aren't film fans or perhaps aware of a certain movie franchise will suddenly gain awareness because of the respect they have for a star's build and dedication."
"You're converting fitness fans to movie fans," Hounslow concluded. "That means movie tickets sold."