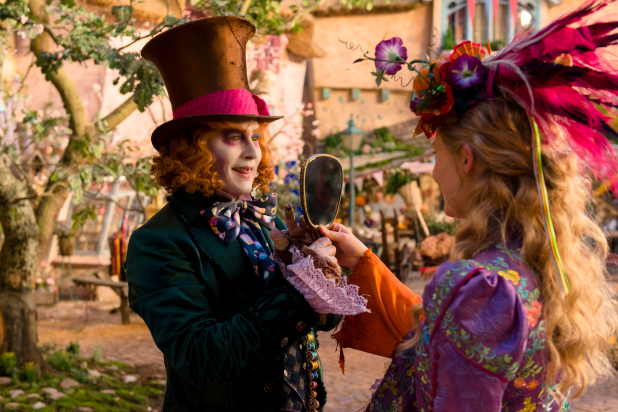 Movie sequels tend to be hit or miss — and "Alice Through The Looking Glass" appears to have qualified under the latter, at least with critics.
Mia Wasikowska and Johnny Depp return as Alice and the Mad Hatter respectively, but one major detail from the first film is missing: Tim Burton. Registering at a woeful 28 percent on Rotten Tomatoes, the film's critical flop is being attributed to the change in the director's chair.
"Poor James Bobin, who's powerless to fight back. Woe to the people who agree to direct the sequel to a Tim Burton movie, painted into a corner of bug-eyed gothic maximalism," wrote The Guardian's David Ehrlich.
Also Read: Disney Drops 'Alice Through the Looking Glass' Teaser (Video)
Alice returns to Underland, the magical alternate reality where nothing makes sense, and travels back in time to save her depressed friend, the Mad Hatter. However, even the sincere storyline evidently can't save this sequel.
"What "Alice Through the Looking Glass" constantly underscores, however, is that even the greatest cinema trickery serves little purpose without stories and characters to support. The pictures are pretty (or scary or awe-inspiring) but they ultimately don't mean anything," writes TheWrap's Alonso Duralde.
The film also stars Helena Bonham Carter, Anne Hathaway and Sacha Baron Cohen, and opens in 3,700 theaters on Friday against "X-Men: Apocalypse." It's tracking to debut in second place with around $70 million.
Read eight of the most merciless reviews below.
Richard Roeper, Chicago Sun-Times
"Working with a bloated, nearly laugh-free screenplay by Linda Woolverton, Bobin assaults the senses with overlong chase sequences, pounding action scenes and big explosions, leaving precious little time for the few (and admittedly entertaining) scenes involving familiar Lewis Carroll characters engaging in surreal and quite nifty wordplay.
"It's one of the great movie disasters of 2016."
Kenji Fujishima, Brooklyn Magazine
"Though Woolverton's script for this sequel pays a lot of heavy-handed lip service to its big themes, there's no soul to any of it: not in its wholly unsurprising plot twists … not in its noisy action set pieces; and certainly not in the performances, with Depp as irritatingly externalized as ever, and Carter dialing up the shrill villainy to 11."
Also Read: Alice's Time Is Up in New 'Alice Through the Looking Glass' TV Spot (Video)
Dave Calhoun, TimeOut
"The film's pace barely leaves you time to think — blink and you'll lose the plot."
Nigel M Smith, The Guardian
"Similarly, the plot is too busy. The saving grace of Burton's film was his wise tendency to bask in the wonders of his gothic Underland. Bobin — not as equipped in the visual department — merely rushes from one point to the next. The ultimate effect is far from wondrous."
Peter Travers, Rolling Stone
"Sometimes an explosion of eye candy can hit the sweet spot, like it mostly did in the Tim Burton 2010 blockbuster Alice in Wonderland. But the magic is missing in this sequel, as is Burton, replaced in the director's chair by James Bobin (Muppets Most Wanted).  Most wanted here is easy charm to counteract the hard sell. Everything is too much, making the movie look like Willy Wonka threw up all over his chocolate factory. The script by Linda Woolverton stays surface faithful to the characters created by Lewis Carroll, but the film has lost its soul."
Also Read: Johnny Depp Broods, Pink Performs at 'Alice Through the Looking Glass' Hollywood Premiere
Lindsey Bahr, The Washington Times
"There are some inspired visuals, like a landscape of glimmering pocket watches suspended in air, but many of the set pieces are executed with too much remove. Alice, for instance, must walk across the enormous hands of a ticking clock to gain entry to Time's headquarters. It's a great idea and looks wonderful, but it's just airless and void of suspense in execution."
David Ehrlich, Indie Wire
"As Alice runs from one hollow set piece to another, hitting every standard mark that a colossal movie like this must in order to pay for itself, her adventure grows less and less interesting with every turn."
Jesse Hassenger, A.V. Club
"Hathaway's White Queen gets her share of screen time but with far fewer lines and almost none of the regal ridiculousness that made her such a delight in the previous film. Depp, too, is central to the story yet not given much to actually do. The famous faces are deployed like expensive special effects: strategically, with the assumption that lingering on them will become too expensive. Sometimes it feels like the supporting actors have lent their likeness rights, rather than given full performances."