How great a year was 2013 for movies? The year-end awards-bait from the major studios ranges from "not embarrassing" to "pretty amazing." Film festival programmers, myself included, found themselves with many more strong titles than there were slots to present them all. And Adam Sandler … OK, Adam Sandler once again starred in one of the year's most reprehensible movies.
I said 2013 was "great," not "miraculous."
So great, in fact, that a Top 10 list can barely cover it, so I'm throwing in runners-up; even limiting it to 25 movies meant holding off on two films that will officially open in 2014 ("Ernest & Celestine" and "Interior. Leather Bar.") and recusing myself from praising a documentary in which I appear ("I Am Divine").
Also read: Best & Worst 2013: Movie Moments of the Year – '12 Years a Slave,' 'Nebraska' and Yes, 'Safe Haven'
#11-#25 (in alphabetical order): "12 Years a Slave," "C.O.G.," "Frozen," "Gravity," "Her," "In the House," "Inside Llewyn Davis," "Kill Your Darlings," "Nebraska," "Neighboring Sounds," "Prince Avalanche," "Something in the Air," "The Spectacular Now," "The Wind Rises," "The World's End"
10. "A Touch of Sin": Zhangke Jia's blistering look at modern China takes four seemingly random acts of violence and ties them to the nation's (and much of the world's) bleak economic landscape. With its no-holds-barred #Occupy viewpoint, it's no wonder this powerful movie has been banned in its home country.
9. "Concussion": The directorial debut from writer-director Stacie Passon joins classics like "Belle de Jour" and "Jeanne Dielman" in its evisceration of the discontents of a suburban housewife while giving this classic tale several 21st century twists, only one of which is the fact that our heroine (portrayed with indelible gusto by Robin Weigert) is a lesbian married to another woman.
Also read: 16 Breakthrough and Comeback Performances of This Awards Season
8. "Enough Said": Writer-director Nicole Holofcener has made just five films in 17 years, but there's not a dud in the bunch. Julia Louis-Dreyfus and the late James Gandolfini generate real sparks as two divorcés who find each other as their respective only children are about to leave the nest. Part farce and part comedy of errors, this sweet and smart romance allowed its two stars to show their range outside of their iconic small-screen presences.
7. "Before Midnight": "Never let an actor near a pencil," said some studio head of yore, warning against letting the stars touch the script. But in this third collaboration between director Richard Linklater and performers Ethan Hawke and Julie Delpy, the lovers from "Before Sunrise" and "Before Sunset" continue to grow deeper, more interesting and more cantankerous as their on-screen relationship evolves.
Also read: 10 Oscar Lessons From the First Blitz of Critics' Awards
6. "Short Term 12": One of 2013's best-kept secrets was this powerful sleeper, starring Brie Larson, giving a career-redefining performance as a woman tending both to a ward full of troubled children and to her own damaged past. Equally hilarious and traumatic, this honest and unpredictable indie boasted an ensemble of newcomers (and plenty of improvisation) that presented the lives of kids in foster care without condescension or mawkish pity. Keep an eye on talented writer-director Destin Cretton.
5. "All Is Lost": "Gravity" deserves praise for its envelope-pushing technical achievements, but this movie tells a similar one-stranded-person story with even greater depth and human power. Robert Redford gives perhaps the finest performance of his career as a man stranded alone at sea, trying desperately to survive. Writer-director J.C. Chandor ("Margin Call") eschews dialogue almost entirely, telling his story instead with the elements, and with Redford's face and resilient physicality.
Also read: Oscar by the Numbers: How Many Votes Does It Take to Get a Nomination?
4. "Upstream Color": One of the most dazzling cinematic high-wire acts of 2013, "Upstream Color" often feels like the film equivalent of looking at a Seurat painting — lots of narrative blobs come flying at you, and you have to patiently process them all until, at the end, a picture emerges. Shane Carruth's long-awaited follow-up to "Primer" is a dazzling feat by its creator, who co-starred, co-edited, wrote, directed, scored and even distributed the film.
3. "The Great Beauty": Comparisons to Fellini's "La Dolce Vita" and "Roma" may be inevitable, but Paolo Sorrentino's celebration of decadent ennui among the glory and the excess of the Eternal City is a dizzying delight that reminds us of the power of pure, indulgent, unfettered cinema. "The Great Beauty" tackles the big questions about life and allows us to consider our own answers.
Also read: Best & Worst 2013: TV's Biggest Winners and Losers of the Year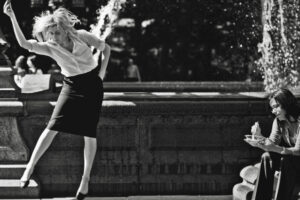 2. "American Hustle": Snappy, smart and sexy, David O. Russell's deliriously bonkers portrayal of the late 1970s Abscam entrapment scandal allows him to elicit extraordinary performances from his ensemble and to bounce any number of genres — from con-game switcheroo to finely-etched character study –against each other brilliantly.
1. "Frances Ha": This low-budget charmer co-written by leading lady Greta Gerwig and director Noah Baumbach celebrates the moment when youthful folly no longer fits while reminding us that adulthood doesn't have to represent the death of dreams. Subtle and sweet, this unassuming little black-and-white movie never makes a false step — how fitting that its lead character is a dancer — and in a year of grand, sweeping cinematic achievement, it tiptoed its way to the top of my list.