Amazon shareholders are pretty pumped this morning, as company stock soared 10 bucks after the company announced standalone video streaming service plans.
That means one wouldn't need actual Amazon Prime to watch originals series, movies, etc. -- fans can now choose an $8.99-per-month option as opposed to dropping $99 annually, the latter which includes free two-day shipping on retail products. Read more about the new video-only service here.
Below is a quick look at Amazon stock this morning. The uber-expensive stock isn't even up 2 percent, but the cash portion made it a good morning to own AMZN.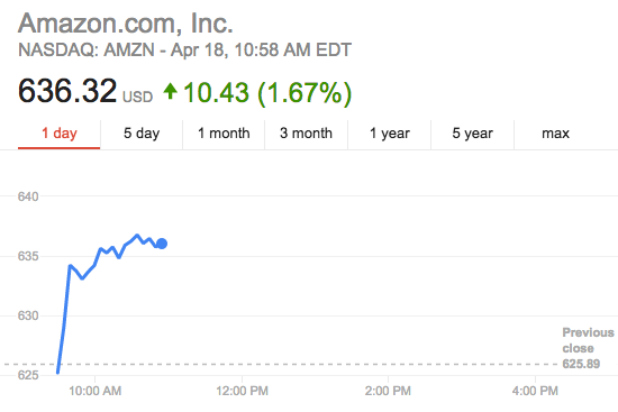 Also Read: Amazon Takes on Netflix With $8.99 Monthly Video Streaming Service
The move and its pricing are definitely a shot at Netflix. Long-standing subscribers to the Reed Hastings-Ted Sarandos service can expect a $7.99-to-$9.99 pay increase soon. New members already pay that roughy $10 monthly.
Coincidentally or not, the far-less-expensive NFLX stock is down a few bucks itself right now. In reality, it's probably not so much the Amazon emergence news as it is that Netflix first-quarter earnings are due this afternoon. We'll find out shortly after 4 p.m. ET how the streaming giant did over the past three months.
Here's Netflix shares thus far this morning: