AMC's towering stack of honors is the payoff for one of the biggest, boldest bets in television: giving its show runners the kind of creative freedom most networks would never consider.
The channel once known for frequently airing the ultimate triumph of auteur filmmaking – "The Godfather" films – thrives today on auteur TV. Its bounty of recognition includes five more Golden Globes nominations Tuesday.
Matthew Weiner's "Mad Men" is about a mercurial advertising mastermind; Vince Gilligan's "Breaking Bad" follows a terminally ill teacher who cooks meth to feed his family; and Frank Darabont's "The Walking Dead" centers on a cop who leads a band of zombie-apocalypse holdouts.
Each of these show runners, like his protagonist, has seized the chance to go his own way.
"It's changed my life, working for this network, because it's allowed me to tell the type of stories I've never been allowed to tell elsewhere," Gilligan (left, with stars Aaron Paul and Bryan Cranston) told TheWrap. "That ballsy-ness and that freshness of vision has really changed my professional life. I can't speak highly enough of them."
Also read: "Breaking Bad," "Simpsons," "Glee," "30 Rock" Lead WGA Noms
Show runners hold the power over TV that directors do over films – which often isn't much. Running a show can mean working with a vast network of writers, powerful stars, and executive bean-counters to produce storytelling by consensus.
But AMC has prevented such dumbing down – as Gilligan puts it, the urge to "file down the sharp edges."
Of course, the auteur model carries risks. At its best, it produces "The Godfather." At its worst, it enables rampant pretentiousness and puts too much weight on one person.
What if a show runner flips out, as "Godfather" director Francis Ford Coppola did on "Apocalypse Now" (before it became one of the greatest films of all time)? Or a show runner leaves, as fans of "Mad Men" feared Weiner (below, right) would during a contract dispute two years ago?
"We can't do the show without Matthew," star Jon Hamm said at the time. "Of course, you 'can' do it, but you know you can't."
Lionsgate, which produces the show, came to terms with Weiner, whose negotiating position was aided by yet another big awards season.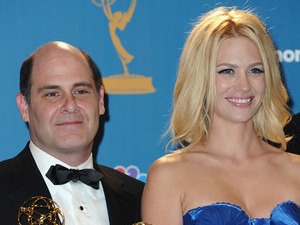 "Mad Men" has won the Emmy and Golden Globe for best drama series for each of its first three years. "Breaking Bad" has earned lead actor Bryan Cranston three best actor Emmys in a row. "The Walking Dead" just earned its first Golden Globe nod for best drama (as did "Mad Men"). The zombie drama is the network's breakout hit, drawing its biggest ratings ever and breaking records in the 18-49 demo for a basic cable drama.
And this is a very abbreviated list of the network's successes.
"One of the early visions we had was to create an environment where people on every side of the camera would bring us their passion projects," says Charles Collier, AMC's president.
How hands-on are AMC's show runners? Darabont wrote or co-wrote four of the first six episodes of "Walking Dead." Gilligan wrote or co-wrote four of the first seven episodes of "Breaking Bad." Weiner routinely writes pivotal "Mad Men" episodes, freely volunteers that he fills the show with stories others confess to him, and even cast his own son in a key role.
Also read: "Walking Dead" Earns Record Ratings for AMC
That kind of involvement lends perspective to a recent report that "Walking Dead" planned to fire its writing staff for the second season. (The network has said only that there will be changes.) One of the pluses – and potential drawbacks – of an auteur-driven show is that the show runner carries much more responsibility than one with more divided writing duties.
Which isn't to say any of AMC's show runners are wholly responsible for their shows' accolades. Weiner, Gilligan and Darabont (pictured left) benefit from other outstanding writers, some of the best acting on television, and film-quality cinematography. Darabont – like Coppola – is working from someone else's source material: "Walking Dead" writer and executive producer Robert Kirkman also wrote the graphic novels of the same name.
And no show has ever owed more to its wardrobe department than "Mad Men."
AMC is by no means the first network to champion auteur TV. Henry Brommel, the former showrunner of AMC's cancelled "Rubicon," has traced TV auteurism to Grant Tinker's reign as CEO of NBC, when the network debuted "Hill Street Blues" and "St. Elsewhere."
"The auteur TV show started with those two shows," Brommel told The New Yorker, "where the producer was the writer."
HBO proved the power of auteur-driven television with shows like "The Sopranos," "The Wire," and "Curb Your Enthusiam."
But almost every AMC show follows the model, including the upcoming project, "The Killing," from "Cold Case" executive producer Veena Sud. The series about the investigation of a young girl's murder will debut in the spring.
On Tuesday, AMC announced a series order for "Hell on Wheels," a rarity for the network in that it has two creators, brothers Joe and Tony Gayton.
The AMC show that has most departed from the auteur model, so far, also happens to be the only one the network has cancelled. Brommel took over "Rubicon" after Jason Horwich wrote and produced the pilot.
But challenging viewers is one of the risks AMC is willing to take. Collier cites the character arc of "Breaking Bad": While procedurals or sitcoms require the main characters to remain static and fairly likeable from week to week, "Breaking Bad" features a character transformation Gilligan has described as "Mr. Chips turns into Scarface."
By the end of last season, once mild-mannered chemistry teacher Walter White had become a drug supplier so ruthless that he ordered a hit on someone whose only crime – aside from cooking meth – was learning to copy Walt's technique.
Show runners might relate. You don't want too many cooks.