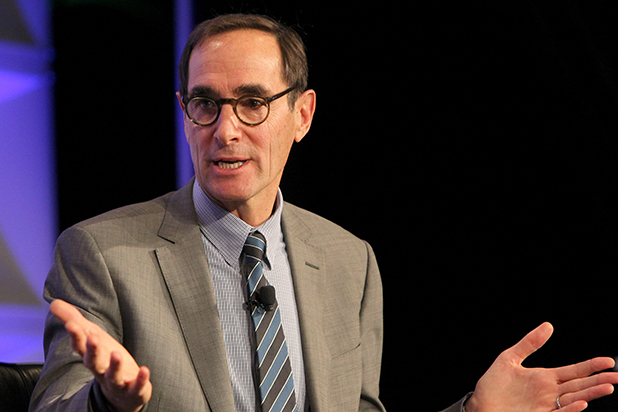 AMC Networks President and CEO Josh Sapan believes being a really good TV show that a bunch of people seem to like is simply not going to cut it in the future.
The executive told attendees of the 43rd Annual Global Media and Communications Conference on Monday that TV series now must be on some cable subscribers' can't-miss lists, like AMC's own "The Walking Dead," a refined way of thinking that Sapan (pictured above) identified as his first goal for the future in programming decisions.
"We think as time goes on, you're going to have to be among people's favorites to survive because the options will increase," he said on Monday.
Also Read: AMC Networks CEO Blows Off 'Too Much TV' Theory: It's 'A Damn Rich Opportunity'
The words were pretty consistent for the forward-thinking and opinionated exec. Last month, Sapan shrugged off FX Boss John Landgraf's now-famous theory of there being "too much television." The optimistic AMC chief opined in November that the state of television right now provides "a damn rich opportunity."
During his turn at today's UBS New York City event, Sapan also earmarked three other goals for the future: He wants to 1) own as many of the networks' programs as possible, which he explained is "just very good economics"; 2) increasingly globalize; and 3) see his company's revenue increase as it simultaneously diversifies income sources.
Later during Monday's panel, Sapan spoke about the positive collateral effect of having "The Walking Dead," which is cable's top TV series in terms of Nielsen ratings.
Clearly, the show helped launch spinoff "Fear the Walking Dead" to big numbers, but Sapan believed it also pushed unrelated newcomers "Better Call Saul" and "Into the Badlands" to very strong sampling figures.
Also Read: Why 'Walking Dead's' Daryl May Be Next Character to Die
After all, viewers need to know where a channel is to find its newest offerings, and a reputation for running strong content can encourage the concept of give-it-a-shot tune-in. So he'll take his 15 million viewers for "The Walking Dead" and not even care if it's up a bit, down a bit, or flat in the ratings.
"The benefit of having big audiences … is that you get to introduce them to new TV shows," Sapan explained.
AMC has been exploiting that idea since the final "Breaking Bad" season.