We're not saying we want Jennifer Lopez to leave "American Idol." But if she's truly on the fence about returning, we can think of five women who would transform the show — for the better.
Most have at least a hint of Paula Abdul's let's-call-it unpredictability, and at least four of them have more than enough musical chops. Some might consider themselves too big — but really, who's too big for television's biggest show? Maybe they would just have to make the show even bigger.
Also Read: Jennifer Lopez on 'Idol': Can She Be Lured Back?
So — barring a deal to bring back Lopez, which could very well happen — here are five women who would judge "Idol" not just credibly, but incredibly:
1. Whitney Houston: Houston has it all — talent galore, and more unpredictability than Abdul on her wildest day. Yes, she's had some erratic performances and a troubled personal life. But when she's good, there's no better singer. And holding down the "Idol" gig would be a great way to show the world that she's overcome her difficult years. Her personal narrative, like her best performances, could be outright inspirational. And isn't that what "Idol" is all about? The only drawback: Fox might be nervous about her past erratic behavior. Let's hope not, because this could be one of the best second acts in entertainment history.
2. Mariah Carey: Carey could have the same issues as Houston. But she has similarly amazing vocal skills, and could also make everyone forget about Christina Aguilera over at NBC's "The Voice." She's also had a taste of reality TV competitions thanks to husband Nick Cannon's gig hosting "America's Got Talent." There are many good reasons she's perpetually mentioned as a possible judge on everything.
3. Pink: Her Top 40 brand of rebellion would be a welcome addition to "Idol" — provocative, but not Courtney Love provocative. She seems an obvious inspiration to scads of recent "Idol" contestants, and has an authentic quality that could make her a friend and champion of worthy contestants. She's also a hell of a singer: "Who Knew" is one of the most underrated pop songs of last half decade. (And would have been right up Kelly Clarkson's alley.)
4. Lauryn Hill: If you take one of our suggestions seriously, "Idol," let it be this one. She is undeniably talented, and undeniably — how to put this? — gifted at confounding remarks. She has '90s cred that the producers seem to love — hence Lopez, Abdul, and Tyler, who had his biggest decade then with Aerosmith. Also, adding her to the show would at least acknowledge the existence of hip-hop and reggae. Of course, Hill is about to become a mom for the sixth time, which sounds a little time-consuming.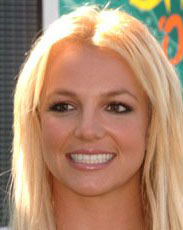 5. Britney Spears: She would be amazing. Her trainwreck years seem long behind her, but she's still unpredictable enough to be a captivating judge. She's equally fascinating to flashy club queens and moms who read Us, perhaps because she seems so utterly uninterested in putting on airs. One problem: Though she's a pop star, she's one of the less musical ones. But one of our favorite things about her is that she's transcended her limitations, in order to become the vessel through which a flood of hits has flowed. We're not sure if that's a quality that can be passed on. But we are sure she would have an amazing rapport with Steven Tyler.