"The Americans" — starring Matthew Rhys and Keri Russell as a pair of Reagan-era Soviet spies masquerading as suburban parents in the U.S. — returns for its second season on Wednesday. at 10 p.m.
Rhys — who plays Philip Jennings on the series — recently spoke to reporters about what to expect from the second season of the series. TheWrap presents the Top 5 takeaways below.
Also read: Emmys: Why 'The Americans' FBI Agent Noah Emmerich Is Never Who You Think He Is
1. The second season will be "more muscular."
While the first season of "The Americans" had no shortage of gasp-inducing moments, the sophomore run will pack even more of a punch, Rhys said, particularly with his and Russell's characters feeling the enemy closing in on them.
"I think it's the writers that feel that a lot more in a second season. They feel the pressure to deliver sort of more muscular, punchier scripts that have more bang for their buck and more pizzazz, power, and punch," Rhys said.
Also read: Keri Russell Gives Matthew Rhys a Lapdance in 'GQ'
2. The Jennings' "sleeping with the enemy" strategy will have drastic implications as the Jennings inch closer and closer to becoming a real couple.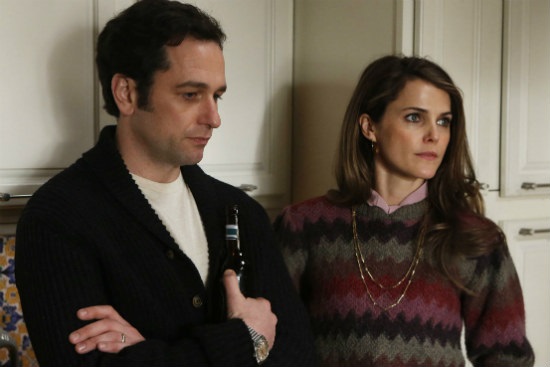 Both Philip and Russell's Elizabeth Jennings spent a large portion of the first season knocking boots with strangers to gain information. But that policy will create a backlash as the two spies continue to develop genuine feelings for each other. Rhys calls it "quite a punchy theme" for the couple this season.
"All of sudden these two people that have fulfilled a very specific mandate all these years about sleeping with people for information suddenly their feelings become real, and the green-eyed monster makes a very rude appearance in their lives, and it's incredibly difficult for them to deal with," Rhys said.
Also read: 'The Americans' Ups Annet Mahendru, Alison Wright to Series Regulars
3. Philip becomes more of a Material Guy this season.
Already growing accustomed to the creature comforts that America has to offer, Philip becomes an even bigger fan of ther better things in life this time out.
"He becomes a little more unashamed about it, especially in this season, where he's like we don't have to live in misery, A, to do our jobs or, B, because we think we should," Rhys revealed. "It presents itself in this season. Elizabeth's"still being very much the hardliner in that she was indoctrinated with a very firm belief system that she doesn't waiver from, and Philip certainly begins — they begin to separate on that specific level, which makes for a great element of conflict."
4. Yes, the disguises will be back — big-time.
The various get-ups that the the Jennings wore as they went about their espionage were a major topic for fans of the show during Season 1, and those fans will have plenty to talk about in the upcoming season, as the couple continues to pretend they're other people.
"That feeds into what the more general storyline for the Jennings … that there is this greater feeling of the danger of is a lot more palatable and a lot more present, and I think they take their role of not being recognized and not being caught that much greater now, because the intensity is sort of closer on their doorstep," Rhys said.
And yes, he has a favorite disguise.
"I've named him; he's called Fernando," Rhys revealed.
Also read: 'The Americans' Review: A Cold War Drama That's Getting Warm
5. Philip's relationship with Martha will become even more awkward and miserable than it already was.
Never a storybook romance to begin with, Philip's marriage-of-spy-convenience to FBI secretary Martha will take a dreary, dismal turn in Season 2.
"It's so beautifully laid out and it's so problematic in that Philip has a real conscience about things, and as they evolve in the way that they do he becomes very aware of what's he's doing in the manipulation of Martha and how it's spiraling ever downwards," Rhys noted. "It pricks his conscience definitely. He has a heart and he is sensitive, and he finds it increasingly harder the level of lies and level of betrayal. As she wants to evolve in the marriage he's trying to stall at every level. And also because of how things are evolving with Elizabeth that presents itself as a difficult riddle for him to overcome, in that it becomes a greater thought inside. So he's certainly torn in that respect enormously between these two situations."