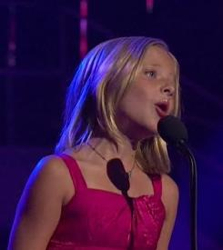 "America's Got Talent" is hitting the road with a 25-city live tour featuring this season's top 10 finalists — including kiddie opera sensation Jackie Evancho and Prince Poppycock, who has been compared to a drag queen version of Lady Gaga.
Hosted by Jerry Springer, "America's Got Talent Live" begins Oct. 1 in Oakland.
This is the first live concert series sponsored by "America's Got Talent." "American Idol," "Glee" and even late-night comedian Conan O'Brien all have experienced success with similar live concert events.
Tickets to the "America's Got Talent" tour are available through AEG Live.
Here's the full list of "America's Got Talent Live" tour dates:
Fri. 10/1/10- Paramount Theatre, Oakland CA
Sat. 10/2/10- Reno Events Center, Reno NV
Sun. 10/3/10- William Saroyan Theatre Fresno Convention & Ent. Center, Fresno CA
Wed. 10/6/10- Dodge Theatre, Phoenix AZ
Thu. 10/7/10- Nokia Theatre L.A. Live, Los Angeles CA
Fri. 10/8/10- The Colosseum at Caesars Palace, Las Vegas NV
Sat. 10/9/10- San Diego Civic Theatre, San Diego CA
Wed. 10/13/10- Verizon Theatre, Grand Prairie TX
Fri. 10/15/10- The Midland by AMC, Kansas City MO
Sat. 10/16/10- Northrop Auditorium, Minneapolis MN
Sun. 10/17/10- Riverside Theater, Milwaukee WI
Wed. 10/20/10- Rosemont Theatre, Rosemont IL
Thu. 10/21/10- Fabulous Fox Theatre, Saint Louis MO
Fri. 10/22/10- Clowes Memorial Hall, Indianapolis IN
Sat. 10/23/10- Veterans Memorial Auditorium, Columbus OH
Sun. 10/24/10- Fox Theatre, Detroit MI
Wed. 10/27/10- Beacon Theatre, New York NY
Thu. 10/28/10- Landmark Theater, Richmond VA
Fri. 10/29/10- The MGM Grand at Foxwoods, Mashantucket CT
Sat. 10/30/10- Trump Taj Mahal – Mark Etess Arena, Atlantic City NJ
Wed. 11/3/10- Citi Performing Arts Center–Wang Theatre, Boston MA
Thu. 11/4/10- DAR Constitution Hall, Washington DC
Fri. 11/5/10- Greensboro Coliseum, Greensboro NC
Sat. 11/6/10- Cobb Energy Performing Arts Centre, Atlanta GA
Sun. 11/7/10- Bob Carr Performing Arts Centre, Orlando FL