Andy Rooney, the cantankerous "60 Minutes" commentator known for delivering decades of provocative opinions in a plain-spoken style, has died at 92.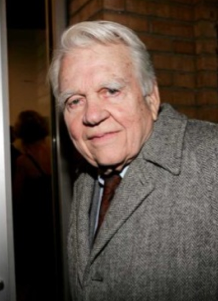 Rooney died in a New York City hospital of complications following a minor surgery.
"It's a sad day at '60 Minutes' and for everybody here at CBS News," said Jeff Fager, chairman of CBS News and the executive producer of "60 Minutes." "It's hard to imagine not having Andy around. He loved his life and he lived it on his own terms. We will miss him very much."
Also read: Andy Rooney's '60 Minutes' Swan Song
Rooney delivered his last commentary on "60 Minutes" on Oct. 2. He said he always thought of himself as a writer, and that he would continue not to sign autographs because he didn't believe in them. It was his 1,097th essay for the show.
"What kind of idiot wants my name on a piece of paper?" he asked.
He worked for CBS for six decades, half of them on the air. Once he was given his "60 Minutes" slot in 1978, he used it to comment on topics from the pressing to the mundane with the same directness and wry humor. (A CBS roundup of his commentaries is here.)
"There's no doubt about it," he said in one of his most famous commentaries. "Dogs are nicer than people."
In a commentary that won him the third of his four Emmy Awards, he proposed to end a grain embargo against the Soviet Union by selling them cereal. "Are they going to take us seriously as an enemy if they think we eat Cap'n Crunch for breakfast?" he asked.
Known for his bushy eyebrows and often incredulous stare, he said he was never comfortable being on-camera, despite becoming one of television's most iconic personalities. CBS said ratings for "60 Minutes" climbed throughout the hour, peaking as Rooney delivered his essays. They received thousands of response letters.
The old school writer found himself in an Internet-age mess in 2003 when a racist essay written in his style was passed off as his and circulated online. He refuted it in a 2005 "60 Minutes" essay. The racism allegation was especially upsetting to him, CBS News noted, because as a young soldier in the 1940s, he was arrested in Florida after sitting with African-Americans in the back of an Army bus and refusing to leave the seat.
He was suspended in 1990 following negative publicity over an interview with the gay magazine The Advocate. Following his comments in a 1989 special in which he said drugs, tobacco and gay sex could lead to an earlier death, the magazine printed racist remarks it said he had made. Rooney denied making them.
Then-CBS News President David Burke suspended him for three months, but demands for his return were so vocal that he was brought back after three weeks. Ratings for "60 Minutes," which had been CBS' only top-10 hit that season, dropped while he was gone, CBS News said.
The comments he clearly did make were shocking enough: After Kurt Cobain's 1994 suicide, he derided Kurt Cobain for throwing away his life. After O.J. Simpson's acquittal in 1995, he offered a $1 million reward for information leading to the real killer — saying he would never have to pay it because Simpson did it. In 2004, he said God told him that the Rev. Pat Robertson and Mel Gibson were "whackos," earning 20,000 complaints – the most of any "60 Minutes" segment.
He often addressed criticisms of his stories on the air, and said he regretted both the Cobain and Simpson commentaries.
Born January 14, 1919 in Albany, N.Y., he attended Colgate University before being drafted into the Army in 1941. He served in an artillery unit until he became a Stars and Stripes correspondent, and received the Bronze Star for his reporting under fire.
He wrote about the war in his first three books, and went to Hollywood to write a screenplay adapting the second, "The Story of the Stars and Stripes," which was bough by Metro-Goldwyn-Mayer.
He got his first CBS job in 1949 after meeting radio star Arthur Godfrey in an elevator. Rooney told him he could use better writing, and Godfrey hired him to write for "Arthur Godfrey's Talent Scouts," which soon moved to television and became a hit.
He started out a producer for Harry Reasoner on "60 Minutes" before appearing on-air himself.