Perhaps Anthony Michael Hall was attempting to re-assert his status as a member of the Brat Pack over Labor Day weekend.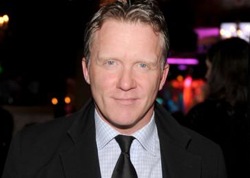 The actor — perhaps best known for such '80s John Hughes fare as "Sixteen Candles" and "The Breakfast Club" — was arrested on suspicion of disturbing the peace and taken into custody Monday night, after allegedly engaging in a disturbance at his Playa del Rey, Calif., condominium complex, the Los Angeles Times reports.
Also read: 'Spider-Man' Villain Rhys Ifans Arrested for Battery at Comic-Con, Police Say (Update)
The actor, 43,was arrested at approximately 9:50 p.m. after Los Angeles Police Department officers were called to the residence. Hall's neighbor told police that the actor had torn up plants in the common area of the condominium. When confronted, the neighbor claimed, Hall hurled an obscenity and threatened to beat the neighbor "to a pulp."
Hall was transported to the LAPD Pacific Division Jail, where he posted $500 bail and was released.
Hall, who has made a couple of guest appearances on NBC's "Community" in recent years, also had a part in 2008's "The Dark Knight," as "Gotham Tonight" host Mike Engel.