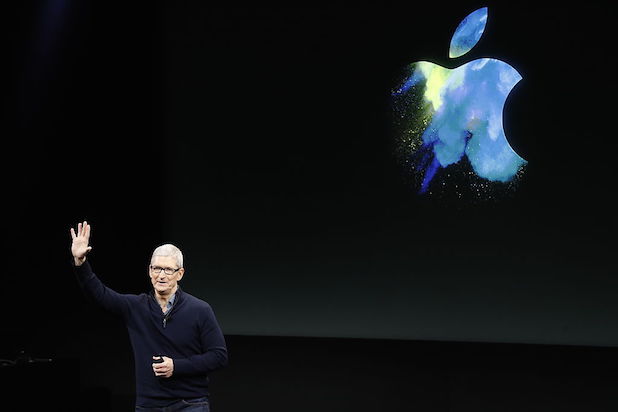 Apple is primed to open its new Steve Jobs Theater in Cupertino, CA. with a bang fitting of its namesake next week.
10 years, 2 months and 13 days after the tech juggernaut released its first iPhone, selling over a billion devices since its launch, CEO Tim Cook is set to unleash the next generation of Apple's hallmark product on Tuesday. Tentatively dubbed the "iPhone 8" — although "iPhone X" and "iPhone Pro" are also in play — Apple fanboys are already in full "shut up and take my money" mode, looking beyond its $1,000 price tag on the high-end and fawning over its slew of upgraded features.
The excitement is certainly understandable. Wireless charging, 3D facial recognition, and an upgraded camera are a few of the device's nifty new features. Apple is also saying goodbye to its "home button," expanding its OLED screen and adding gesture controls to let users navigate their iPhones.
The fact that Apple is a month behind schedule on the iPhone 8 and faces a supply shortfall has done little to curb the hype. If you're dying to get the iPhone 8 early, you might as well pitch your tent in front of the nearest Apple store right now.
Also Read: Is Apple Too Late to Win at the Content Game?
But beyond the release of three versions of the iPhone 8, Tuesday's product event has more fireworks ready for launch. Here are a few things to keep your eye on:
New Apple Watch 
Apple's smartwatch isn't a joke anymore. Last month, Tim Cook shared the Apple Watch had increased its sales 50 percent year-over-year. Apple didn't reveal exact sales figures, but Ben Bajarin, an analyst with Creative Strategies, estimated Apple moved about 2-3 million units. Apparently the Red Sox are buying their Watches in bulk. Zing.
At any rate, this is a drop in the bucket compared to the 40+ million iPhones sold each quarter, but a healthy number nonetheless. And after hints emerged Apple was testing new fitness tech for the Watch at its headquarters this summer, the company is poised to release its third generation smartwatch nearly one year after its latest update. With the holiday shopping season on the horizon, Apple would be wise to keep its sales momentum going. Expect Cook to have a new Apple Watch on display come Tuesday.
Also Read: Apple's Tim Cook Doesn't Rule Out Run for Political Office
Apple HomePod, Finally Ready
The Apple HomePod — its new Siri-powered home speaker system — made the biggest waves at the company's annual developer conference in June. HomePod is Apple's answer to Amazon Echo, allowing users to play music, message friends, and ask for a news update. Apple pegged the speaker at $349 a pop and said it'd be coming out later this year, but we've heard little more since. After its initial tease, Cook will likely have a release date ready to announce next week.
Augmented Reality Is a Thing  
Also Read: Apple Races to Become First Trillion-Dollar Company
Apple is betting big on augmented reality. The next iPhone will run on iOS 11, which comes equipped with the ARKit — allowing developers to create AR-enabled apps. Tim Cook has said he's so excited about AR he wants to "yell out and scream," and with good reason.
TheWrap was able to take a sneak peak at an ARKit app earlier this summer, with Within VR showing off a Goldilocks-themed experience. With houses and roaming characters popping up on an empty table, simply by holding an iPhone (or iPad) screen above it, ARKit's appeal was self-evident.
Of course, AR will be good for more than 21st century children's books. ARKit can help usher in a new era of phone gaming, building off the success of Pokemon Go. Even ordering in a restaurant will be changed by it, taking the menu pics and putting them on your plate. Check out the video below for a better idea of it.
If Apple really wants to make the clamoring for iPhone 8 hit a fever pitch, showing off an ARKit demo or two wouldn't hurt.