"After directing "The Wrestler" I was kind of sick of men smelling like Ben-Gay around me all the time," recalled Darren Aronofsky, director of last year's Oscar-nominated paean to broken-down fighters.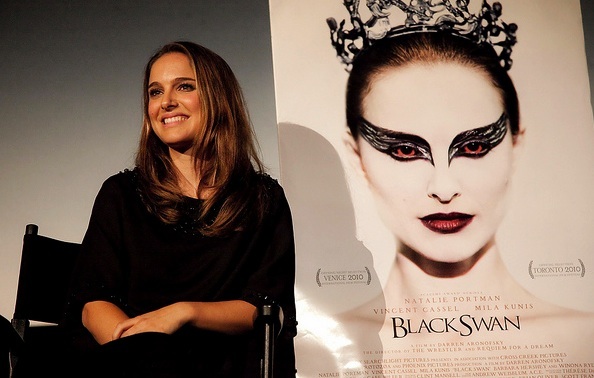 His latest film, "Black Swan" takes place in the world of ballet. "So I was kind of excited about working with some of these incredibly light, floating, artistic women."
Aronofsky and his "Swan" cast — including Natalie Portman, Barbara Hershey and Mila Kunis — spoke to a packed house at TheWrap's Tuesday night screening of the Oscar hopeful at the ArcLight Sherman Oaks.
On hand as always was TheWrap Editor-in-Chief, Sharon Waxman, who opened the Q&A with a moment of silence for friend and colleague veteran publicist Ronni Chasen, who was mysteriously gunned down Monday night in Beverly Hills.
Waxman and the cast went on to draw parallels between "The Swan" and Brooklyn auteur Aronofsky's last film, "TheWrestler," which picked up two Oscar nominations in 2008, stars Mickey Rourke and Marisa Tomei.
Also see slideshow: Portman, Aronofsky, Hershey & Kunis at TheWrap's "Black Swan" Screening.
Though centered in entirely different worlds, Portman's character was very similar Rourke's, Aronofsky admitted," he said. "They both put their bodies at risk to create their art. They're both driven by the ambition to entertain and to create beauty in their own ways. One just happens to be about high art, one just happens to be about low art."
In "Black Swan," Portman plays Nina Sayer, a rising ballet star tapped to portray the dual Black Swan/White Swan role in a new production of "Swan Lake." A borderline personality herself, she struggles to maintain her grip on sanity as the pressures of the role mount.
"I liked this idea that we were kind of making a werewolf movie except it was a were-swan movie," joked Aronofsky. But trying to get the project mounted was no laughing matter.
About four weeks before production was to begin, the director had lunch with his investor, who explained a process by which he would keep renewing loans for less and less interest.
This was right in the middle of the Madoff scandal. "I said, 'It sounds like a Ponzi scheme' right to his face. I called my producer and said, 'We're f—ed.'" And sure enough, a week later financing fell apart.
"Everyone just keeps saying no to you and you keep going for it," said Aronofsky. "I had a producer who once said, 'When everyone's telling you no, you know you're doing something right.'
Though Aronofsky had enjoyed considerable success with Fox Searchlight on "The Wrestler," the studio deferred when it came to backing "Black Swan." "They made me work on it and they actually had really great notes," recalled the director. Two weeks before production was scheduled to start, Searchlight came on board.
Star Mila Kunis on playing with ambiguity, and how learning to dance wasn't as easy as she thought it would be:
Aronofsky and Portman had been talking about the movie for nine years, with Portman continually joking that she would be too old to play a dancer if they didn't start shooting soon.
She started training for the part a full year before the cameras began to roll, she said, working with a dance trainer, swimming a mile a day, then studying choreography eight hours a day. A waifish actor to begin with, Portman reportedly lost 20 pounds for the role.
Her energetic commitment caused some concern for Aronofsky, especially after she injured herself. "She twisted a rib, and I didn't know anything about it and found out about it much later," recalled the director. "I saw that they were lifting her differently."
In fact, the scene where Portman is being worked over by a physical therapist was an actual therapy session the actor underwent between takes. "I asked Natalie if she would mind if we filmed it and she'd stay in character and she said yes," said Aronofsky.
Portman had only the highest praise for her director. "He would always say, 'Now do this one for yourself,' and it had such a strong emotional impact on me," she professed. "It really gave me insight into what the character was going through. She's someone who is just trying to please everyone and it takes learning how to pleasure herself to become an artist."
Mila Kunis, who plays Portman's rival and alter ego, Lilly, recalled briefly studying dance as a child and echoed much of Portman's praise her director and co-stars.
Barbara Hershey relished the opportunity to play Nina's over-protective stage mother. "She's not a shining example of mental health herself but she loves her daughter," revealed Hershey. "At the same time as Nina loses control, she starts losing control herself."
Aronofsky sees "Black Swan" as a heroic story about a woman escaping from a system that tries to control her. "She tragically escapes through death but it's about her escape, about becoming a woman and all the forces that try to stop her from doing that."
During the Q&A he was asked about the dark currents that course through all of his movies from his sensational debut, "Pi" to last year's "The Wrestler." "I think Hollywood's kind of killed the tragedy and I think you can have real catharsis by exploring the darkness," he said. "I think it shows us a lot about ourselves that is different than great heroic roles."
(Photos by Ted Soqui)