You can watch the new episodes of "Arrested Development" in any order you want, starting in May. They'll clock in at a little under thirty minutes each, though they'll vary in length. And the new episodes won't be the fourth season of the show.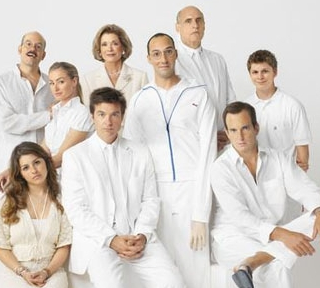 Those are a few of the nuggets creator Mitch Hurwitz and most of the cast revealed Wednesday about the 14 new episodes of the series, which will be available on Netflix.
And, to answer your biggest question: Yes, it looks like the show is still funny. Really, really funny.
At a Television Critics Association panel about the show, Hurwitz showed a brief scene he said had been cut from the show. It got a ballroom full of jaded critics laughing. If this didn't make the cut, we can't wait to see what does.
Feel free to skip this one-paragraph description of the scene, because it doesn't do it justice. It shows Lucille Bluth (Jessica Walter) sitting in a chair, reading and smoking. She isn't supposed to smoke indoors, but can't be troubled to exhale her smoke out the door, five feet away. So instead she baby-birds her second-hand smoke into the mouth of doting son Buster (Tony Hale), who dutifully sucks it in and blows it out the door. Then he does it again. And again. And again.
Hale and David Cross didn't make it to the panel, but the rest of the show's key cast did, including Walter, Jason Bateman, Jeffrey Tambor, Will Arnett, Alia Shakat, Michael Cera, and Portia de Rossi.
Bateman explained that the new episodes aren't a fourth season of the show. As Hurwitz has explained before, each episode will focus on a different member of the cast, and will set up an "Arrested Development" movie he hopes to eventually make.
Bateman raised the possibility Wednesday that that movie could be released, like the new episodes, on Netflix.
"Maybe the movie will end up there, too," he said. "Who knows?"
Since the 14 new episodes will be released at once, nothing will stop viewers from watching them out of order, Hurwitz said.
"We were all talking about ways we could jump from one episode to another," he said. "Almost a 'Choose Your Own Adventure' kind of thing."
Still, the episodes will come with a recommended viewing order.
"There is absolutely an order that we have put together to create the maximum number of surprises," Hurwitz said. "But that's just part of our storytelling. So if you watch as we prescribe you will get to episode four and realize, 'That's why he did that in episode one.'"
Bateman said the episodes will make up an Act 1 of a three-act story, the second and third acts of which will play out in the movie.
"These are episode that set that up. One does not work without the other," Bateman said. "I think it was sort of mislabeled early on, unfortunately, by a blogger or somebody that this was season 4, and in fact it is not that. We should probably make that clear. … There's certainly a satisfying conclusion to these episodes, if for some unfortunate reason the movie does not happen. But they are all meant to work within one another, sort of a hybrid package of 'Arrested Development' stuff."