How's the "Avatar" team feeling two days before the big Oscar night? Officially nervous.
And the 'Hurt Locker' crew? Seriously unnerved.
Only the indefatigable James Cameron, who I ran into on Friday at the Publicists Guild luncheon, seems exempt. (He got the Showman of the Year award.)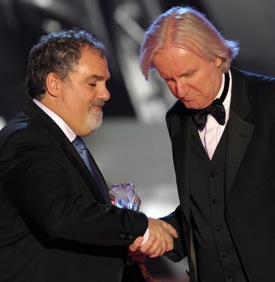 Regarding Oscar, he was absolutely zen. "It's done," he said, when I asked him his pulse rate. "What will be will be."
Not quite so zen was producer Jon Landau (pictured with Cameron at the Critics Choice Awards in January). Landau all along has believed that the gargantuan woldwide hit was at a disadvantage because of the preferential voting system.
"I hope our tech people win," he said. "But I don't think we'll get Best Picture."
The team from "Avatar" was gathered at a table at the Century Plaza, so the gathered publicists could pay tribute.
Landau said that he comes from a family of producers who made high-quality art films — and were unaccustomed to going to the Oscars. They made "The Pawnbroker" and "Long Day's Journey Into Night."
His parents made a documentary about Martin Luther King that was nominated for Best Documentary, but which lost to "Woodstock," he recalled.
"Seeing them do what they did — focusing on story and character — it's what Jim does, too," he said.
"The idea that I could be nominated twice in my life for Best Picture…," he said, not quite able to finish the thought. The other nomination was "Titanic," which did win the top prize.
But while Landau is pessimistic about winning Best Picture, he said he can't wait for Sunday, because his two kids will be in the audience.
Joel Moore, who is in the film as Jake Sully's lanky fellow avatar Norm Spellman, said he wasn't nervous, but I didn't believe him.
"It's not as if the movie wasn't well received," he said. (Not sure what he's talking about, but it could be the film's $2.7 billion box-office take.) "The accolades are wonderful for people behind the scenes" — but, he's happy.
Meanwhile, without going into too much detail, let me say that my exchanges with the folks from "Hurt Locker" indicate high anxiety. But we know they'll do well on Sunday.
Both will.
But only one gets to win.
(Photo by Shavar Ross)