EXCLUSIVE
"Just Like a Woman," a movie starring Sienna Miller, is the first in director Rachid Bouchareb's planned trilogy about the changing relationship between Americans and the Arab world.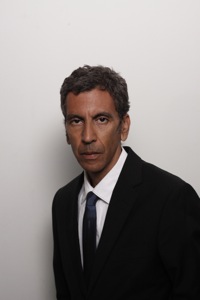 The French Algerian director, who has three Oscar nominated films under his belt in the Best Foreign Language category, told TheWrap that he has finished principal photography on "Just Like a Woman," a road movie set in America.
He plans to make two more American-set films with Arabic sensibilities, including a buddy comedy and a Mexican border drama starring Forest Whitaker. All three will be English language.
"I'm always interested in what happens between the Arabic world and the West," Bouchareb said this week. "I come from North Africa, I lived in Paris and I made North African and Algerian and French movies, and now movies in America. But the stories are universal."
Bouchareb's past work has frequently explored conflicts between Arabs and Europeans. His 2010 film "Outside the Law" ("Hors-la-loi"), which dealt with the Algerian struggle for independence from France after World War II, drew protests when it screened at Cannes last year, but went on to win an Oscar nomination.
The Academy had previously nominated Bouchareb's "Days of Glory" in 2006 and "Dust of Life" in 1995.
Although he maintains a home in Paris, Bouchareb said he will spend most of his time in Los Angeles for the next two years while he makes the three films. The trilogy will be produced by Taghit LLC, an American company founded by Bouchareb and partner Jean Brehat in 1999.
The films:
>> "Just like a Woman," stars Miller and Golshifteh Farahani as two women who meet as they journey from Chicago to New Mexico, both escaping broken marriages. Iranian actress Farahani plays an Arab immigrant fleeing her marriage in Chicago, while Miller plays a woman who leaves her cheating husband to pursue a secret passion for belly dancing.
(Photo: Miller, left, and Farahani in "Just Like a Woman"; photo by Roger Arpajou/3b Productions)
>> "Belleville's Cop," with "Outside the Law" star Jamel Debbouze in a comedy about a French-Arabic policeman teamed with an LAPD policewoman. Larry Gross, the co-writer of the classic cop buddy comedy "48 Hrs.," has written the script with Bouchareb.
"It's a comedy like some of the American movies I like so much," Bouchareb said, "with a lot of character and dialogue instead of stunts and action."
>> An untitled feature with Oscar-winner Forest Whitaker as a Muslim ex-con dealing with anti-Arab sentiment (and the sheriff's paranoia about terrorists) in a small town along the Arizona/Mexico border.
"It's a story about three characters, but I find it interesting to have the political story of the border in the background," said Bouchareb, who did a number of interviews and met members of the private "Minuteman" militia while researching the film.
Production will begin late next year on "Belleville's Cop" and in 2013 on the final film.
The relationship between Americans and Arabs, Bouchareb said, is notably different than the one between Europeans and the Arab world — and a big change from what it was in previous years.
"Between America and the Arabic world after Obama, it's more open and more understanding," he said. "It's in progress, and the American reaction to the Arabic revolution in Tunisia and Egypt was very important.
"The questions I'm asking in my movies here in America are 'Where are we?' and 'Where are we going?' and 'Why do we need to have hope in this relationship?'"