Bam Margera lashed out at Roger Ebert on Twitter after the film critic accused Margera's "Jackass" cohort, Ryan Dunn, of driving drunk in the car accident that killed him early Monday.
"I just lost my best friend, I have been crying hysterical[ly] for a full day and piece of s— roger ebert has the gall to put in his 2 cents about a jackass drunk driving and [he] is one, f— you!" Margera wrote. "Millions of people are crying right now, shut your fat f—ing mouth!"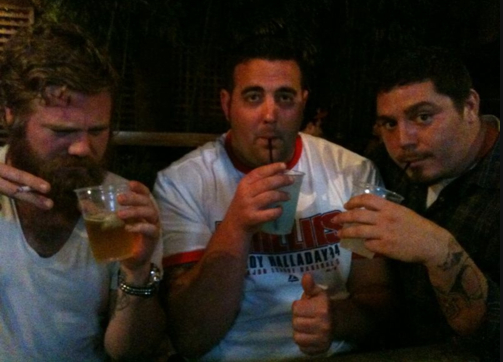 Ebert tweeted Monday, soon after news of Dunn's death broke: "'Jackass' star Ryan Dunn, RIP. His Porsche flew through 40 yards of trees. Friends don't let jackasses drink and drive."
Also read: Dunn's Passenger, Zachary Hartwell, Drank With Him Before Crash
Dunn, 34, and passenger Zachary Hartwell, 30, died in the Pennsylvania crash after Dunn's Porsche jumped a guard rail and burst into flames.
Dunn had tweeted a picture of himself and Hartwell drinking hours before the crash (above; Dunn is on the left, and Hartwell opposite him on the right).
Also read: 'Jackass' Star Ryan Dunn Dies in Car Wreck
Ebert is standing by his tweet. After blogger Perez Hilton accused him of insensitivity, Ebert tweeted a link to Hilton's post and noted that most commenters on it agreed with him.
"Perez Hilton's readers agree with me and not with Perez about my tweet on Ryan Dunn," Ebert tweeted. "He drank, he drove, 2 people died."