(Warning: This post contains spoilers for "Black Mirror: Bandersnatch" that you may be exposed to even if you've watched it, due to how many different versions of the interactive film exist.)
"Black Mirror: Bandersnatch" dropped on Netflix at 12 p.m. PT/3 a.m. ET on Friday — and a bunch of (totally not crazy) people stayed up to experience the Charlie Brooker-created anthology series' very first "Choose Your Own Adventure" installment as soon as it launched.
If you weren't willing to sacrifice your sleep to see what all the fuss was about, don't worry, because TheWrap went through several viewings of the interactive story that follows '80s programmer Stefan (Fionn Whitehead) and his attempts to adapt the fantasy novel "Bandersnatch" into a video game. And in the wee small hours, we unearthed tons of references to previous "Black Mirror" episodes buried inside the movie.
Also Read: 'Black Mirror: Bandersnatch' Has 5 Main Endings - Here's What They Are
Keep in mind, you may not have seen these yet — and TheWrap may not have seen others — based on the choices we made that led us down the different paths we've explored so far. After all, there are more than a trillion unique permutations available within the film. So yeah, this list could grow and grow and grow…
Check out the ones we've found below.
1. Metl Hedd poster
This shout-out was previewed in the trailer and turns up when Stefan is talking with his boss at Tuckersoft, Mohan Thakur (Asim Chaudhry), in front of a poster for a game called "Metl Hedd," which features the vicious robodog you'll recognize from the Season 4 episode "Metalhead." This one is clearly a nod to "Bandersnatch" director David Slade, who also directed "Metalhead."
2. Saint Juniper
Stefan's psychiatrist, Dr. Haynes (Alice Lowe), works in the Saint Juniper Medical Practice — a shout-out to Season 3's fan-favorite and Emmy-award-winning episode, "San Junipero." Rolo Haynes (maybe relation?) also worked at a Saint Juniper Hospital in New York, during one of the stories in Season 4's "Black Museum."
Also Read: 'Bandersnatch' Trailer Sneaks in Shout-Outs to Past 'Black Mirror' Favorites (Video)
3. TCKR Systems
So TCKR is a company that has been featured in or referenced in four different episodes — Season 3's "Playtest," "San Junipero," "Metalhead" and "Black Museum." All of those are episodes set in the present day, and it seems clear that TCKR is a rebrand of Tuckersoft, the video game company that Stefan goes to work for in "Bandersnatch."
TCKR is known for its neural tech, like how it was responsible for the VR tech in "San Junipero" and the rig that allowed doctors to feel what their patients felt in "Black Museum." Which could be a natural extension of this weird "experiment" with Stefan.
4. The news ticker which shouts out to a pile of episodes
In one ending, Pearl Ritman (Laura Evelyn) — the adult daughter of Stefan's gamer co-worker Colin (Will Poulter) and his girlfriend Kitty (Tallulah Haddon) — is trying to do a modern reboot of "Bandersnatch" in the present day. During a TV news report in which she is being interviewed, we see a ticker with references to Season 4's "U.S.S Callister" ("cast of Space Fleet reunite at Emmys"), Season 2's "The Waldo Moment" ("Liam Monroe enters Buckingham Palace"), Season 4's "Crocodile" ("UK police test groundbreaking memory recall"), Season 1's "The National Anthem" ("former Prime Minister Michael Callow wins bake-off"), and Season 3's "Hated in the Nation" ("granular to unveil prototype pollinator drone.")
Also Read: 'Black Mirror': So What Is a Bandersnatch, Anyway?
5. "Nohzdyve"
The game we see Colin working on when Stefan first meets him at Tuckersoft is called "Nohzdyve," in reference to the Season 3 episode "Nosedive," starring Bryce Dallas Howard.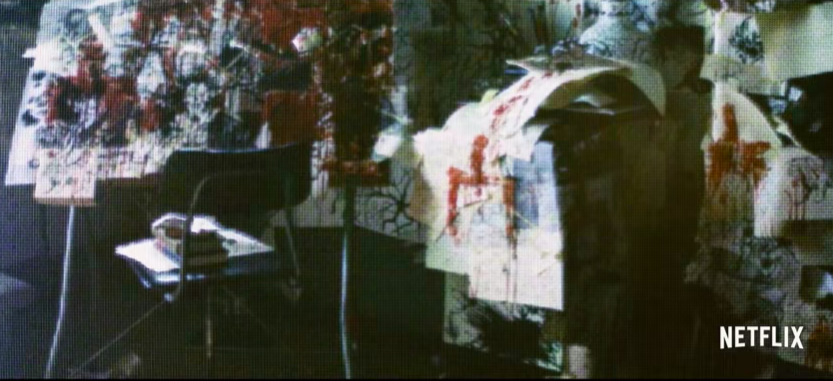 6. That White Bear symbol
Something we first spotted in the "Bandersnatch" trailer that continues to pop up throughout the interactive film is the symbol from Season 2's "White Bear."
Also Read: 'Black Mirror: Bandersnatch' Trailer Reveals Film Will Drop Friday - So You Can 'Relax' (Video)
7. Newspaper articles
In one of the timelines where Stefan murders his father, a Sun newspaper article detailing the crime is printed next to three teasers for "exclusive" stories: "The Love Machine" (referencing Season 4's "Hang the DJ") "Space Fleet" (another "Callister" reference) and "15 Million Talent Team" (a callback to Season 1's "15 Million Merits.")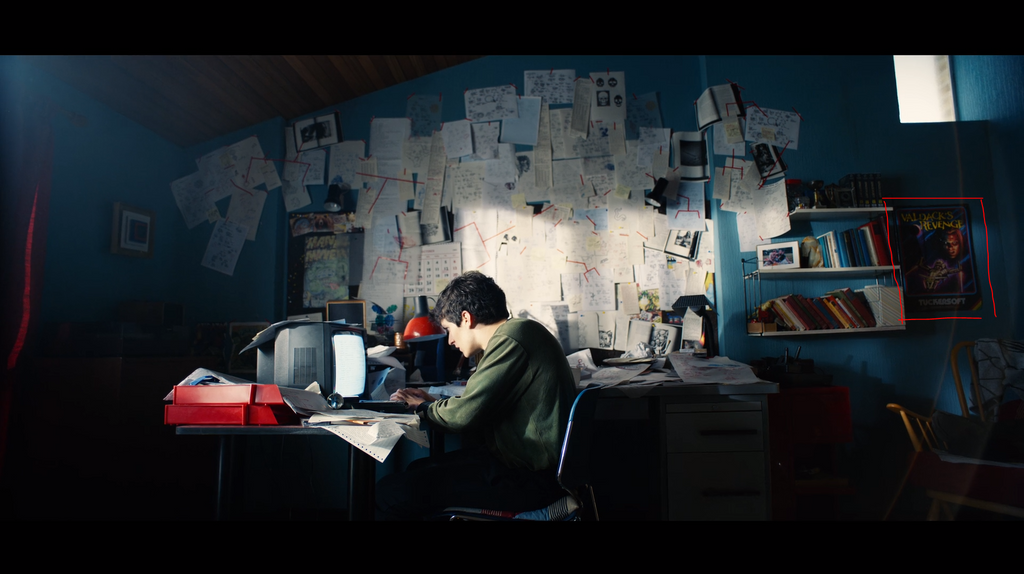 8. And yet even more "Callister"
There is a "Valdack's Revenge" poster hanging in Stefan's bedroom, referencing Billy Magnussen's character from "Callister." This one we found thanks to Reddit user Hobbit-guy. Hey, "Callister" won an Emmy, so of course they were going to sneak it in as much as possible.
"Black Mirror: Bandersnatch" is now streaming on Netflix.