Philippe Martinez is one of those people who make the movie business worth writing about.
The super-sized, baby-faced, would-be mogul rode into town four years ago, boasting of his plan to upend the Hollywood independent studio system and replace it with what he knew audiences wanted: better films.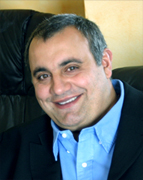 With financing from the City of London, he dropped millions to cast the likes of Richard Gere and Michelle Pfeiffer in pet projects, and beat out established indie studios to buy the hot new film at the Toronto Film Festival, David Ayer's "Harsh Times."
But, classic story: the films failed, the financing collapsed, and Martinez found himself holding the bag for $100 million in debt.
And yet, here he was, swanning around the Carlton Hotel in Cannes with a big, fat cigar and the same adorable smile that charmed people (along with his open wallet) just a few years back.
Martinez has reinvented himself as a movie director and producer, the head of Cinepro Pictures, where instead of releasing eight to 12 films a year, he is making just one picture at a time. Meanwhile his former studio, Bauer-Martinez, named for his family, slowly pays down its debt.
"I've reduced the debt to $10 million," said Martinez. "I didn't want to declare bankruptcy. I don't owe money to any actors, any crew, any bond companies."
But he was done in, he said, by a distribution deal with MGM in which his movies were dumped in the marketplace. "I had the bad luck to come across MGM, which destroyed everyone's films," he said. "Now I've come back to the source. I'm making one film a year."(He made clear he was referring to the previous regime at MGM, under Rick Sands. Sands could not be reached for comment.)
Martinez was in Cannes with seven minutes of his new film which he's also directing, "The Tribes of October." He described it as a CGI-heavy, "post-apocalyptic action thriller" starring Ray Stevenson, James Caan and Robert Duvall.
The film will cost a cool $25 million, and Martinez was holding court in the Carlton with potential investors and co-producers.
Amazingly, despite Martinez's very public flame-out with the successive failure of films like "Van Wilder," "I Could Never Be Your Woman," "The Flock," and "Harsh Times," he was treated with cordial and even friendly relations by the machers and power-agents who wandered by during our conversation.
I asked Martinez what he'd learned from the experience.
"In the movie business, when you're independent, you have to live your passion," he said. "Now I'm happier. I spend 70 percent of my time on the artistic side of films.
"I regret that people are ungrateful for all the work and money I put in. I'm bitter about that. So now, I'll only do my own films, for me."