Ben Affleck's "Argo" established itself as one of the year's undeniable crowd-pleasers at the Telluride and Toronto film festivals – a tense, funny, adrenaline-charged reconstruction of the audacious way in which the CIA and Canada used a Hollywood cover story to smuggle six American embassy workers out of Iran during the hostage crisis of 1979-1981.
The CIA/Canadian operation on which the movie is based might have been all those things as well – but it clearly had higher stakes, different details and not quite so many last-second cliffhangers.
For instance, fans of the film who go to the CIA's website and read the account written in 1999 by Tony Mendez, the agent played in the film by Affleck, might be astonished to see the header that Mendez gives the section in which he describes the departure from the Tehran airport: "As Smooth As Silk."
In "Argo," there's nothing smooth or silky about that airport sequence, which is a virtuosic barrage of near-misses, narrow escapes and mad dashes to freedom.
Also read: 'Argo' Review: Ben Affleck Nail-Biter Is a Smart Thrill Ride
And if it doesn't happen onscreen quite the way it happened in real life … well, Affleck is okay with that. And he has a plan to tell the real story, eventually.
"It's not a documentary, it's not a docu-drama," the actor and director told TheWrap. "I feel a responsibility to make a good movie, and a movie that works, and a movie that audiences are interested in. The thriller parts should be scary, the funny parts should be funny and the spy parts should be intelligent and well-crafted.
"But also, part of making a good movie is that you hew to the central core of what's accurate about the movie. So six Americans, during the embassy takeover, did hide out with the Canadians. And the CIA, along with Oscar-winning makeup artist John Chambers, came up with this idea to get them out using the cover of being location scouts for a movie. That's all true."
As for the details …
"The color of people's shirts or how long something took, you can't make a good movie and be absolutely, perfectly faithful to every little aspect of it. Most of the sins that we commit are sins of omission. You know, we don't go into all the other stuff the Canadians did, we leave out other characters that helped them. We didn't mislead, but the most important thing was to make a good movie."
Affleck's film was the runner-up to "Silver Linings Playbook" in Toronto's audience award voting, and it won a roaring ovation at its debut screening. But it also prompted a few grumbles that Canadian ambassador Ken Taylor was treated unfairly, particularly in an end title card that contrasted the number of awards and accolades he won with the anonymity forced upon Mendez by the CIA's unwillingness to take credit for the operation.
"We didn't downplay his role," Affleck insisted. "It originally said 'Ken Taylor was given a number of citations,' which was verbatim from his book. I talked to Ken, and he said what was really important to him was that the movie represent the spirit of internationalism and cooperation. And I said, 'OK, great,' and changed I the card that said 'Ken Taylor got this' to 'This event served as a model for international cooperation.'"
Also read: Ben Affleck Changes 'Argo' Postscript to Appease Former Canadian Ambassador
The conversation with Taylor, though, got Affleck thinking. "He had a lot of interesting and funny stories from before and after," he said, "and I got this idea that we could use the new technology of Blu-rays and DVDs, where you can store so much more information, to add to people's understanding.
"If anyone has issues about why something wasn't in the movie, I thought, I'll interview all the principal folks, and they can talk about all the different things that happened, the kind of 'Rashomon' aspect of it. So I've been interviewing more people – I brought Ken out, Tony, house guests, and they're telling all the kinds of stories that you can't fit in the movie."
Other people have been doing the same: Mendez has a new book out, while screenwriter Barry Ira Geller has been giving interviews talking about how he wrote the original script — an adaptation of the Roger Zelazny sci-fi novel "Lord of Light" — that was borrowed by the CIA, retitled "Argo" and turned into the fake movie project. And Discovery Times Square in New York has been presenting an exhibit of the original artifacts designed to facilitate the cover story.
Affleck's film doesn't deal with the CIA's appropriation of "Lord of Light," and it clearly turns the escape from Iran into more of a cliffhanger than it may have been. But Affleck obviously knows what he left out, what he included and why he made the choices.
"On the one hand, I meticulously researched the takeover," he said of one key sequence early in the film. "On the other hand, I had five minutes to do a four-hour event. So it was very compressed, and the characters are compressed as well."
The film also used the same technique for scenes that take place back in the U.S. "My character is a composite," said Bryan Cranston, who plays the stateside agency contact for Affleck's character. "With the massiveness and bureaucracy of the CIA, Tony Mendez was communicating with several different people back at the CIA. And for the sake of the audience being able to track the story, they felt it was best to have one face and name connected to that. I thought that was a very smart thing to do, and I was happy to play that."
But Cranston based his composite on conversations with real agency employees from the era, several of whom he interviewed.
"As is their nature, and inherent in their job description, they're mostly taciturn," Cranston told TheWrap. "They're not usually willing to discuss this stuff, so they were resistant to me asking about themselves.
"But I wanted to know more about the personal effects. 'How did it affect you personally? Are you married? Divorced? Do you think your job contributed to that?' I wanted to get a baseline for my character, to use that as a foundation, and I was able to get that."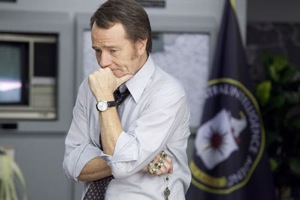 Like most of the people associated with "Argo," Cranston was only dimly aware of the Canadian-backed rescue operation; Alan Arkin said he didn't remember it at all. "I've thought a lot about why this part of the story hasn't remained in the public consciousness the way that some other parts of the story have," said Affleck.
"One of the things is that a big part of the attention went right back to the 50-some hostages who were still in the embassy. The hostage crisis itself went on for 444 days, and this was day 80 or whatever. So there was a lot of feeling depressed because we had hostages stuck over there after these guys got out. And then you had the failed [rescue attempt] Operation Eagle Claw that happened subsequently, which took away from any lingering good feelings."
"I think it got buried in America's political consciousness, and hopefully we've unearthed it a little bit."
Telling the story, he added, was far more complicated than his first two films, "Gone Baby Gone" and "The Town."
"Any movie is challenging," he said. "For me, at least, it's hard to make a movie. But 'Gone Baby Gone' and 'The Town' were set in my back yard [Boston], a place that I knew and could rely on. This is New York, it's Turkey, it's California, it's period, it has three different tones.
"I was trying to deftly tell a story that's complicated, and to manage different tones and interweave different storylines and yet keep it feeling like it's one consistent movie. That was quite challenging, and it took a lot of fooling with it to get it right."
Balancing the tension of the Iran and CIA scenes with the humor of the Hollywood moments, he said, was his biggest concern.
"I was terrified of that as a director, thinking, How am I going to reconcile this?" he said. "How am I going to put it together without it feeling like a short film festival, where they feel completely unrelated? Fortunately I had two great actors in Alan Arkin and John Goodman, whose comedic stuff felt so real that it laid in a little bit more easily than I was afraid it might."
Arkin admitted that he too was concerned about the film's tone, but that Affleck found the balance. "He's meticulous," the veteran actor said of his director and co-star. "He knows exactly what he wants, he knows what the tone of the film had to be. But he's also got an ease about him. We never felt under the gun, or rushed, or pushed. He never seemed pressured or uncomfortable. Wearing the two hats never seemed to be an issue for him.
"It was just a very good, professional, comfortable working situation."
Also read: 'Argo's' Alan Arkin Is Only in It for Fun
To hear Affleck describe it, though, easy and comfortable aren't exactly the words that come to mind.
"You always have an idea of what you want, but I've gone into a lot of movies imagining that they could work, and they haven't," he said. "It's the slip between cup and lip that you have to execute. I think you have to be endlessly critical, digging and working and breaking and fixing.
"You spend all that time in miserable, lonely, uphill circumstances where you're just feeling alone, and afraid of the problems that you might face, and trying to make the movie good."
Along with making a movie that most people think is good, of course, Affleck has essentially completed a career makeover – he's gone from hot newcomer ("Good Will Hunting") to punchline ("Gigli," "Daredevil") to respected actor-director ("The Town," "Argo").
Asked if he thought about consciously trying to change his image from the down days, Affleck half-heartedly demurred.
"Well, you know, I've been through various iterations," he said. "I don't pay a lot of attention to people's opinions of me, necessarily.
"But yeah, it's interesting. I've been through that sort of come-out-and-make-a-big-splash period, I've been through movies that didn't work, and now I've arrived at this point – wherever this point is. Hopefully it's a point that leads on to other stuff that I'm interested in. I knock on wood every day, and I try not to look too much further than that."