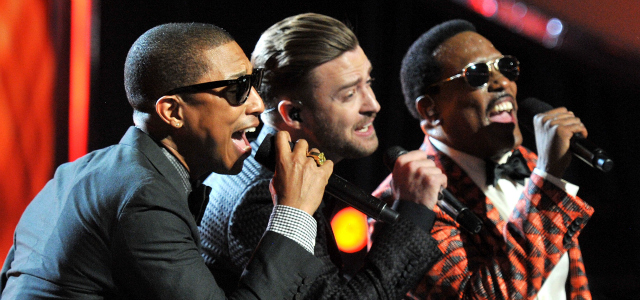 BET is having a good couple of weeks — its 7th and 13th best ever, actually.
Black Entertainment Television was born on Jan. 25, 1980, which means that it has been broadcasting for roughly 1,690 weeks. So how did two of the network's highest-rated 13 weeks ever — which would both statistically land comfortably in the its top 1 percentile all-time — occur back-to-back?
The two biggest individual reasons were the 2013 BET Awards (7.8 million total viewers) on June 30, and the first ever BET Original Movie, "Being Mary Jane" (4.4 million total viewers), which premiered just two days later on July 2.
Those two broadcasts seem like they could have combined for one mega-week, but BET measures its weekly ratings from Monday to Sundays.
Also read: Ratings: BET Awards Score Second Highest Telecast Numbers in Cable Channel's History
The week of the 2013 BET Awards was the 7th highest-rated in the network's history. The following week ranked as the 13th best.
As one can imagine, the executives are quite pleased with the most recent two measured weeks.
"The success of our recent programming has helped BET Networks reach a whole new audience of fans and gives us the opportunity to engage them around other staple BET programming," Debra Lee (Left), chairman and chief executive officer of BET told TheWrap.
She continued, "Of course, ratings success always gets the attention of our advertisers. It helps solidify BET Networks' value with our existing advertisers and attract new advertisers to the network."
Also read: BET Awards 2013: The Complete Winners List
The network has also experienced a great uptick in social media presence; the BET Awards generated 10 million referential tweets, accounting for 51 percent of all social chatter across all of cable on June 30. Site traffic to BET.com broke the network's all-time single day record, as did mobile page views.
"Being Mary Jane" was the most social show on all of TV for July 2, generating over 455,000 social interactions, according to the network. At its height, the broadcast experienced over 11,000 tweets per minute and started 9 trending topics.
Also read: BET Awards: Mariah Carey's '#Beautiful' Performance Fuels Lip-Sync Speculation
While the new numbers are music to the network's ears, historically, BET was not exactly struggling within its target market.
BET Networks has been the No. 1 cable network in African-American households for the past 13 consecutive years and is a top 20 ad-supported cable network among all adults and all females 18-49, according to BET.
In the past, the network has had its measurable individual successes across cable as well. On Jan. 11, 2011, the season four record breaking premiere of "The Game" (Right) drew 7.7 million viewers, making it the No. 1 ad-supported sitcom telecast in cable TV history.
"The Game" continues to get strong ratings in its sixth season.
Also read: 'Someone Knows My Name' Bestseller Being Adapted as Miniseries for BET
Naturally, the network would love to see the momentum continue and plans to move into more scripted originals.
"We're very serious about scripted and will continue to bring our audience stories that they can relate to and characters they'll grow to love," Lee said.
Based on its success as a TV movie, "Being Mary Jane," starring Gabrielle Union (Left), is now being developed into a series, which will launch in Jan. 2014. The production continues to break molds in-house, as it will be BET's first original dramatic series.
But the cable channel has not given up on the music videos on which it was conceived.
"Music and music videos still play a very important role in our overall programming," Lee told TheWrap. "BET's flagship show, '106 & PARK' has been the No. 1 music variety show on cable for the past 15 consecutive quarters among adults 18-49."