Here's another thing I've never done before: auctioned off a gold-plated magnum of champagne.
Oh, the adventures of the brave new world of internet entrepreneurship.
Here's the story: TheWrap had its first pre-Oscar party on Monday night at the Four Seasons Hotel, with proceeds going to the Special Olympics project in Haiti.
As its donation, Moet & Chandon donated a very, very rare magnum of champagne, called The Methuselah, to the Olympics, and we asked our Oscar-nominated guests and celebrities to sign it for posterity.
So they did.
Here are some very fun pictures of them doing so.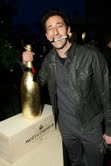 (That's 'Invictus' Oscar nominee Morgan Freeman, Adrien Brody, Ryan Seacrest and Bobby Shriver, who represented the Special Olympics, but snuck in his 'Red' scarf to boot.)
Wait! Here's some more:
(That's Jason Statham and Vinnie Jones.)
We are auctioning the bottle on e-Bay through just after Oscar night, and the highest bidder for this incredibly rare artifact will get to take it home at that time. All of the money — 100% — will go to the Special Olympics' project in Haiti.
Bid here.
Seriously! Bid!
Ok, ok — here are some more pictures, Oscar nominee Lawrence Bender ('Inglourious Basterds') and 'Crazy Heart' producer Robert Duvall, then Masi Oka of 'Heroes.' The mayor signed it too, but we don't have the picture. There's a full list of the signers at the e-Bay listing where you can bid! (Did I mention that you can bid?)