Bob Costas has slammed CBS Sports' television coverage of the Masters golf tournament, saying the network has never acknowledged the "history of racism and sexism" by the Augusta National Golf Club, the private club that runs the historic tournament.
Augusta National, which was established in 1933, did not admit its first black member until 1990, and it did not invite a woman to join until 2012, despite organized protests from the National Council of Women's Organizations and pickets outside the grounds of the event.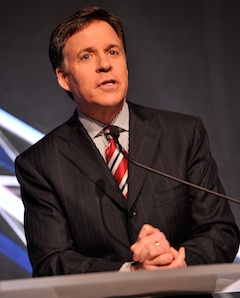 In 2003 and 2004, it required CBS to broadcast the Masters commercial-free to stave off the threat of boycotts directed at the tournament's sponsors.
See video: Ouch! Sports Reporters Get Drilled — the Greatest Sideline Fails on the Web (Video)
Costas made the remarks on Dan Patrick's radio show on Friday morning. At the end of the interview, which focused on the new movie "42," Patrick asked Costas to take part in a lighthearted game in which listeners imitated the hushed tones and reverent verbiage of longtime Masters announcer Jim Nance.
Costas declined to do a Nance impression, and pointed out that as a lifelong employee of NBC, he would never be in the position to cover the Masters. Then he dropped the hammer.
"What no CBS announcer has ever alluded to, even in passing, even during a rain delay, even when there was time to do so, is Augusta's history of racism and sexism," Costas said. "Even when people were protesting just outside the grounds. Forget about taking a side – never acknowledging it.
Also read: Fox Sports Reporter Pam Oliver Suffered Concussion From Football to the Face
"So not only would I never work the Masters because I'm not at CBS, but I'd have to say something, and then I would be ejected."
Masters officials are known to be extraordinarily sensitive about coverage of their tournament. As Costas pointed out, legendary golf announcer Jack Whitaker was banned from broadcasting the tournament for a number of years after referring to the carefully-controlled gallery of fans as "a mob" in 1966.
In 1994, announcer Gary McCord ran afoul of the prickly Augusta National organizers by remarking that one green was cut so closely it could have been "bikini-waxed." He was not invited back.
See video: Fox's NFL Reporter Pam Oliver Drilled in Face By Football During Broadcast
Added Costas, "Not that Augusta isn't a lovely place, and not that [Augusta National chairman] Billy Payne, who ran the '96 Olympics in Atlanta, isn't my friend, and not that I haven't played there with him, which I did the one time I visited … It was the most gracious, wonderful thing you could ever imagine.
"And yet they do have a history that ought to be reckoned with, that they've only recently comes to terms with, if you call this coming to terms with it."
Afterwards, Patrick was taken aback.
"I think, he's setting me up with a joke in the beginning," Patrick said. "… I thought, here's comes the punchline. But a punch in the stomach is what it is."
Costas said the problem with CBS's coverage has not been its overall tone of hushed respect, but its failure to recognize that the darker history of Augusta National is an "elephant in the room."
"I'm not talking about forcing this issue down everyone's throats while Tiger Woods is lining up a birdie putt," he said. "What you're looking for here is not a full discussion, because you couldn't do it justice, but an acknowledgement.
"I think somebody should have had the guts to do it at some point along the way. Broadcaster, executive – somebody should have said to someone at Augusta, 'Look, this is an issue … and it's an elephant in the room. And we're going to address it … so that our heads are not in the collective sand trap."
When Patrick pointed out that CBS was no doubt wary of damaging its long-term relationship with the prestigious tournament, Costas agreed.
"It's a business thing," Costas said. "And if that's the case, just talk about guns. No one can get in trouble that way."