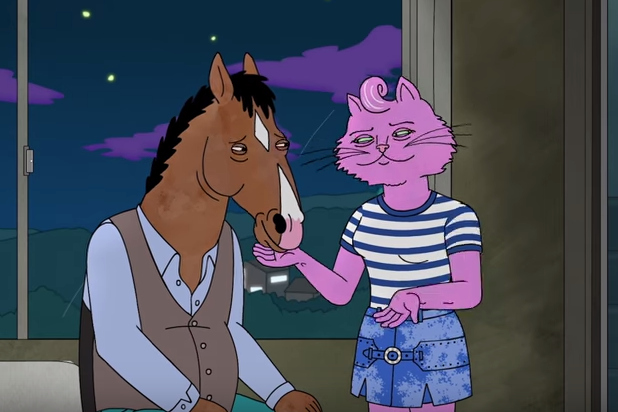 Will Arnett admits it can be a bit rough playing the depressive BoJack Horseman — but he also credits the character's "broken place" as fuel for the best moments on what is arguably TV's only true animated dramedy. Or at least its best one.
"It's almost like he's woken up and [thought], 'How the hell did I get here?'" Arnett recalled reading the pilot script during a recent interview with TheWrap. "I really responded to that."
He's not the only one. Plenty of people in the entertainment industry can relate to "BoJack's" take on "Hollywoo," which Arnett says is, along with the rest of Raphael Bob-Waksberg's series, "deconstructing the myth" of Tinsel Town.
Also Read: Will Arnett on 'Arrested Development' Season 5: People 'Just Need to Get Their Sh-t Together'
That said, the show isn't too inside baseball (or in this case, showbiz), Arnett told us — it's also just about "a dude who's seriously fucked up."
But actor BoJack is very much a product of his half-equine environment. The real Hollywood allows for similarly destructive actions, Arnett admitted — so long as the bottom line remains healthy.
"No matter how fucked up he is, [Hollywood] will sometimes foster that kind of behavior or allow for it," the (deep) voice behind the horse told us — "As long as you can continue to sell the product."
Also Read: 'BoJack Horseman' Prepares for Oscar Win With Coke Binge in Season 3 Trailer (Video)
That might sound like a very sad sales pitch, but if you haven't seen the show, you really should give it a few episodes. And stick with it this weekend, Arnett says.
"It gets funnier because it gets bleaker," he teased of the upcoming episode dump. "Just when you thought that everyone was gonna get happy, think again."
Season 3 of Netflix's "BoJack Horseman" drops in its entirety first thing Friday morning. Read the "Arrested Development" portion of our Arnett interview here.