Will the summer movie season shake off a May slump that saw no less than five highly anticipated event films underperform at the box office?
We probably won't find out this weekend. Four modestly budgeted genre films are opening wide, with the bigger guns of June — "The A-Team," "Toy Story 3," "Knight and Day" and "Twilight Saga: Eclipse" — set to hit screens in the weeks ahead.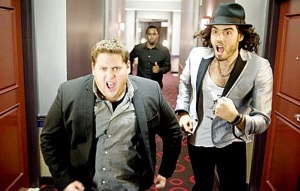 But as Warner's R-rated comedy "The Hangover" proved last year — when it opened to $45 million on the first weekend in June amid pre-release projections in the low-$20 million range — you never know.
"Yeah, that would be nice," quipped Universal distribution president Nikki Rocco, speaking for the R-rated comedy "Get Him to the Greek," which will open in 2,695 theaters this weekend.
Budgeted at around $40 million and tracking to gross between $15 million-$20 million this weekend, "Greek" is vying to lead a pack of newcomers that also includes Lionsgate romantic comedy/action film "Killers," which is tracking in roughly the same range.
Struggling to break double-digit-millions, meanwhile, will be Fox's talking-dog-themed family film "Marmaduke," while Warner/Dark Castle indie horror acquisition "Splice" is expected to gross less than $10 million.
All four new releases are expected to trail the week-three performance of "DreamWorks Animation's "Shrek Forever After," which should once again experience a minimal week-to-week drop-off, while finishing in the $25 million-$30 million range.
Memorial Day-weekend holdovers "Sex and the City 2" and "Prince of Persia: The Sands of Time" also will finish in the $20 million range, factoring in typical 50 percent weekly declines.
The Judd Apatow-produced "Greek" re-teams most of the principals behind the producer's 2007 moneymaker "Forgetting Sarah Marshall," with Nick Stoller back in the director's chair, Jason Segel penning the script and British comedian Russell Brand rekindling his "Sarah Marshall's" wild-man English rock-star character Aldous Snow.
"Sarah Marshall" bit player Jonah Hill will step up as the co-lead, playing a doughy young record-label employee, given the challenging mission by his boss (played by Sean Combs) of getting Snow from London to L.A.'s Greek Theatre for a gig.
Reviews have been solid, with "Greek" scoring a 73 percent fresh score on Rotten Tomatoes.
Universal co-financed the film along with Relativity Media and Spyglass Entertainment.
Facing more challenging odds at profitability will be Lionsgate's "Killers," which Lionsgate Motion Picture Group president Joe Drake conceded in a conference call with investors earlier in the week, probably needs to meet tracking estimates in the mid-teens in order to be successful.
Starring Katherine Heigl and Ashton Kutcher in a "oops-my-husband-is-an-operative" plot reminiscent of James Cameron's 1994 hit "True Lies," "Killer's" was packing a Lionsgate-record $75 million production budget, before tax credits and foreign pre-sales reduced the figure to around $40 million.
Notably, Lionsgate demurred when it came to screening the film for critics.
The CGI-heavy "Marmaduke," meanwhile, features Owen Wilson voicing the title role. Fox, of course, has had plenty of recent success with CG-driven talking animals, with similarly themed, similarly budgeted ($50 million) "Garfield" grossing $200.8 million in 2004.
Aggregating reviews in the 15 percent range, "Marmaduke" doesn't seem to have much pre-release buzz to bury. Fox partnered on the film with New Regency Pictures.
Finally, Joel Silver, whose Dark Horse Films acquired "Splice" at January's Sundance Film Festival, hopes to pull out of a recent box office slump with the R-rated horror film, which stars Adrien Brody.
Reviews for the genetic-manipulation-themed film are decent, with Rotten Tomatoes scoring it at 65 percent fresh.