Johnny Depp's bright red 3D wig continued to own the worldwide box office this weekend, with Disney's adaptation of "Alice in Wonderland" grossing another $62 million in the U.S. and Canada, as well as $76 million more in 48 international markets.
With the Tim Burton-directed movie taking $430 million out of the global market in just two weeks, and experiencing only a moderate 46 percent week-to-week decline on the domestic side, four new openings yielded mixed results this weekend.
Notably, Universal Iraq-war thriller "Green Zone," which re-teamed the "Jason Bourne" franchise duo of star Matt Damon and director Paul Greengrass, floundered out of the gate, grossing just $14.5 million in North America in its first three days, according to studio projections.
Produced at a pricey $100 million, and yielding a "B-minus" CinemaScore grade, the R-rated film also grossed $9.7 million at 14 international locations, bringing its global debut to $24.2 million.
For Universal, the pain is shared with co-financier Relativity Media.
With the overall domestic box office up about 49 percent from the same weekend last year, according to one studio's tally, Paramount's youth-focused comedy "She's Out of My League" performed to the high-end of its pre-release forecasts, taking $9.6 million out of the gate at 2,956 engagements.
Starring Jay Baruchel (bit parts in "Knocked Up" and the second "Night of the Museum" movie) as a young man
who attracts a girlfriend (relative newcomer Alice Eve) seemingly beyond his physical and economic stature, the $18 million, R-rated movie drew a balanced audience demographic, skewing 52 percent female, and 50-50 when it came to the age-25 over/under co-efficient.
"We're now in the spring break period, which will run through Easter, so on any given week, you'll have 25-30 percent of (the college-aged crowd) out of school," noted Paramount general manager of distribution Don Harris. "This ended up being a very sweet movie, and people like it."
Meanwhile, competing somewhat for younger audience members, Summit Entertainment's "Remember Me" grossed $8.3 million at 2,212 theaters.
Attracting a crowd that was 84 percent female and 53 percent under the age of 25, Summit domestic distribution chief Richie Fay said the low-budget movie (shot for under $20 million) achieved at least one key goal — that is, keep awareness up for star Robert Pattinson, whose next "Twilight" movie is slated for June 30.
"Whether its Robert Pattinson in this movie, or Kristen Stewart in 'The Runaways,' it doesn't hurt to have them out there and have people seeing them," noted Fay, also referencing Apparition's Sundance hit "Runaways," which will premiere next weekend.
Meanwhile, also premiering this weekend, Fox Searchlight low-budget multi-ethnic comedy "Our Family Wedding" debuted to $7.6 million. Starring Forest Whitaker and Carlos Mencia, it was expected to gross in the $6 million-$8 million range.
Among holdovers, Paramount's "Shutter Island" added $8.1 million to its domestic total in its fourth week, dropping less than 40 percent. The film has grossed $108 million in North America to date, putting it quite a bit away from Martin Scorsese's all-time leading domestic grosser, "The Departed," which was re-released in 2006 after winning Best Picture. It ended up with $132.4 million in domestic receipts.
For its part, the most recent Best Picture winner, Summit's "The Hurt Locker," took in $828,000 playing in 349 locations over the weekend, a decent performance for the limited number of theaters wh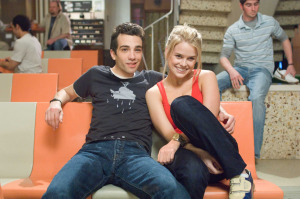 o decided to play the movie, even though it's been out on DVD for more than two months.
"Hurt Locker" has grossed $15.7 million in the U.S. and Canada to date.