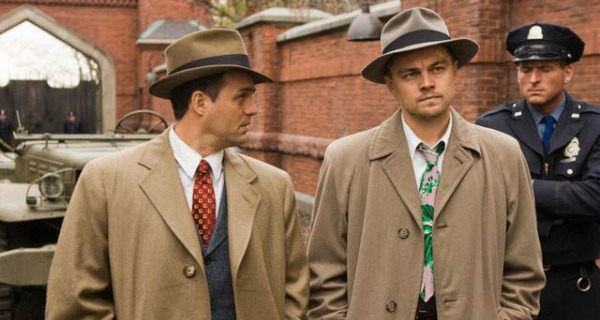 Competing for male audience demos with a new buddy comedy and a horror film, not to mention Olympic hockey, and facing East Coast snow flurries, Martin Scorsese's "Shutter Island" won its second consecutive North American box office this weekend, grossing $22.2 million.
Warner's "Cop Out" placed second, debuting to $18.6 million, according to studio estimates — the high side of its pre-release estimates — despite bad reviews for the Kevin Smith-directed comedy pairing Bruce Willis with Tracy Morgan.
Overture's "The Crazies," meanwhile, exceeded its pre-release forecast, grossing $16.5 million, with the remake of the 1973 George A. Romero non-classic powered by what were exceptionally good reviews and word-of-mouth for a horror film.
Overall, the weekend box office is predicted to finish about 7 percent higher than the $105.2 million it generated during the same last-weekend-of-February period from a year ago, according to one studio's estimate, despite another walloping East Coast storm… and despite the final leg of the Winter Games in Vancouver.
"We lose pretty much all of Canada to hockey," said Warner distribution chief Dan Fellman, referring to Sunday's gold medal game between the U.S. and the Great White North.
Fellman estimates that crippling storms that hit the East Coast on Friday probably diminished "Cop Out's box office performance by a factor of about "$300,000 to $400,000."
"Maybe we can make that up this week," he said, noting that the R-rated film, which was shot for $37 million, garnered an audience that was 57 percent male and 60 percent below the age of 25. It received a "B-minus" rating from movie word-of-mouth tracker CinemaScore.
Competing alongside "Cop Out" for the same younger male demo — and to a degree, the also-R-rated "Shutter Island," which is also weighted towards dudes — Overture's "The Crazies" benefited from critics' reviews that tallied an impressive "71 percent fresh" score on aggregator Rotten Tomatoes.
"We received great reviews and our exit polls indicated great reactions," said Overture's executive VP of theatrical distribution, Kyle Davies. "For a horror film, that's as good as you can get in terms of how that audience responded."
Starring Timothy Olyphant (TV's "Deadwood" and "Justified") in his preferred role in small-town law-enforcement, fighting off a legion of homicidal zombies suffering "28 Days Later"-like flu symptoms, "The Crazies" was co-produced with Participant Media at a production cost of $19 million.
Still, solid debuts for both "Cop Out" and "The Crazies" couldn't topple Scorsese's nut-house-themed "Shutter Island," which declined only about 45 percent from its box-office-leading debut a week prior.
In fact, after enjoying the biggest opening ever for both Scorsese and star Leonardo DiCaprio, the film has grossed $75.1 million, matching its production budget after just two weeks of domestic release.
Among other holdovers, Fox's "Avatar" completed its final weekend of owning the North American 3D exhibition universe, with Disney's Tim Burton-directed "Alice in Wonderland" due to arrive in theaters next weekend.
"Avatar" finished fourth this weekend with $14 million, declining only 16 percent week-to-week, and building its record 11-week domestic gross to $706.9 million.
Foreign totals released later Sunday could push the film past the $2.5 billion mark worldwide.
In fifth place, Fox's PG-rated "Percy Jackson and the Olymians: The Lightning Thief" added another $9.8 million to a domestic gross that has now reached $71.2 million.
Directed by Chris Columbus on a robusto budget of $95 million, the Greek god-themed film, targeted toward the youthful "Harry Potter" crowd, will need to make up some serious foreign box-office ground to become franchise-worthy. It had $67.6 million in international gross going into the weekend, with updated numbers reported later on Sunday.
In sixth place, Warner's "Valentine's Day" grossed $9.5 million and has reached $100.4 million in domestic gross. The star-studded ensemble comedy, directed by Garry Marshall, was shot for just $52 million.
Meanwhile, still chugging along after 15 weekends in release, and still playing in 945 locations, Warner's "The Blind Side" finished 11th overall with $1.3 million. The $29 million Sandra Bullock film is closing in on another benchmark of its own, with $248.8 million in domestic gross.
Among films playing in limited release, Summit's Roman Polanski-directed "The Ghost Writer" grossed $813,000 playing at 43 locations, for a per-location average of $18,898. The film opened last weekend at four New York and Los Angeles locations.
And for its part, indie distributor Apparition announced Sunday that Emily Blunt period drama "The Young Victoria" had surpassed $10 million in domestic gross after 11 weekends.
Shot by Europe's GK Films at a cost of $35 million, the film has grossed $15.4 million so far in foreign territories. It's up for three Oscars, including art direction, costume design and makeup.
Here's a look at the weekend's top 10:
"Shutter Island" ($22.2m)
"Cop Out" ($18.6m)
"The Crazies" ($16.5m)
"Avatar" ($14.0m)
"Percy Jackson and the Olympians" ($9.8m)
"Valentine's Day" ($9.5m)
"Dear John" ($5.0m)
"The Wolfman" ($4.1m)
"The Tooth Fairy" ($3.5m)
"Crazy Heart" ($2.5m)