Comic-Con assembled all of the Avengers.
Mark Ruffalo is taking over the role of Hulk; Jeremy Renner will play Hawkeye. Thor, with Chris Hemsworth, looks like a possible 3D home run for Marvel — and for Disney, which already put up the convention's hottest-looking property on Thursday with "Tron."
In a bit of theater that's becoming the trademark of the newsy gathering, every one of Marvel Studio's Avengers stood together on the Hall H stage to a deafening Comic-Con roar.
Yep, even Downey. Marvel brought out all of its top names for the climactic day of the festival, which ends Sunday with a relative whimper.
Downey, in a post "Iron Man 2" shag, had the assembly foaming when said: "And now, to reprise the role of the Hulk, Mark Ruffalo!" The malapropism aside (only Ed Norton could technically reprise the role, right?), Ruffalo was received well, and the group didn't linger long — a pair of stabbings among feuding fans at the back of the room earlier in the evening pushed the panels back nearly an hour.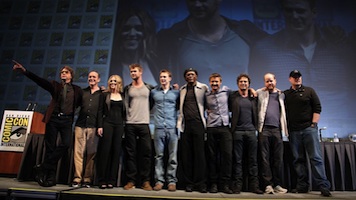 TheWrap reported Friday that Ruffalo was scrambling to make a deal in time for a Comic-Con appearance — and now that deal is done.
The "The Kids Are All Right" actor strolled onto the Hall H stage on Saturday to join Scarlett Johansson (Black Widow), Chris Hemsworth (Thor), Chris Evans (Captain America), and yep — Robert Downey Jr. (Iron Man). Samuel L. Jackson (Nick Fury) introduced them. Even Clark Gregg (Agent Colson) was there.
"Don't anybody stab anybody anywhere until I'm done talkin'," Downey said, before giving over the stage to Joss Whedon, who will direct.
"I'm not up to it," a bearded Whedon told the squealing fans. "I am going to blow it. I'm very nervous."
The Comic-Con faithful were alsonervous about how "Thor" was going to turn out; its designs had been
met with wilted praise. But the 3D footage was one of the more thrilling moments of the festival, with enough effects fireworks to get Hall H in full throat.
The Con had been a barrel of charming surprises, from the sleek action of "Tron" to a camera-flash glimpse of Captain America in a spare teaser trailer (credit those guys — the movie only started shooting last week).
"Scott Pilgrim vs. the World" took a strong following to the Balboa theater for its world premiere, but it was Marvel's moneymakers that shook the rafters in Hall H.
Coming in, Comic-Con 2010 felt lacking of a lead element — until Marvel seized it, sealing what's developing as a potential tapestry of movies that could hurl millions at Disney for a decade or more.