The success of "Bridesmaids" may lead the way to a new kind of movie — the gross-out women's comedy.
Raking in $108.8 million so far, the R-rated film — written by star Kristen Wiig and Annie Mumolo — took its cue from the success of buddy comedies like "The Hangover," but aimed it at a female cast and female anxieties, with a poop scene as its most memorable set piece.
In the process, the Judd Apatow-produced Universal comedy seems to have single-handedly gestated a new movie genre.
"Bridesmaids" has an "opportunity to open the door to the crazy, vulgar female comedy — and I'm not saying 'vulgar' dismissively," Linda Voorhees, a screenwriter and UCLA School of film and television lecturer, told TheWrap.
Within a week of its opening there was talk of a sequel, and this week, two studios bought pitches for two comedies that are likely to appeal to women.
Apatow and "Bridesmaids" director Paul Feig sold Universal a pitch for a nontraditional romantic comedy that Apatow told TheWrap will probably end up with enough raunch in it to get an R rating from the Motion Picture Association of America.
And Tuesday, DreamWorks bought Sascha Rothchild's pitch for "Who Invited Her," which is about a woman who goes to a bachelor party. Reese Witherspoon is producing and possibly starring.
Certainly, "Bridesmaids," shot on a budget of $32.5 million, further dispelled the long-held cinematic notion that R-rated comedies are a realm that belongs to young males.
Also read: Judd's a Genius Again! 'Bridesmaides' Over-Performs at $24.4M
In fact, "Bridesmaids" debuted to an audience that was 67 percent female, according to Universal, and only 37 percent were under the age of 30.
Even before that there was plenty of recent box-office evidence to suggest a healthy demand beyond young males for raunchy, sexually and scatologically charged comedy.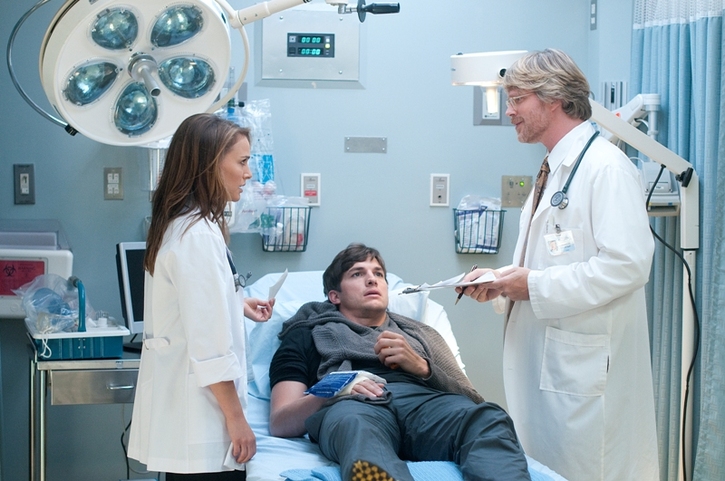 In January, for example, Paramount's Ivan Reitman directed rom-com "No Strings Attached" — which scored an "R" rating and bore the promo line, "Can sex friends stay best friends?" — commanded an opening audience that was 70 percent female. The $25 million Paramount film went on to gross $147.8 million at the global box office.
That film paired the hunky Ashton Kutcher alongside Natalie Portman in a relationship comedy that was sans explosive bathroom sequences. But even some seemingly more guy-oriented "R"-rated comedies are working with women young and old these days.
Look at "The Hangover Part II," one of the top-grossing R-rated comedies of all time. It commanded on audience that was 51 percent female. The original 2009 "Hangover" brought in an audience that was 48 percent female.
Even the very guy-oriented "Hall Pass" was only narrowly male-dominated (55 percent vs. 45 percent).
"The tendency of women to see R-rated movies goes back before 'Sex and the City,'" the 2008 female-targeted comedy that grossed over $415 million globally, Vincent Bruzzese, president of the research firm Ipsos OTX, told TheWrap.
For other Apatow movies, including "The Forty Year Old Virgin" and "Knocked Up," "Women were an extremely strong component in driving the box office," Bruzzese added.
Still, there is a growing belief in Hollywood that "Bridesmaids" may have perfected an even better way to cater to women than the standard — and now flailing — formula chick flick.
"Bridesmaids" shows "that there is an audience out there — there are women who enjoy seeing women's stories that have truth to them," said Donna Gigliotta, production president for the Weinstein Company.
Weinstein will be releasing the comedy "I Don't Know How She Does It" (left) starring Sarah Jessica Parker as a working mom trying to hold it all together. And producer Mike Medavoy will begin shooting "What to Expect When You're Expecting," starring Cameron Diaz, in the next several weeks.
"Bridesmaids" pushes the envelope in ways that romantic comedies never do; Maya Rudolph doesn't come off as ladylike as she squats in the middle of the street to keep from soiling herself.
"The humor is a little more base … rather than the softer, lighter romantic comedy of what we would say the romcoms of Jennifer Aniston or Kate Hudson," Voorhees said.
Apatow told TheWrap in May that while Wiig was writing the movie, "There were many times where we said, 'Well, what is this really about? What do you want to say about women and, you know, all of the expectations they deal with?' And it was years of really thinking deeply about it."
Martha Lauzen, who directs San Diego State University's Center for the Study of Women in Television and Film, told TheWrap that the movie should inspire some screenwriters to create raunchier or more vulgar roles for women — the sort of roles generally played by men.
"I know that a lot of people are saying, 'Wow! Women can be funny.' But you know, women have always been funny. The ability to make someone else laugh is seen as being powerful … That's a little scary. Powerful women in any form is a little scary."
And she said that "just as a purely practical, pragmatic matter, when a film does well, typically we see more of them. 'Bridesmaids' has done pretty well, so I suspect we'll see more of these films where we're taking a female character and putting her in a more traditionally male role."
Not that that's always the case.
Geena Davis, the actress and founder of the Geena Davis Institute for Gender in Media, told TheWrap that after the release of her "Thelma and Louise" 20 years ago, "the press was predicting, 'Oh my God, this proves a movie designed to appeal to women can be successful. A female road movie can be successful. This proves that a female buddy movie can be successful … This is surely going to launch a whole wave of these kinds of movies. And there were none. There were none, none, none."
After that, Davis starred in the very successful "A League of Their Own," about an all-female baseball team.
Its success, she said, was accompanied by the same talk: "We're going to see so many other female sports movies. And there none until 'Bend it Like Beckham.' So that didn't happen."
But she congratulated Wiig and noted that only about 13 percent of screenwriters are women.
"Any time women can be portrayed doing something other than what they are usually doing in movies – which is a lot of times being a love object or being decorative rather than a fully realized character, that's great," she said.