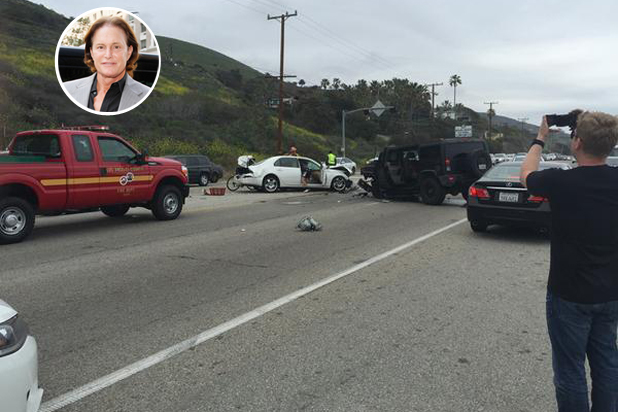 The driver of the Toyota Prius in the fatal crash involving Bruce Jenner was driving on a suspended license, a representative for the Los Angeles County Sheriff's Department told TheWrap on Wednesday.
According to the Sheriff's Department, the driver, identified as 29-year-old Jessica Marie Steindorff, had her license suspended for a failure to appear in court.
Also Read: Bruce Jenner Crash Video Prompts Police Witness Search (Video)
As reported earlier, the crash occurred slightly after noon Saturday on the Pacific Coast Highway near Corral Canyon Rd. According to the Sheriff's Department, Steindorff's Prius either slowed down or stopped, and a Lexus driven by 69-year-old Kim Howe of Calabasas, Calif., struck the Prius. Jenner's Cadillac Escalade then reportedly rear-ended the Lexus, pushing it head-on into a Hummer. Howe died at the scene.
The New York Daily News identifies Steindorff as a Hollywood talent manager whose clients include supermodel Alessandra Ambrosio.
See video: Larry Wilmore Confused Over Bruce Jenner's Penis, Sympathizes With Brian Williams' 'Fake News' Purveying
According to the Los Angeles Times, Howe also did not have a valid license at the time of the crash, because her driver's license expired in 2007.
Meanwhile, investigators plan to obtain cell-phone records from each driver to determine if anyone was texting and driving, which is illegal in California. Jenner's publicist stated that Jenner was not texting in the moments leading to the accident.
The investigation into the crash is ongoing, the LASD told TheWrap.