"Bully," the Weinstein Co. documentary that gained wide attention after the MPAA rated it R, is being released without any rating at all, The Weinstein Co. said Monday.
The movie opens in five locations in New York and Los Angeles on March 30.
If it carried an R rating, movie theaters would not admit people younger than 17 unless they were accompanied by an adult. With no rating, theaters can decide who to let in.
An individual close to the Weinstein Co. told TheWrap Monday that the company hopes that movie theaters will allow young people in.
The movie opens in the top 25 markets in the country on April 13. In Canada, where the movie carries a PG rating, it opens on April 6.
The CEO of one movie theater chain, AMC Entertainment, has supported the Weinstein Co. on the issue. Gerry Lopez has said that rating should be changed.
The Weinstein Co. had appealed the R rating, but failed — by one vote — to convince the MPAA's appeals panel to change the rating to a PG-13.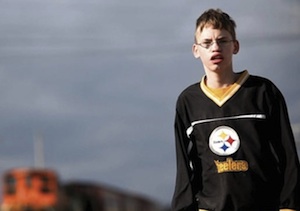 The MPAA said that the movie deserves an R rating because of some language in it.
In the movie, children direct extremely harsh language at other children.
Also read: Ellen DeGeneres: 'Bully' Movie 'Can Save Lives,' Should Be Rated PG-13
Since MPAA decision, more than 475,000 people have signed an online petition urging the MPAA to change the rating. More than 20 members of Congress weighed in, as well, as did celebrities including Meryl Streep, Ellen DeGeneres, New Orleans Saints quarterback Drew Brees, actor Avan Tudor Jogia and singer-actress Demi Lovato.
Also read: 'Bully' Battle Continues as Members of Congress Call on MPAA to Change Documentary's Rating
Katy Butler, a 17-year-old Michigan girl, started the online petition because she worried that with an R rating, young people would not be able to see the movie and schools would not show it.
In a statement, the movie's director, Lee Hirsch, said, "The small amount of language in the film that's responsible for th eR rating is there because it's real. It's what the children who are victims of bullying face on most days. All of our supporters see that, and we're grateful for the suport we've received across the board. I know the kids will come, so it's up to the theaters to let them in."
Weinstein's president of marketing, Stephen Bruno, said that the company is "working to do everything we can to make this film available to as many parents, teachers and students across the country."
"Bully" is a tough movie to watch. It shows kids at their worst — and shows adults doing little about it. It also shows the funeral of a young person who has been bullied.