Is there any way to get screenwriter Stephen Knight out of the kitchen and back out onto the streets?
In the last few years, he's given us the glorious Tom-Hardy-in-a-car drama "Locke," not to mention the fiendishly entertaining "Peaky Blinders," but put Knight behind a stove and you get "The Hundred-Foot Journey" and now "Burnt."
Both movies deal with the obsessive pursuit of a Michelin star rating, and both are the kind of foodie fables that get so precious that you want to spend the rest of your life eating take-out. ("Burnt" has a speech devoted to how Burger King is the contemporary equivalent of the much-adored French peasant cuisine, but it's just there so the movie can sprinkle little blue flowers all over its entrees without being accused of classism.)
See Video: Bradley Cooper Cooks Up 'Culinary Orgasms' in New 'Burnt' Trailer
What we get here is "White Jerk Gets a Second Chance," but since the jerk in question is played by Bradley Cooper, and since his culinary creations have been lovingly prepared for the camera by Mario Batali and Marcus Wareing, we're clearly meant to be charmed. Neither Cooper, Knight nor director John Wells ("August: Osage County"), unfortunately, has figured out how to make this rock star chef protagonist anything but insufferable. In a movie about redemption, we shouldn't be rooting for the evil French drug dealers, owed money by the hero, to break his cream-whipping wrist.
Adam Jones (Cooper) was the toast of Paris, until too many substances and too many burnt bridges destroyed his promising career as a restaurateur. After doing penance — shucking one million oysters at a New Orleans dive — he heads to London to revive his career. Seemingly all of his old Paris cohorts are there, including maître d' Tony (Daniel Bruhl), who's nursed a long-standing crush on Adam; sous chef Michel (Omar Sy), who seems ready to give the chef a second chance despite having been done wrong by him; and frenemy Reece (Matthew Rhys), now the city's hottest chef since Adam's absence from the scene.
Also Read: Sienna Miller Poses Topless, Admits 'I Burnt a Lot of Bridges'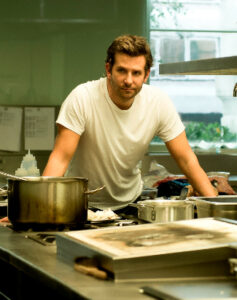 Pulling together a crew of both familiar faces and new ones, including pasta whiz Helene (Sienna Miller), Adam sets about creating a namesake restaurant that will win him the coveted third Michelin star. Ghosts from the past — namely those drug dealers, along with Anne Marie (a little-utilized Alicia Vikander), Adam's ex and the daughter of his one-time mentor — keep popping up, and his backers insist that Adam get a weekly drug test from psychiatrist Dr. Rosshilde (Emma Thompson), who's just dying to get this brash young chef to open up to her about what's really bugging him.
That doctor's first appearance telegraphs Adam's eventual emotional unburdening, and Knight's screenplay comes loaded with characters and lines of dialogue that are either fraught with clumsy exposition ("When I was your sous chef …"), obvious foreshadowing or outright emotional billboarding. (Adam actually utters the line, "A kitchen's the only place I ever felt I really belonged.")
One might think that having played a similar chef-on-the-mend in the TV series "Kitchen Confidential" would put Cooper on familiar ground here, but while the actor nails the prickly-diva-in-an-apron scenes (he screams at his staff like a drill sergeant), he's less successful at bringing this touchy pain in the rump around to being a balanced human being. When Helene falls for him, we question why she's attracted to someone so volatile and obnoxious, to say nothing of the fact that he's also her boss.
See Video: Bradley Cooper Defends Jennifer Lawrence's Attack on Hollywood's Gender Pay Gap
Since almost everyone else in the movie lets Adam run roughshod over them, that's somehow supposed to make us find him irresistible as well, but when he says things like, "I want to make food that makes people stop eating," he comes off like one of those gourmet bloggers who can't go a full paragraph without using the word "reduction."
The restaurants feel alive and bustling — Reece's is hilariously, but believably, minimalist — but "Burnt" ultimately feels like those sous-vide bags that Adam finds so worthy of mockery: trapped in plastic, with the air sucked out of it.