Negotiations are underway to fill out the cast of Quentin Tarantino's next film "Once Upon A Time In Hollywood," with Burt Reynolds in talks to play George Spahn, the ranch owner who rented his land out to Charles Manson and his cult, studio sources have confirmed to TheWrap.
Longtime Tarantino collaborators Tim Roth, Kurt Russell, and Michael Madsen are also in talks to play minor roles in the film. The trio starred in Tarantino's previous film, 2015's "The Hateful Eight," and between them, they share credits in other Tarantino films including "Kill Bill," "Reservoir Dogs," and "Death Proof." Leonardo DiCaprio and Brad Pitt are already signed on to star in the film.
Spahn was the owner of a ranch in Los Angeles that was regularly used during the Golden Age of Hollywood as a set for Westerns. In the late 1960s, Manson persuaded Spahn to allow him and his cult to stay at the ranch.
---
Also Read:
Quentin Tarantino: Brad Pitt, Leo DiCaprio Are the New Robert Redford and Paul Newman
---
Taking place in August 1969, "Once Upon A Time In Hollywood" will follow a group of characters in Los Angeles as the Tate murder unfolds. DiCaprio and Pitt will star as former Western TV star Rick Dalton and his stunt double Cliff Booth, who have been left behind in Hollywood as the industry turned to new tastes in the '60s. But when Tate, Dalton's next-door neighbor, is murdered, the doldrums of their lives come to an abrupt end.
"Once Upon A Time In Hollywood" will be released by Sony Pictures on August 9, 2019.
Reynolds is represented by Abrams Artists and Link Entertainment, and Madsen is represented by BR Talent. Roth and Russell are represented by CAA.
Every Quentin Tarantino Movie Ranked From 'Reservoir Dogs' to 'Hateful Eight' (Photos)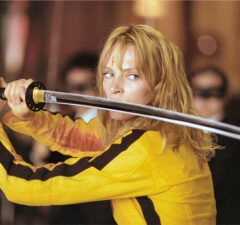 (Tap photo and swipe to view gallery)