In today's Callbacks — your daily roundup of casting news from Deal Central — Chris Rock updates Akira Kurosawa, Sean Connery comes out of retirement to get animated, Jon Tenney plays Papa to a fashion-conscious "Green Lantern" and Jim Carrey's gay dramedy "I Love You Phillip Morris" lands another release date.
• Not many people would have the gall to rewrite David Mamet, but Chris Rock appears to be up for the challenge.
The "Death at a Funeral" star is writing a remake of Akira Kurosawa's 1963 detective thriller "High and Low," which itself was loosely adapted from Evan Hunter (aka Ed McBain)'s novel "King's Ransom," reports Black Voices.
Mike Nichols ("The Graduate") will direct the film, which features one hell of a juicy logline; "When kidnappers mistakenly snatch his chaffeur's son instead of his own, a business executive decides to pay the ransom anyway and loses his fortune as a result."
Mamet was originally hired to write a draft in 1999 by exec producer Martin Scorsese, whose involvement with the current incarnation of the project remains unclear.
I bought The Criterion Collection DVD of "High and Low" a couple months ago during a Hollywood Video close-out sale, and have been waiting for the right time to pop it in the player. Needless to say, it seems that time has come.
The project marks the fourth remake Rock has attached himself to, following "Death at a Funeral" and his enjoyable 2007 directorial effort "I Think I Love My Wife," which adapted Eric Rohmer's "Chloe in the Afternoon." Previously, Rock also optioned English-language remake rights to the 2009 French film "The First Star."
I caught Rock's appearance on "Real Time with Bill Maher" over the weekend and found him to be refreshingly candid and of course, hilarious. Rock next stars opposite fellow "Saturday Night Live" alums Adam Sandler, David Spade and Rob Schneider in the Sony comedy "Grown Ups," which is one of my most anticipated movies of the summer.
Nichols' last movie was 2007's "Charlie Wilson's War," which I did not like at all aside from Philip Seymour Hoffman's explosive supporting performance.
• Jon Tenney ("The Closer") will play Hal Jordan's father in Martin Campbell's "Green Lantern," reports SuperHeroHype.
It's a small but important role in film, because in the DC comic, young Hal watches as his pilot dad dies during a failed test run, a tragedy that curtails the boy's passion for flying.
Meanwhile, /Film reports that Ryan Reynolds' Green Lantern suit will be mostly CGI, which sounds like a neat change of pace as someone who was getting bored with the standard spandex outfits favored by most superheroes. In fact, I've long-wondered what a live-action version of the constantly-changing suits in Richard Linklater's "A Scanner Darkly" might look like, and the Green Lantern's costume may be as close as I'll ever get to that.
Reynolds has been seen on set wearing a grey tracking motion/performance capture suit with white LED lights. Oscar-winning costume designer Ngila Dickson ("The Lord of the Rings: The Return of the King") will be masterminding the suit's otherworldly look.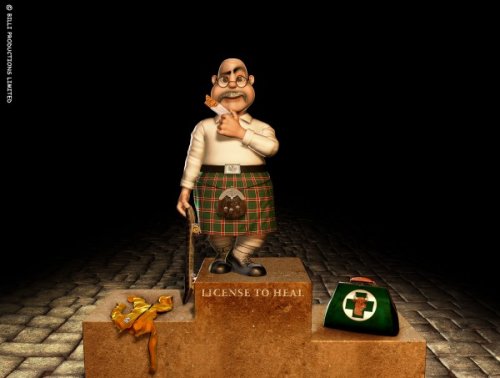 • Sean Connery will provide the voice of the title character in "Sir Billi," a CGI-animated family film directed by Sascha Hartmann from a script by his wife Tessa Hartmann.
The adventure-filled story follows a retired Scottish skateboarding veterinarian grandpa who sets out to rescue an illegal fugitive beaver. Alan Cumming will voice Sir Billi's sidekick, Gordon the Goat.
"Sir Billi" will be Connery's first feature film since "The League of Extraordinary Gentlemen" in 2003. Re-reading that description, Connery probably should have just stayed retired.
The Hartmanns developed the original story together based on a 2006 animated short that also featured Connery's oft-imitated voice. John Fraser will produce with Connery exec producing.
• After delaying its April 30 opening indefinitely, Consolidated Pictures Group has planned a July 30 limited release for Jim Carrey and Ewan McGregor's gay dramedy "I Love You Phillip Morris," reports Variety.
John Requa and Glenn Ficarra's film will likely expand to other cities besides New York and Los Angeles the following weekend. "Phillip Morris" has been delayed three times already so I won't be holding my breath to see it this summer, since anything's possible between now and then in the fickle world of arthouse distribution.
Based on the life of con artist Steven Jay Russell, "I Love You Phillip Morris" stars Carrey as a con man who falls in love with his prison cellmate (McGregor). The adorable Leslie Mann ("Knocked Up") co-stars along with Rodrigo Santoro ("300"). DeVotchKa's Nick Urata provides the film's official soundtrack.
Also reported on Deal Central today:
• "Percy Jackson and the Olympians" star Logan Lerman has NOT been cast as Peter Parker in Sony's "Spider-Man" reboot, contrary to Internet reports
• Tatiana von Furstenberg and Francesca Gregorini's coming-of-age movie "Tanner Hall" will play the Gen Art Film Festival