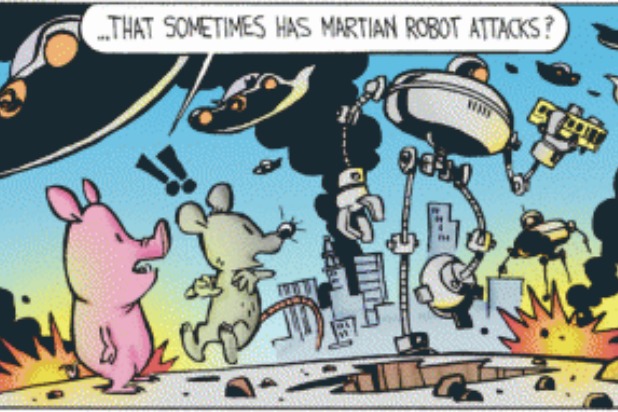 Fans of the newspaper comic  "Pearls Before Swine" noticed something strange about Wednesday's strip: The art was really, really good. "Calvin and Hobbes" good.
"Pearls" creator Stephan Pastis revealed why in an exclusive interview with The Washington Post: He had lured "Calvin and Hobbes" creator Bill Watterson out of retirement. Watterson drew the middle panels of "Pearls" for Wednesday through Friday, to raise money for a Parkinson's charity.
Also read: 'Calvin and Hobbes' Creator Bill Watterson Debuts First Cartoon in Almost 20 Years
Pastis has made self-deprecating jokes about his drawing ability, and that's also the joke of the strips. They feature Pastis letting a young girl named Libby (note the similarity to "Bill") take over a few panels of what is normally a simply drawn strip. Libby — Watterson — fills those panels with crocodiles, a zebra, pig, and mouse, a martian robot attack, and beautiful women fawning over Pastis.
The strips will be auctioned off to raise money for Team Cul de Sac, which raises money for Parkinson's in coordination with the Michael J. Fox Foundation. It was founded by editor/designer Chris Sparks and cartoonist-illustrator Richard Thompson.
Also read: What Does It Pay to Create Wolverine? $350, Initially
Watterson has, until recently, been known as the J.D. Salinger of comics — a brilliant artist who revolutionized his art, then became a recluse. During his run on "Calvin," he often complained about the shrinking size of comic strips. In one of his "Pearls" cartoons, Libby says of one of her elaborate drawings, "I could do better if I had more space."
Watterson last came out of retirement in February, when he did the cover art for the comics documentary, "Stripped." It was his first public cartoon in nearly two decades.
Also read: Chris Claremont's Dream X-Men Movie: James Cameron, Kathryn Bigelow, and Bob Hoskins as Wolverine
Watterson famously sent Calvin and Hobbes off into comic legend in 1995 with a strip in which they sledded off into the snow. In Saturday's strip, Pastis had Libby sled off, as well, saying she was bored with drawing.