The Last 10 Years of Cannes: From 'Up' to Gaga to 'Persona Non Grata' Lars Von Trier
A version of this story about the first 10 years of TheWrap first appeared in TheWrap's Cannes magazine.
Up, Up and Away
The 62nd Cannes Film Festival got underway as stars, jury members, auteurs and executives walked the red carpet for "Up," Disney/Pixar's 10th collaboration. But even as everything kicked off with glitz and glamour, the 2009 edition wasn't immune to a changing world.
Under siege from a faltering world economy and shadowed by the quantum leaps of technological change, the festival was under pressure to prove its worth. Early signs indicated the festival would be more sparsely attended by Hollywood insiders because of the economy, and there were few films available for acquisition of a size to attract the major studios. By midnight on opening night, the normally packed patio of the Martinez Hotel, just across from the Palais, was nearly empty.
But it was only day one. The world recession economy be damned, brightly colored balloons filled the air along the oceanfront Croisette that evening. The sidewalks and streets were jammed nose-to-nose with expectant fans, some of whom had been there for two days to lay eyes on the makers of the Pixar film.
After the premiere screening, hundreds crowded into a beachfront party. Disney erected a floating centerpiece of hundreds of colorful balloons out on the water, as executives Dick Cook and Mark Zoradi mingled with guests. The party, too, seemed understated despite the balloons; there was fruit and chocolate, and small cups of ice cream passed around, a far cry from the displays of previous years.
–SHARON WAXMAN, 5/12/09
The Other Verhoeven
The line was crowded with distributors outside Paul Verhoeven's new film, "Teenagers," which debuted on Friday at the Cannes film market with no distributor attached. This was a surprise. Who knew that the director of "Showgirls," "Basic Instinct" and "Starship Troopers" had an under-the-radar pet project about the sexual lives of teenage boys?
Michael Barker of Sony Pictures Classics and Adam Yauch of Oscilloscope were among those lined up to see it. The theater was full. Fans waited breathlessly outside to see if any seats would open up.
They did, within, mmmm, seconds of the lights being dimmed. Turns out that guy in the blond wig and diamond earring loitering outside in the hall was the director, Paul Verhoeven. Just not that Paul Verhoeven. "He's my cousin," said Verhoeven, whose film — which appeared to have been shot on video and edited during the height of that era — was his first. The 67-year-old filmmaker said he has spent a career as a computer programmer. He has also been an organist, which explained, he said, his ability to write and perform the score himself.
Barker lasted about five minutes in the theater. Yauch followed about two minutes later. "This might actually be the worst film at the festival," said Yauch. Verhoeven explained: "It's a film for 11- and 12-year-olds. But unfortunately, we need adults to distribute it."
–SW, 5/15/09
Money, That's What I Want
It was a big damn party on the Majestic beach to celebrate "Robin Hood" on the opening night of the Cannes Film Festival. The live band sang Donna Summer, medievally inclined performers twirled fire batons and the champagne flowed freely as Russell Crowe nuzzled his wife contentedly in the corner of an overhang. Meanwhile, guests exchanged nightmare stories about how long it took them to get around that volcano cloud.
The movie seemed to have been received respectfully, if without any great enthusiasm. But that's not what had people talking. Even en route to the festival, film professionals gearing up for a week of deal-making made clear that the quest was all about finding financing for movies, and less about buying product.
CAA was there in force — though the agency isn't throwing any parties on any yachts this year — and its film-finance department was under strict orders to scour the Riviera for anything that smells like money. With the studios cutting back on their financing thresholds and Wall Street nowhere close to stepping up to the plate, it fell to places like Abu Dhabi, Singapore, Russia and India, along with the reliably starstruck billionaires, to fill the gap.
And in fact, the most distinctive presence along the Croisette were the foreign comers on the financing side — Doha, Qatar announcing a new film finance fund, Abu Dhabi beefing up its film production, Singapore financing projects at will and an assortment of those still-anonymous billionaires bobbing off the coast on mega-yachts.
–SW, 5/12/10
Smoke Gets in Your Eyes
What if they threw a film festival and nobody could get there?
New clouds of volcanic ash from the Icelandic volcano Eyjafjallajökull caused flight delays and cancellations in the days before the festival, making the trip to the seaside French town a trickier, longer process than usual.
A massive cloud of ash that spread over the North Atlantic closed down some airports and caused airlines to divert traffic around the cloud. Most of the closures and cancellations appeared to take place on Sunday, when Air France canceled about 20 flights into Nice, along with hundreds of other flights into and around Europe.
But the volcano did not appear to have affected any marquee talent. Two days before opening night, Russell Crowe tweeted a nonchalant "Packed for Cannes, boys asleep. 5am start. 'night john boy."
–STEVE POND, 5/10/10
Open Mouth, Insert Foot
Let's face it: The problem is not that Lars von Trier is a Nazi, because he's not. The problem is that he approaches press conferences with provocation and mockery in mind, and his default setting is a kind of deadpan facetiousness in which he makes outrageous statements that we're supposed to know not to take seriously.
You can get away with that approach, I suppose, when you take the fact that you're interested in making a soft-core porn movie (which von Trier apparently is) and inflate it to the point where you claim to be making a four-hour, hardcore porno with Kirsten Dunst and Charlotte Gainsbourg.
It becomes a little more problematic when, with your actors sitting beside you, you imply that Stellan Skarsgård and the absent Kiefer Sutherland are drunks and that Dunst suffers from depression.
And it turns completely untenable when "I found out I had German, not Jewish ancestry" turns into "I'm a Nazi," and leads into a discussion of how you understand and, oops, sympathize with Hitler.
Anybody who saw the brilliant German film "Downfall," as von Trier said he did, could legitimately claim to take away some understanding of (if not sympathy for) Hitler. And plenty of artists drawn to the dark side, as von Trier is, have talked about finding the monsters within themselves in their work.
But digging yourself a hole with an ill-conceived and entirely unconsidered monologue, delivered in what isn't your first language, and then thinking you can squirm out of it with a flippant "OK, I'm a Nazi," is just plain idiotic.
In addition to prompting the festival to declare von Trier "persona non grata," it did an enormous disservice to "Melancholia," a gripping work that deserves to be more than a footnote to its director's big mouth.
–SP, 5/22/11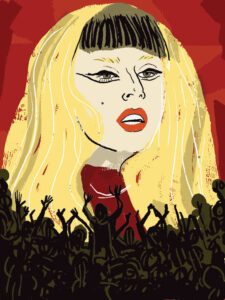 Cannes Goes Gaga
Lady Gaga achieved virtual global ubiquity when she managed to appear on both "American Idol" and then — surprise! — turn up live on the French Riviera where she had nothing to do with the film festival but stole the spotlight anyway.
Gaga performed her new single, "Judas," on the open-air stage along the beach where Canal Plus broadcasts its daily news show, at the far end from the Palais des Festivals. Surprise, she had a new outfit that words can only partially describe: a bright red cape over a Baroque matador suit, with heavy gold medalling. The hair — black bangs, platinum locks.
"Je vous adore, Cannes!" she chirped in French.
–SW, 5/12/11
New Kids in Town
It's 10 p.m. along the Croisette at the afterparty for "Lawless," and a new side of Cannes is revealing itself. It's not the star-studded Armani-Chopard-Haiti benefit, where $100,000 at auction bought you three days in Haiti with Sean Penn. And it's not the exclusive A-list gathering at the Hotel du Cap down the coast, where Graydon Carter of Vanity Fair hosted his annual affair.
It's a different kind of party and a different kind of exclusive, where a new blend of filmmakers, stars and high-net-worth producers gathered to celebrate the premiere of John Hillcoat's Depression-era drama.
Who's here? The people up to their elbows in making the movies that you're likely to care about. Most are barely over 30. Everybody's smoking, and very good looking. The elusive Megan Ellison of Annapurna, 26 and dressed in a black tuxedo suit, glows with the thrill of premiering her first movie in Cannes.
Michael Benaroya of Benaroya Pictures, 31 and another producer on "Lawless," is almost giddy with excitement. Why shouldn't he be?
Both are the wealthy children of magnates north of Hollywood (Ellison from northern California, the daughter of Oracle's Larry Ellison; Benaroya from Seattle, where his family is in real estate), but they are both using their personal fortunes to make movies of substance and taste.
It's a growing clique of dot-com Hollywood arrivistes, who've made the right connections and are putting their money where it counts.
–SW, 5/19/12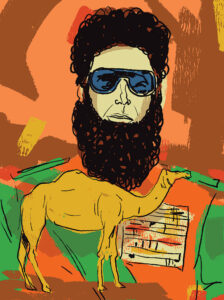 A Boy and His Camel
Sacha Baron Cohen brought his "Dictator" roadshow to the Cannes Film Festival, proving that the law of diminishing returns is just as applicable in Wadiya and in the South of France as it is in the United States.
First, Baron Cohen's character from "The Dictator," General Aladeen, was "sighted" on a yacht in the harbor cavorting with a bikini-clad woman while some "armed guards" stood by. Then Aladeen showed up with his camel and snarled traffic on the Croisette. The highlight came when he fell off.
In his brief sojourn down the Croisette, General Aladeen also stopped at a café and ordered two coffees. One was for the camel, who didn't drink it.
–SP, 5/16/12
The Bling Thing
Sofia Coppola can rest easy: Paris Hilton loved the director's "The Bling Ring." And maybe now Cannes' Un Certain Regard section can go back to showcasing art movies rather than playing host to platinum-haired heiresses.
The film's premiere provided an unusual shot of glitz for Un Certain Regard, which typically takes a back seat to the main competition and the out-of-competition star vehicles. But the second day of Cannes was a day when the main competition showcased François Ozon's enigmatic "Jeune & Jolie" and Amat Escalante's brutal "Heli," giving UCR an opening to take some of the spotlight away with "The Bling Ring" and the Sundance sensation "Fruitvale Station."
And while the critics chimed in, we had yet to hear from Hilton about the film that deals with a gang of San Fernando Valley teens who got their kicks breaking into the houses of celebs like Hilton and Lindsay Lohan. Hilton makes a cameo in the movie — and more crucially, she allowed Coppola to use her real house for the scenes in which the teens find a key under the doormat and go through Hilton's belongings.
Some reviewers wondered if Hilton realized how flamboyantly narcissistic she appeared by letting Coppola film a house of such surpassing extravagance, including countless images of Hilton herself in photos and paintings and even on pillows.
But Paris is hardly the self-conscious type, and after seeing the film she tweeted, "I loved The @BlingRingMovie! Sofia Coppola is such a talented director. @EmWatson and the rest of the cast were amazing! #AMustSeeFilm."
That tweet, by the way, came three hours after this one: "Omg! The power went out in my hotel half way thru getting my hair curled. This is a nightmare, running so late for The @BlingRingMovie."
–SP, 5/17/13
Water, Water Everywhere
Can someone please stop the rain? After two days of constant moisture, the misery quotient at the world's leading international film festival in Cannes — waterlogged feet, trampled gowns, canceled screenings, interrupted parties, fickle umbrellas and overcrowded lobbies — hit a peak. "I hope this isn't the new normal," commiserated one film executive, picking her way through the puddles on the Rue d'Antibes after noting that this is the second year in a row of constant downpours.
The sun finally broke through on Sunday, leaving grumpy paparazzi and pushy police in its wake, part of the ritual Cannes experience.
Still, when people travel this far to stay in $500-per-night hotel rooms for weather this bad, the movies had better be worth it. Thus far? A mixed bag.
–SW, 5/19/13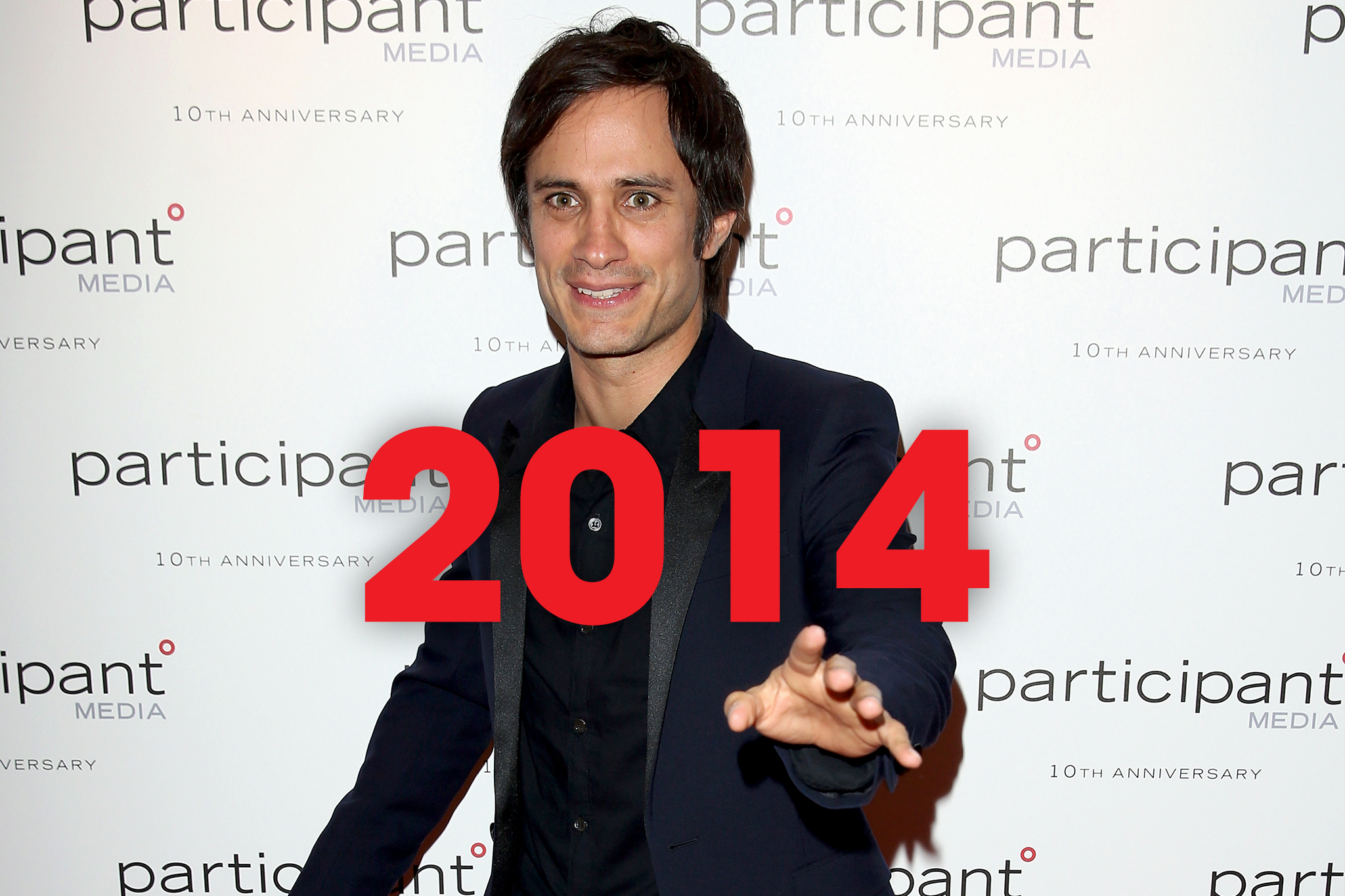 Fight to the Finish
A little after midnight, the iconic strains of Ennio Morricone's theme to "The Good, the Bad and the Ugly" wafted down the Croisette as an outdoor beach screening of the Sergio Leone Western came to an end. Tuxedo-clad guests at the Cannes Film Festival heard the music as they left the Grand Théâtre Lumière after a screening of the raucous "Wild Tales," along with others who'd exited the nearby Salle Debussy after seeing "The Disappearance of Eleanor Rigby."
And, of course, they all waded through a sea of humanity that was just in town to party. As the competition for Cannes' top prize, the Palme d'Or, hits the halfway point, it's tempting to say that that moment — "The Good, the Bad and the Ugly" providing the theme music for a late night at the world's most prestigious film festival — was an apt way to sum up the festival so far.
There's been good, a category that definitely includes Mike Leigh's "Mr. Turner," Abderrahmane Sissako's "Timbuktu," Nuri Bilge Ceylan's "Winter Sleep," Tommy Lee Jones' "The Homesman" and David Cronenberg's "Maps to the Stars" among the main competition entries alone.
There's been bad, a label most viewers would place on Atom Egoyan's "Captives" and Olivier Dahan's opening-night film, "Grace of Monaco."
And there's been lots of ugliness on screen, with child abduction and abuse ("Captives"), incest ("That Lovely Girl," "Maps to the Stars") and brutal violence sometimes played straight ("Timbuktu"), sometimes played for laughs ("Wild Tales") and sometimes played both ways at once ("The Homesman").
Nine of the 18 main-competition films had screened through the end of the weekend (though "Maps to the Stars" was only at a press screening), and the race for the Palme is completely unsettled. At a 10th anniversary yacht party for Participant Media, actor Gael García Bernal showed up and said he'd come straight from a meeting of Jane Campion's jury, of which he is a member. "Whew," he said, shaking his head. "Intense."
Naturally, he didn't elaborate beyond that — jurors are sworn to secrecy until the Palme is handed out.
–SP, 5/18/14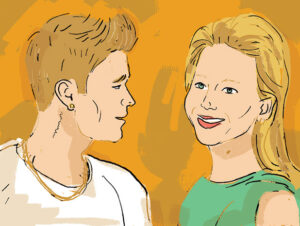 Summit Meeting
"The Hunger Games: Mockingjay Part 1" is not officially part of this year's Cannes Film Festival, but it's dominated the visuals all week with its huge display in front of the Majestic. And on Saturday night it did so in the flesh, throwing a big bash and showing off some footage from the massive blockbuster-to-be.
But in even bigger celebrity Cannes news, Jennifer Lawrence met Justin Bieber at the Saturday night Vanity Fair party at the Hotel du Cap. It would have been a veritable pop-culture meltdown if only some photographers had been on hand to document the event. But VF reports that J-Law declined to have the encounter immortalized.
Question: If two stars have a conversation but it's not photographed, did they really meet?
–SP, 5/18/14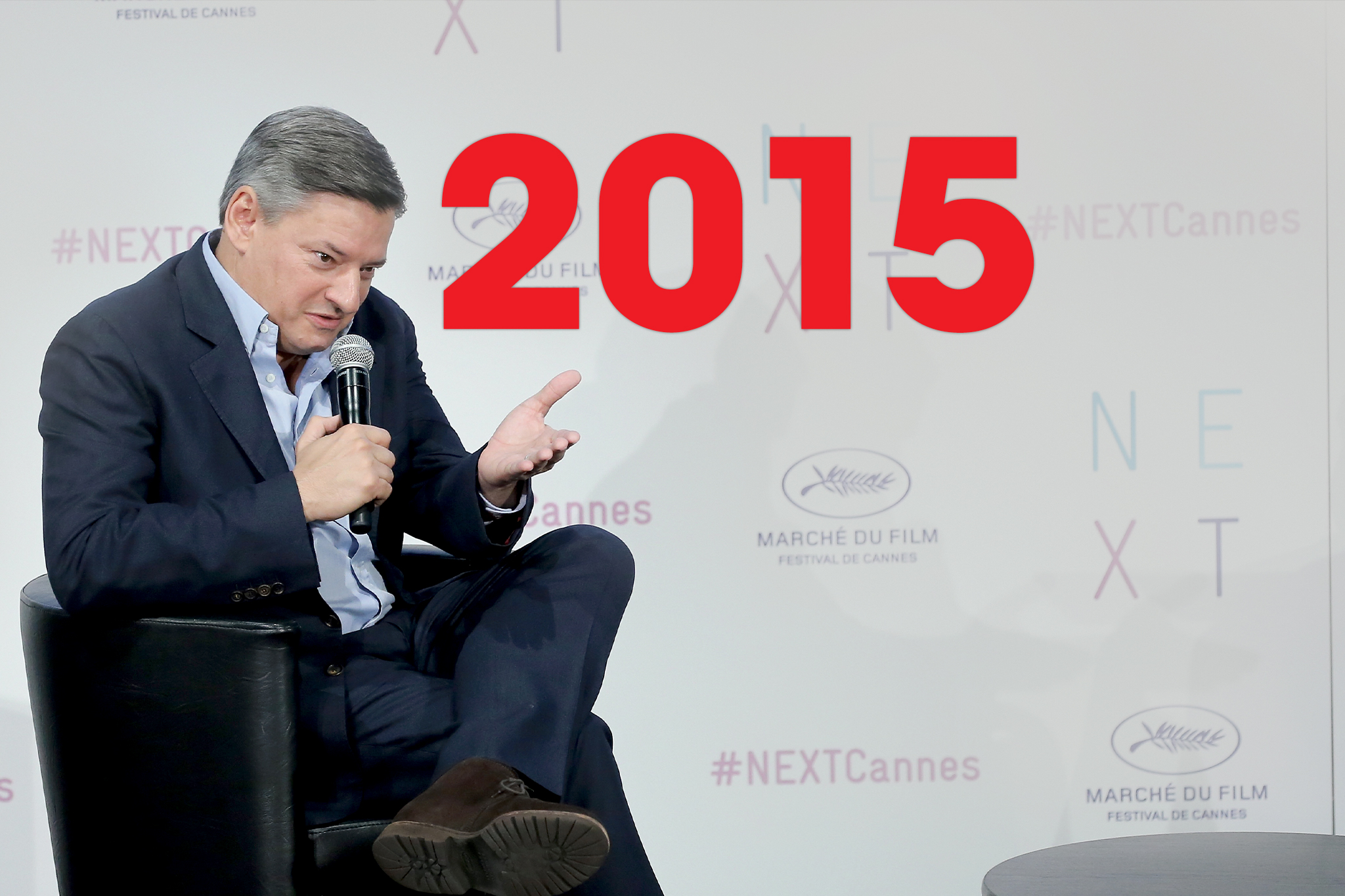 Extreme Comfort
It was somewhere in the glittering distance of the Cannes harbor — among the $1,000 bottles of Château Latour, the $200,000 Boucheron bracelets worn by starlets and accompanied by bodyguards, amid the private yachts and the Uber helicopters — that the festival finally revealed itself.
Cannes is always about wretched excess as much as it is about filmed art, threading together movie stars and billionaires, offering tanker-sized yachts parked off the beach as the backdrop for newfound friendship and budding business deals.
The groups all find their comfort zones and that comfort, it must be said, is extreme. The tech moguls — the young princes at the Cannes party — were hanging together. Tesla's Elon Musk and Google's Robert Kyncl were near but not at the festival, together on a yacht just across from the Carlton.
Probably better, since Netflix's Ted Sarandos was hit with a dose of Cannes candor in his attempt to win goodwill at a festival forum (a questioner scored Sarandos for "ruining" Europe's film business as he spoke about how much he loved the form).
Microsoft founder Paul Allen's black, 414-foot yacht called Octopus was the talk of the festival (though he comes every year), because he hosted a hot party. Allen kept it small — only about 200 people — which unless you group them carefully, will make the party look thin. Now that's a yacht.
The Azerbaijani government was behind an opulent, seated dinner for 100 at the Palme d'Or restaurant at the Martinez Hotel, one of the most expensive in town. It was celebrating "Ali and Nino," a Romeo and Juliet-style love story set in the turbulent turn of the 20th century that had just gone into production, inviting foreign distributors, journalists and assorted dignitaries.
IM Global was producing and selling the movie and hoping for an "English Patient"-style epic of forbidden love between a Muslim and a Christian. But the champagne? That's paid for by the oil wealth of Azerbaijan and, oddly, the Conde Nast-published Baku magazine. Here's hoping the movie is as good as the dinner.
–SW, 5/18/15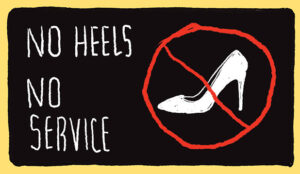 Heelgate
It's a weird year when the biggest controversy at Cannes has nothing to do with the movies. Forget about the incest movie ("Marguerite & Julien"), or the graphic sex movie in 3-D ("Love") — headlines screamed and petitions were drawn up because a security guard at one evening screening reportedly denied a woman entrance because she was wearing flats instead of heels.
Cannes is known for its dress code and its occasionally overzealous guards — I saw one man turned away from a press screening for wearing sandals, and everybody knows that the festival's definition of black tie demands a bow tie, not a long tie — but this case seemed a little extreme, and the festival quickly denied that its dress code specified heels.
But by that point the damage was done, and the festival had a black eye to match its black tie.
–SP, 5/24/15
Security First
Famous luxury resort Hotel du Cap-Eden-Roc, which sits on a coastal peninsula outside of Cannes, has more than a few unhappy customers in the wake of a P.R. stunt that impersonated a terror attack. A military-style speedboat carrying men in helmets, covered faces and padded vests pulled up to the dock of the famous hotel, a frequent haunt of executives and stars while attending the Cannes Film Festival. Guests dining on the hotel patio got a glimpse of the sight and fled toward the swimming pool in panic thinking the hotel was under attack.
Initially, media reports said the raid was a police exercise. A French tech startup catering to the super-rich immediately took ownership, however. Oraxy, which claims to be a private marketing tool for "ultra high net worth individuals." planned the stunt but insisted it did not mean to scare guests.
Heightened security has been the talk of this year's festival, as organizers added unprecedented numbers of private guards on the ground, most under the oversight of the French Minister of the Interior. In April, law-enforcement officials staged an elaborate attack simulation that saw four armed "militants" storming the famous red steps of the Palais.
Over 200 officers participated in the exercise meant to promote confidence and preparation, but the press dissemination of images of the event proved unsettling to many.
–MATT DONNELLY, 5/14/16
No Joke
Woody Allen said that the rape joke told about him at Wednesday's Cannes Film Festival opening ceremony didn't offend him, because he's taken plenty of criticism in the past.
"It didn't bother me at all," he said at a private media luncheon. "I've had worse things than that said about me."
French comedian Lauren Lafitte, the master of ceremonies at the opening ceremony, brought up the fact that Allen has been shooting many of his films in Europe in recent years, apparently comparing that to Roman Polanski's exile abroad.
"It's very nice that you've been shooting so many movies in Europe," he said, "even if you are not being convicted for rape in the U.S."
Allen's European filming, which includes his new film "Café Society," which opened the festival, has largely been for tax breaks; Polanski's is because he cannot return to the United States without being arrested in connection with a rape conviction in the early 1970s.
At the luncheon, Allen said that as a comedian, he defends the right of fellow comics to deliver "whatever jokes they want."
When pressed on whether that particular joke offended him, he demurred. "It would take a lot to offend me," he said.
–BEN CROLL & STEVE POND, 5/12/16
History Lessons
It had been three decades since Spike Lee first came to the Cannes Film Festival with "She's Gotta Have It," but the rebel yell that that film represented still rumbles at the back of his throat.
He returned with a subject no less unsettling: "Rodney King," a filmed version of a performance piece by the amazing Roger Guenveur Smith, who also wrote it. The film amounts to an hour-long tone poem, a kind of trancelike recitation of the life and death of the man who was videotaped being beaten nearly to death by Los Angeles police officers and survived to ask the world to "just get along."
Lee sat on the back of a yacht in the Cannes harbor and talked about progress, or lack of progress, in the battle against racial hatred. "On the day that Barack Hussein Obama put his hand on Abraham Lincoln's Bible, many people felt on that historic day that we were entering a postracial society," said Lee. "I didn't go for that bullsh— one second."
So Lee now feels he was the more realistic among us. "No way did I think by a magical, mystical act of God that racism would not exist anymore. That was science fiction. History has final say, and look where we are now."
Where we are, of course, is the inescapable reality of continual police shootings or other assaults on African Americans who have posed no serious threat. And the invective that has been loosed during the presidency of Donald Trump, whom Lee refers to as "Agent Orange." "I wake up every day thinking he has the nuclear football," Lee said. "This is real."
So what is Lee's path given the country's current state? "I gotta do the best I can," the filmmaker said. "Be about goodness and truth. Not trying to give easy answers."
–SW, 5/24/17
Netflix Arrives
Directors Noah Baumbach ("The Meyerowitz Stories"), Spike Lee ("Rodney King") and Bong-Joon Ho ("Okja") were all in Cannes with movies they made for Netflix. At the press screening of Baumbach's film at 8:30 a.m., the curmudgeons still hissed and booed at the sight of the red Netflix logo when it rolled across the massive screen, just as they had done when "Okja" screened two days earlier.
In a heated discussion among a group of producers, financiers and directors on Sunday, the pros and cons were debated. But for the moment, Netflix was the star of the Cannes show. In the garden of a Cannes villa for a Netflix blow-out party on Sunday (the kind big studios used to throw), a boyish Baumbach basked in the afterglow of his premiere, the kind of experience a filmmaker lives for. Greta Gerwig and Julianne Moore gabbed at the stone table with Lisa Hoffman, while Dustin Hoffman took congratulatory greetings from all and sundry.
And there at the front entrance to the Gatsby-like villa stood Ted Sarandos like a proud papa. He was visibly unperturbed by the fuss his company had created at the festival, and seemed both determined and focused to continue his and CEO Reed Hastings' ambitious new-content strategy.
The festival had already announced that Netflix will not be allowed in the main competition next year, but on this night there was no doubt that Sarandos too was moved by the experience of seeing Meyerowitz on the massive screen. So, perhaps, there will always be Cannes, for all of us.
–SW, 5/21/17
Women at Work
If you're looking to sum up the first half of the 2018 Cannes Film Festival, you might want to turn to an instructive scene near the end of Eva Husson's competition entry "Girls of the Sun." In the scene, Mathilde, a war correspondent played by Emmanuelle Bercot, is speaking to Bahar, a female squad leader played by Golshifteh Farahani.
"Be warned," Mathilde says of the story she's going home to write about Bahar's exploits on the battlefield. "You're going to be a heroine."
"We're all heroines," Bahar says.
Is this the "we're all heroines" edition of the Cannes Film Festival? Well, consider this: Husson's film, one of three movies in the competition directed by women, got what was by most reports the festival's loudest and longest standing ovation at the end of its gala premiere.
That same premiere began with 82 women, ranging from 87-year-old legend Agnès Varda to jury president Cate Blanchett, walking halfway up the steps into the Grand Théâtre Lumière and then stopping, as a protest against the festival's historic scarcity of women in competition.
For only the third time in history, the main competition jury was made up of more women than men.
The biggest bidding war and the biggest deal in the Cannes marketplace was for "355," a globetrotting female-spy thriller masterminded by Jessica Chastain and starring Chastain, Marion Cotillard, Lupita Nyong'o, Penélope Cruz and Fan Bingbing.
In addition, the French gender equality group 50/50 by 2020 gathered for a beach protest to ask for a gender-parity pledge from Cannes General Delegate Thierry Frémaux and the directors of the Directors' Fortnight and Critics' Week sidebars.
The lack of women is often news at Cannes, but their absence and their presence was the biggest story of the first six days of the 2018 festival. The currents that hit Hollywood in the wake of the Harvey Weinstein revelations and led to Frances McDormand's impassioned Oscar-night speech definitely washed up onto the Croisette.
–SP, 5/13/18
Lars is Back
"It's quite important not to be loved by everybody, because then you've failed," director Lars von Trier said of the brouhaha over his latest film, "The House That Jack Built," a slow-burn serial killer tale starring a resurrected Matt Dillon and Uma Thurman, widely accused of depicting mutilated women and children for cheap thrills. More than 100 moviegoers left Cannes' Grand Palais theater in the middle of the screening.
"I'm not sure if they hated it enough, though," von Trier said. "If it gets too popular, I'll have a problem. But the reception seemed just about right, I think."
He said that the film was "a pleasure to write," and that he read crime author Patricia Highsmith for inspiration. "I do know a bit about psychopaths," he said. "I've never killed anyone myself. If I do, it will probably be a journalist."
–MD, 5/17/18
Read more from TheWrap's Cannes magazine.