The talk of the Croisette Thursday involved a scene in Lee Daniels' hot, sweaty, pulpy Southern blast of a thriller, "The Paperboy," in which the trampy bleached blonde at the centerpiece of the film, played by Kidman, urinates on Zac Efron after he is stung by a jellyfish.
Twitter was abuzz with puritanical tweets about how it was a vision you wouldn't ever get out of your mind, even if you tried. But that scene was just one facet of Kidman's no-holds-barred performance, which includes a sex scene with John Cusack during a public prison visit that makes Sharon Stone's briefly uncrossed legs in 1992's "Basic Instinct" look as quaint as something out of "Harriet the Spy."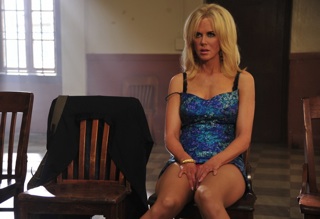 Kidman, whom one critic called a "hot, oversexed Barbie" in the film, dodged questions about the scene at Wednesday's press conference.
"It's my job to give over to something, not censor it," she said. She also made it clear that she vigorously pursued the part of a trashy Southern woman of a certain age who likes rough sex with felons – and helped create via what might be called sexts on a smartphone.
To cut costs, she said, director Lee Daniels asked Kidman to do her own hair and makeup.
"I got out the fake tan and I put on lashes that were old and I got out a hair piece thing and it was platinum and I sort of threw it all out on," she said. "I took a photo and texted it to Lee, all kinds of different provocative positions. That was how it started to come together, because what he sent back, which I cannot say, but it was like 'thumbs up.'"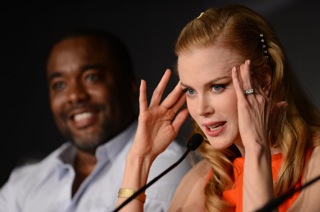 Daniels' first movie since 2009's "Precious" takes a Pete Dexter novel and adapts it into a sexy, violent and sometimes sly guilty pleasure. Kidman plays Charlotte Bless, a complicated and sharp-witted woman who is drawn into a newspaper investigation of a death row prisoner who may have been wrongfully convicted.
After exchanging steamy letters with the prisoner, effectively played by John Cusack as a scary swamp rat, Kidman's character goes to the prison to help facilitate an interview with the convict for two reporters from Miami, played by Matthew McConaughey and David Oyelowo.
Also read: Cannes 2012: Kristen Stewart Embraces Topless, Beatnik Role in 'On the Road'
Zac Efron plays Jack, the 20-year-old younger brother of McConaughey's conflicted Ward Jansen. The actor said he was nervous about such a gritty role opposite Oscar-winner Kidman, but he more than holds his own in what is a departure from his usual teen-idol parts.
"As much as I love everything I've done, this is a new frontier for me," he said. "It's incredibly fulfilling. It's a dream. Hopefully, I can keep doing things like this."
Decked out in little more than his underwear and impressive muscles for most of the movie, the devoted and mostly sweet-natured Efron lusts after Kidman, who only has eyes for bad men.
"I was distracted," said Macy Gray at Wednesday's press conference. "Zac was in his underwear half the time."
The movie is set in 1969 against backdrop of still-simmering racial tension and homophobia. The old soap opera "The Edge of Night" plays on a black and white TV set in several scenes. Gray, as the Jansen maid, narrates the film.
Daniels, who is openly gay, said Wednesday he drew upon some of his own experience having a brother in prison and being publicly shunned by white men with whom he had been intimate with in the 1990s.
Kidman's talked-about scene comes just one day after Kristen Stewart had to field questions about her scene in "On the Road" where she sits naked in between her male co-stars in the front of a car and appears to masturbate them both at the same time.
(Press conference photo by Ian Gavan/Getty Images)