Recently, a petition was circulated that upwards of 1,200 people have already signed, taking the Cannes Film Festival to task for not including any films by women directors in the main competition category. This omission offended me, too, until I started seeing some of the films that were included.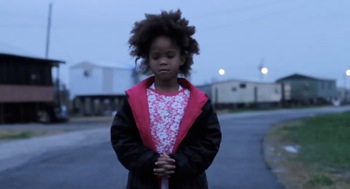 Lo and behold, the rarest of all things: movies about women that didn't have anything to do with the men they were sleeping with or marrying. All but one of the films I've seen so far in competition have had strong female storylines, and the one that hasn't still had many well-drawn female supporting players.
Also read: Cannes 2012's Female Troubles: Directors, Jurors Weigh In
Watching these films so far, one gets a much more refreshing look at women's place in the world. Wow — there are writers and directors who do consider women to be actual thinking people with motivations beyond getting married.
One has little choice but tip one's hat to this fest in that regard — women are represented here more than at any film festival I've ever attended. Yes, it would be nice if one of the films had been directed by a woman, but if it had, would anyone have taken it as seriously? The Oscar contenders last year were about the male ego, once again repairing itself from a damaged state so that the man can go back to saving the world.
The two films I saw at Cannes on Friday are about female characters. Remarkably, neither film depends on a man to complete things. Male characters are in the film, but their roles are less important to the overall story than the females.
The first, "Beasts of the Southern Wild," is a revelation. Not since Tatum O'Neil followed around after father Ryan in "Paper Moon" has a girl actor exploded off the screen like Quvenzhané Wallis (photo above), the bold and formidable heroine of this inexplicably brilliant film. I am not sure how its co-writer and director Benh Zeitlin delivered this piece of work, but to me, it is right up there with the best feature debuts by the best filmmakers — we're talking Orson Welles, Steven Soderbergh, Kathryn Bigelow, Quentin Tarantino and Spike Lee.
Here is a brand new voice, a visionary who is not afraid of the obscure, who dares to carve a wholly new way of telling a story. He uses symbolism and poetry but it's brazen and unclean, not politically correct but the raw and whole truth.
Also read: 'Beasts of the Southern Wild' Rips Through Sundance
I'll make the assumption now that you won't see a better female performance all year than the one Wallis brings. (Yeah, Oscar is a long shot.) Tatum O'Neil was wrapped up in the star system already and "Paper Moon" was a fairly conventional film. "Beasts," which is competing in Un Certain Regard, is anything but conventional.
Mostly I liked the idea that the story turned on the inner life of its heroine — a girl, imagine that. After the movie ended, I couldn't really catch my breath. I had to wait through the credits in hopes that I eventually could. When the credits finished rolling, the crowd applauded once again, loudly, enthusiastically, with shouts throughout the theater. It didn't get a standing ovation, but it came mighty close.
The second film again turned on its female characters' storylines. "Beyond the Hills" ("Dupa Dealuri") is the second feature by Cristian Mungiu, who rose to prominence with the much lauded "4 Months, 3 Weeks and 2 Days." Like that film, "Beyond the Hills" feels destined for controversy.
For the last two years in Cannes, there have been several pro-religion, pro-god movies that are, frankly, a chore to sit through if you aren't a believer. But Mungiu's film is anything but.
The story centers on a passionate friendship between two teenage girls, Alina (Cristina Flutur) and Voichita (Cosmina Stratan), which becomes strained when Voichita turns to the church. She becomes a nun and takes God into her heart as her one and only love. Alina has a problem with this, and wants things to be the way they once were. (Sex between them is alluded to but never directly confirmed.) Once Alina figures out that Voichita is never going to leave the church, her behavior becomes more and more violent. Finally, the father of the church decides to perform an exorcism on her to get rid of Satan's grasp.
Unfortunately, by the time we finally get to the exorcism, the film has gone on at least an hour too long. Had they shaved off some of the beginning, we might be more inclined to get wrapped up in this story. If you are a non-believer, however, you will find it satisfying that the film has decided to take on faith versus science.
"Beyond the Hills" was the first film I saw at Cannes to receive boos – and yes, perhaps the audience was expecting something better. But the selection committee did right by choosing this complicated story for the Cannes competition.
These two extraordinary films had more to say from the mouths of their female characters than all of the films I saw last year. The people making the important decisions here really do consider more important elements than marketability. When you are here, the possibilities are endless; Cannes is the best place for dreams to thrive. Even women's dreams.