"Nebraska" is a name that stands alone. It's the name of one of Bruce Springsteen's best albums, and it's now the name of one of Alexander Payne's best films.
Across the wide, bleak expanse of his "Nebraska," Payne gives us two charcoal figures: Will Forte and Bruce Dern. As Woody Grant (Dern) prepares to check out for good, he is driven by the singular goal of cashing in on a promised Publisher's Clearing House letter: "You have won $1,000,000!" His wife (the shrill and effective June Squibb) can't handle him anymore, so she calls upon her younger, compassionate son, David (Will Forte), to come and take care of the old man. David agrees to drive Woody to Lincoln, Nebraska to cash in on the promise of a lifetime's dream.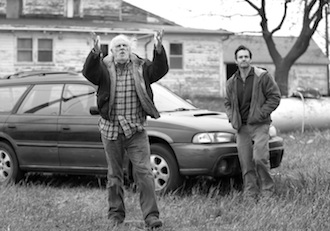 Also read: What the Critics Are Saying About Alexander Payne's 'Nebraska': An Oscar Contender?
This is not a story where David is determined to change his father, get some much-needed validation or argue over his excessive drinking. They are past all of that. David is merely helping his father chase what remains of his dignity. Payne almost got there with "About Schmidt," which was about a retiree with too much time to contemplate his place in the universe, but Woody is far beyond contemplation. He is simply trying to make sense of the full day.
On the road, Woody and David settle on who they were to each other and who they are now. Woody's complicated past emerges belly-up when they hit his hometown. Everyone thinks he's struck it rich, so those he owes money to come out of the woodwork.
Little by little, a man's whole life in a small Midwestern town is colored in, even if what he's ultimately left with is a wife who barely tolerates him, two sons who are still trying to wriggle out from underneath the burden, and a simple dream to have become something. (In this town, that means having a new truck.)
Somehow we all have been conditioned to know that companies lie to us every day. Wrinkle cream doesn't makes us look younger, shampoo isn't really used by the celebrities who endorse it, and when you get a message that says you've just won a million bucks you know that it's not possible. But Woody has lost whatever part of his brain that realizes that. So he takes off for his version of the Emerald City, looking for what miracles the Wizard will conjure.
My own father still hopes that he's just five bucks away from winning the Super Lotto so that he can buy each one of us a house, pay off all of our debts and make good on that promise every American is supposedly entitled to. He's an eternal dreamer, like Woody. The beauty of "Nebraska" is that in his own son, Woody has found someone finally who cares enough about him to indulge him in that silly dream.
Payne choice of Forte to play David was a good one. Maybe because it's his first major dramatic role, his vulnerability is palpable. But of course the film belongs to Dern. With his furry hair peeking out from under his cap, his childlike expressions, his funny walk, his injured, confused psyche, Dern has delivered a sweet rendering of old age.
The casting director took a full year to find just the right faces. It's almost shocking now to see a film with so much diversity in casting. These actors look like they're a long way from Hollywood. I particularly liked the choice of Missy Doty to play David's girlfriend. When was the last time a plus sized actress was simply cast as a girlfriend without it being a punchline? But Payne was smart enough to make a movie starring people who actually look like they could live in Nebraska. Doty, incidentally, was last seen in "Sideways" as the waitress who is Thomas Haden Church's last refuge before getting married.
You might not know what a great cinematographer Phedon Pappmichael ("The Descendants," "Sideways," "Walk the Line") is until you see "Nebraska." Richly textured black-and-white seems to be the way he was meant to shoot. How breathtaking to see one shot after another: inky cows dotting wide acres of land, a sign dangling off the side of a building, the darkening sky, so many shades of gray.
While Payne has never said his specific reasons for choosing black and white, others have cited "Paper Moon" and "The Last Picture Show" as two good precursors. The choice works here to remove the specifics of time. In one memorable shot, Woody's family is trying to have a conversation while all of the faces are trained on the television. It could be another decade, but that shot reminds you that it's now. (We never used to watch TV the way we do now.) But much of the time the black-and-white keeps us in a state of mild confusion as to time and place, which nicely mirrors Woody's inner world.
"Nebraska" is a departure for Payne (right, in Cannes) in several ways. It's his most personal film, being that he hails from the state. He's not working with Jim Taylor to adapt a book, the way he usually does; instead, he's filmed an original screenplay by Bob Nelson. But for Payne the film hits close to home, as he felt it was a way to pay respect to his own parents. Screenwriter Nelson based the story on his own life, which deepens the colors in the striations. It rings true, and probably will for a lot of people in this country.
While they didn't intend the film to be a comment on the economic state of America, or the growing population of seniors facing dementia, it's hard not think about those things while watching. Money can make people act desperate, and it can make someone from a small town feel big. But it can't buy love and it can't buy happiness. Neither of those things are within Woody's grasp, but the one thing he can do is try to be big on his way out.
Payne's films tackle obsolescence like no other. His protagonists dangle off the edge of the world they once knew. We watch them flail about to find solid ground. But he's never come so close to unabashed sentiment as he does here.
The film recalls the Springsteen song "My Father's House" from his album "Nebraska": "I awoke and I imagined the hard things that pulled us apart / Will never again, sir, tear us from each other's hearts."
If you've ever had a Woody in your life, "Nebraska" will break your heart in two, and it might broaden your understanding, a little bit, about welcoming your parents back into your life before the light dims on theirs.